Newsflash Archives > Last Mass in Moscow
Last Mass in Moscow
Today Tadeusz Kondrusiewicz, the Catholic archbishop in Moscow for the past 16 years, celebrated his last public Mass before his departure to Minsk, capital of Belarus. Report from Russia
- by Dr. Robert Moynihan
MOSCOW, Russia, October 28, 2007 -- His voice shaking with deep emotion, Archbishop Tadeusz Kondrusiewicz celebrated his last public Mass and delivered his last, dramatic homily this morning in the Cathedral of the Immaculate Conception in Moscow before leaving the Russian capital to take up his new and difficult assignment in Minsk, the capital of neighboring Belorussia.

"I think he is one of the heroes of the faith in our time," John Schmidt, a member of an American group which has raised funds for the Catholic Church in Russia over the past two decades, said after the Mass. Schmidt, who said he has helped Kondrusiewicz on a number of projects over the years, had traveled to Moscow from London to attend the bishop's last Mass. "When Archbishop Kondrusiewicz came here in 1991," Schmidt said, "the Catholic Church in Russia was almost non-existent after 70 years of Soviet persecution. He build the Catholic Church in Russia almost from nothing, almost by himself."


Special Offer for New Subscribers Only! Subscribe to Inside the Vatican Magazine for Only $34.95! Buy Now and Save $15.00! Click here!
As Kondrusiewicz delivered his homily, narrating the story of his arrival in Moscow and recounting his years of struggle and accomplishment, many eyes in the congregation filled with tears.

At the end of the Mass, a dozen parishioners representing the different nationalities in Moscow -- Poles, Italians, French, Germans, Spaniards, English -- spoke in their native languages to thank Kondrusiewicz for his 16 years of service, and to say farewell to him.

It was evident that Kondrusiewicz is much loved among the Catholics of this vast city.

I asked Schmidt to tell me something about Kondrusiewicz's work in Moscow over the years.

"Kondrusiewicz came to Moscow just before the Soviet Union was dissolved on Christmas Day in 1991," Schmidt told me. "In the early 1990s here in Moscow, he lived alone in a tiny apartment, with no assistants. Really, everything was against him. He lacked funds, he lacked friends, and many thought his mission would bear little fruit. Frankly, I think he persevered against obstacles which would have crushed a lesser man.

"And he succeeded. He built the Catholic Church in Russia, along with a handful of others, like the Jesuit, Bishop Joseph Werth in Novosibirsk, and the sisters of Mother Teresa of Calcutta, who have a small convent here in Moscow (and, by the way, could use several more sisters or volunteers to help them in their work). And now Pope Benedict XVI has asked him to move on to one of the toughest assignments in the entire world, in Belorussia, and he is accepting the transfer like a soldier. He is one of the most reliable, loyal servants of the Church I have ever met."

At the reception after the Mass, I asked Kondrusiewicz how he felt about leaving Moscow.

"I am sad, of course," Kondrusiewicz said. "But the Holy Father has asked me, and God through him is calling me, to go back to my homeland to continue the work I began there many years ago. And I go willingly, though leaving a piece of my heart here in Moscow."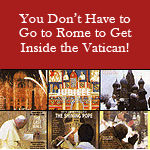 Special Offer for New Subscribers Only! Subscribe to Inside the Vatican Magazine for Only $34.95! Buy Now and Save $15.00! Click here!

Subscription Information
Inside The Vatican (ISSN 1068-8579) is a Catholic news magazine, published monthly except July and September, with occasional special supplements.