Music for Prisoners
A Swiss-based foundation with offices also in Rome makes classical music available in prisons, elderly homes, hospitals, and schools — and does it with Christian faith
By Robert Moynihan, from Rome
From prayer, to music…
After today's peaceful and prayerful Palm Sunday Mass — much of it, including the Creed and the Our Father, in Latin — I had brief conversations with Archbishop Rino Fisichella (head of the Pope's new office for the "new evangelization") and with Cardinal Velasio de Paolis (the Pope's choice to oversee the reform of the Legionaries of Christ), then was invited to a small, free, but spectacular piano concert in Trastevere, a short distance from the Vatican. It focused on the music of the Polish composer Frederic Chopin (1810-1849), and was so impressive I felt I ought to make mention of it here.
Elizabeth Sombart (photo; you may hear a recording of one of her performances by clicking on this link: https://www.youtube.com/watch?v=WHdoGQwDs4A), an internationally known Swiss concert pianist, was able to interpret the sensitivity and suffering of Chopin in an extraordinary way. (Chopin suffered from tuberculosis most of his adult life and died at the young age of 39.)
Listening to Sombart's brief reflections on Chopin's life and art, I had a sense of a profound cultural "connectedness." Sombart has studied Chopin's life and music so long and so intensively that she was able to communicate Chopin's unique genius with peculiar effectiveness, both through her words and through her virtuoso performance of several pieces on a splendid grand piano before a small audience of about 100 people — and roaming cat (photo) and dog!
The essence of Sombart's message was that Chopin had turned the suffering in his life into art — transmuting the sadness of living in exile outside of his beloved Poland and of not marrying the woman he loved because of her father's opposition into melodies that can still speak to us and move us today.
There is an analogy in this to religious life and to spiritual experience: suffering embraced can, even in its scorching pain, nevertheless bring about a type of "excavation of the soul" which makes the soul deeper, wiser, more capable of self-sacrifice, and of love.
This is how the "way down" can become the "way up."
And this is how suffering avoided and fled from can leave the soul "unexcavated," "un-profound" — and perhaps unable to love as deeply as it might otherwise… and to accept love and receive it as a fellow-sufferer and wayfarer in this fallen world.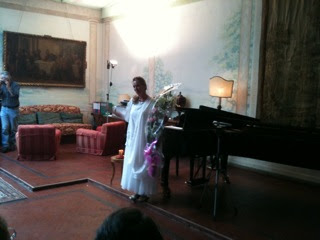 Sombart (here after she was given flowers at the end of the concert) said Chopin had a terrific struggle at times in the process of composing his piano pieces.
She drew on the observations of his contemporaries, one of whom described Chopin's "tumultuous creative process" as filled with emotion, weeping, complaints and hundreds of changes of concept before returning to an original inspiration.
One Chopin contemporary wrote this about an evening Chopin spent composing in about 1840, when he was 30. The French painter and friend of Chopin, Eugene Delacroix, was present:
Chopin is at the piano, quite oblivious of the fact that anyone is listening. He embarks on a sort of casual improvisation, then stops. 'Go on, go on,' exclaims Delacroix, 'That's not the end!'
'It's not even a beginning,' Chopin replies. 'Nothing will come … nothing but reflections, shadows, shapes that won't stay fixed. I'm trying to find the right color, but I can't even get the form …'
'You won't find the one without the other,' says Delacroix, 'and both will come together.'
'What if I find nothing but moonlight?'
'Then you will have found the reflection of a reflection.'
The idea seems to please the divine artist. He begins again, without seeming to, so uncertain is the shape. Gradually quiet colors begin to show, corresponding to the suave modulations sounding in our ears.
Suddenly the note of blue sings out, and the night is all around us, azure and transparent. Light clouds take on fantastic shapes and fill the sky. They gather about the moon which casts upon them great opalescent discs, and wakes the sleeping colors. We dream of a summer night, and sit there waiting for the song of the nightingale…
Sombart founded the non-profit "Fondazione Resonnance" in Switzerland in 1988 with the goal of bringing music to places it ordinarily does not reach — prisons, hospitals, orphanages, elderly homes, and so forth. The Foundation holds free periodic "master classes" with young pianists, teaching them to play music at an international concert level, and organizing their charity performances throughout western Europe.
The Vice-President of the Foundation is Monsignor Aldo Tolotto (photo, holding the child of one of the pianists of the Foundation), a humble monsignor who has an important post inside the Vatican. Tolotto was present at the concert.
I asked Sombart whether she saw this work as in some way "evangelical" and she answered: "Certainly. Classical music has deeply Christian roots; it is enough to think of J.S. Bach and his profound love of God. By bringing classical music to people who have been abandoned by society, we bring something beautiful, and we bring it with great love. This has a spiritual impact."
The address of Resonnance Italia is:
vicolo Sforza Cesarini, #53
00186, Rome, Italy
telephone: (39) 06-9970-1385
fax: (39) 06-9725-6838
web site: www.resonnance.org;
email: [email protected]
There will be a similar concert on May 29 here in Rome.
==============================
Preparing for the Beatification of Pope John Paul II
I note again that we have prepared free prayer cards for the Beatification of Pope John Paul II; to order, click on the images in the column to the left. For small orders, the prayer cards are free, but there is a small charge of $2 to cover shipping and handling.
A blessed Holy Week to all.
—Robert Moynihan
Facebook Comments