Kasper Retires, Koch Appointed
The Holy See today officially announced the retirement of Cardinal Walter Kasper as head of the Council for the Promotion of Christian Unity, and the appointment of Bishop Kurt Koch to replace him
By Robert Moynihan
Koch Replaces Kasper
In a move rumored for several weeks, Pope Benedict XVI today appointed Swiss Bishop Kurt Koch of Basel, Switzerland (photo — CNS photo/CIRIC, Catholic Press Photo), to be the new president of Pontifical Council for Promoting Christian Unity and of the Pontifical Commission for Religious Relations with the Jews.
Bishop Koch, 60, will succeed German Cardinal Walter Kasper, 77. Kasper has been at the Council for 11 years — first as Secretary (the Number 2 post), then as President since 2001.
In a letter to Catholics in Basel June 30, Bishop Koch said the Pope had asked him in February if he would take the job, stressing that he wanted someone who had both theological knowledge and practical experience in living and working alongside Protestant communities.
It has often been said — by others and also by myself in these newsflashes — that one of Pope Benedict's primary concerns is to improve relations with the Orthodox, separated from Rome since 1054 AD.
But improved relations with the Orthodox are not the Pope's only concern, Koch said. The Pope sees the unity of all Christians, including Protestants, as the will of Jesus, he added.
In this sense, Koch's appointment does not represent a "tilt" away from the line followed by Kasper — who was an expert in Protestant-Catholic dialogue — toward a line privileging the Orthodox.
It is rather, one might say, "steady as she goes."
Bishop Koch has served as a member of the Pontifical Council for Promoting Christian Unity — meaning he sits on the equivalent of a "governing board" which meets to oversee the work of the Council (each Vatican dicastery has such an oversight committee) — since 2002.
He has also been a member of the international Catholic-Orthodox theological commission and a member of the international Catholic-Lutheran dialogue commission.
What kind of man is Koch, and what type of bishop has he been?
In his farewell letter, Koch — a past president of the Swiss bishops' conference and a former professor of dogmatic theology and liturgy — said that when he became bishop, he promised to personally answer every letter Catholics in Basel sent him.
"In recent years, however, so many new areas of work have been added and the time-consuming internal Church conflicts and polarizations have grown, so it increasingly became impossible for me to honor my resolution," he said. "For that I apologize."
So he is a man who attempts to carry out his pastoral duties with great diligence and discipline — and someone willing to admit his limitations, in all humility, when circumstances make it impossible for him to fulfill a promise he has made.
As president of the Swiss bishops' conference, Koch helped smooth tensions with Protestants in 2007 when the Vatican Congregation for the Doctrine of the Faith issued a document reaffirming Catholic teaching that the Catholic Church is the one, true Church of Christ, and Protestant communities should therefore, to avoid doctrinal confusion, not be referred to as "Churches" — even if elements of truth and Christ's saving grace can be found in such separated Christian communities.
Bishop Koch said at the time that he understood how the document could be confusing or even hurtful to Protestants, and to those Catholics who regularly refer to such Protestant communities as Churches.
The document, he said, was looking at the term "Church" in a "strictly theological" way. He said that if the Catholic Church believes apostolic succession and valid sacraments, particularly the Eucharist, are essential aspects of the Church established by Christ, it cannot recognize as a "Church" those communities which do not have them.
The Rev. Olav Fykse Tveit, general secretary of the World Council of Churches, issued a statement June 30 saying the ecumenical organization rejoices at Bishop Koch's appointment.
"Bishop Koch is well known for his openness and deep ecumenical commitment," Tveit said. "His book That All May Be One: Ecumenical Perspectives is an excellent summary of the present state of ecumenical dialogue and relations."
(What follows is drawn from Cindy Wooden's useful and clear Catholic News Service report, posted today on the internet at the CNS website.)
Loss of Enthusiasm?
Meeting reporters in Rome on June 25, Cardinal Kasper (photo — CNS photo/Paul Haring) said that a challenge he faced repeatedly in his 11 years at the Pontifical Council was clarifying the Church's position when the wording of certain documents — from the Vatican as well as from the Orthodox and Protestants — offended the other partner in ecumenical dialogue.
Particularly with the Anglicans and Protestants, he said, since the year 2000 there has been a noticeable loss of "the great enthusiasm" for the possibility of Christian unity that marked the years immediately after the Second Vatican Council.
"Errors, or better, imprudence in formulating the truth have been committed by both sides, including our own," he said.
Cardinal Kasper said his service at the Council involved a lot of hard work, but the experience has left a deep mark on his life and his theological thought.
While he said he's ready at 77 to retire and get back to theological writing, he also said he will miss daily involvement in ecumenism, "which I always have considered to be the construction site of the Church of the future."
Despite some continuing misunderstandings and new difficulties caused by differences over key moral and ethical issues, the cardinal said he is confident that he is leaving behind "a solid network of human, Christian relationships," which is essential for finding the truth together.
"Passing the torch" to his successor and to a new generation of ecumenists, Cardinal Kasper said he is confident that ecumenism will continue to move forward because in an increasingly secular, increasingly globalized world, Christians have to work together.
"At first, as a German, I was afraid…"
Good personal relationships also existed with leaders of the Jewish community involved in dialogues sponsored by the Pontifical Commission for Religious Relations with the Jews, he said.
"At first, as a German, I was afraid to take on this task, given the history of Germany and the Jews, but I must say our partners never mentioned this. I found not only partners, but many friends," he said.
When difficult moments arose — including Pope Benedict's rewriting of a Good Friday prayer for the conversion of the Jews and his lifting the excommunication of a traditionalist bishop, Richard Williamson, who had said the gravity of the Holocaust has been exaggerated — the cardinal said good personal relationships helped ensure the problems were clarified quickly.
"For us, this dialogue with the Jewish community is fundamental because the Church has its roots in the Jewish world," Kasper said. "The relationship is essential for the Church."
(Note: I plan to have interviews with both Koch and Kasper in coming months.)
Reaction from Moscow
The appointment of Koch was received with appreciation in Moscow, where the head of the Department of External Relations of the Russian Orthodox Church, Metropolitan Hilarion Alfeyev, 43, commented briefly on the nomination this morning.
The report, posted in an English translation on an Orthodox website (evidently based in New York City, and sharply antagonistic toward Hilarion) is at: http://02varvara.wordpress.com/ (scroll down; the critical comments are below the article). It reads as follows:
Metropolitan Hilarion Alfeyev Hopes to Expand Cooperation with the Vatican with the New Head of the Pontifical Council for Promoting Christian Unity
(Photo below: Metropolitan Hilarion Alfeyev of Volokolamsk, the head of the Moscow Patriarchate Department for External Church Relations)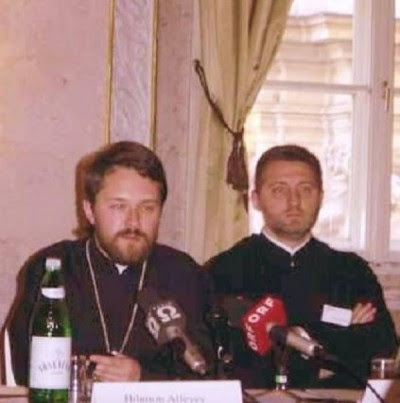 Metropolitan Hilarion Alfeyev of Volokolamsk (photo, in foreground), the head of the MP Department for External Church Relations, expressed the hope that there would be more dialogue with the Catholics under the new head of the Pontifical Council for Promoting Christian Unity, Bishop Kurt Koch.
"I hope that before us open up new prospects for cooperation that would benefit our churches," he said, according to a post on Thursday on the DECR [Department of External Church Relations] website.
Vladyki Hilarion pointed out that ever since the inception of the Pontifical Council some 50 years ago, "this structure has played a crucial role in shaping the dialogue of the Roman Catholic Church with other Christian churches and communities. I must mention that thanks to the efforts of your predecessors the Orthodox and Roman Catholics have been established and developed a constructive relationship."
Metropolitan Hilarion noted that he has known Karl Koch for many years "as a zealous pastor and theologian, a serious scholar committed to ancient Church tradition and to the ideal of Christian unity."
He expressed the hope that Bishop Koch's experience at one of the centers of inter-Christian dialogue in Switzerland and in international diplomacy will help him in his new responsibilities, and that such understanding will contribute to a fruitful development of the Council.
Russian original
Here is a link (with text below, which some computers not be able to read, as it is in Cyrillic characters) to the original Russian report: http://www.interfax-religion.ru/?act=news&div=36287
? ??????? ?????? ???????? ?? ?????????? ?????????????? ? ????????? ??? ????? ????? ???????? ?????? ?? ?????????? ????????????? ????????
??????. 1 ????. ????????? – ? ?????????? ??????????? ???????? ??????? ?? ???????? ??????? ? ???????????? ???????? ??? ????? ????? ???????? ?????? ?? ?????????? ????????????? ???????? ???????? ????? ????.
"???????, ??? ????? ???? ??????????? ????? ??????????? ??????????????, ??????? ???????? ????? ????? ???????", – ????????? ? ???????? ????? ?????? ??????? ????????? ?????? ??????????? ??????????? ??????????? ?????????????? ???????? ?.????, ?????????????? ? ??????? ?? ????? ????.
??????? ?????? ?? ??, ??? ?? ???????, ????????? ? ??????? ?????????? ???????? ??????, ??? ????????? ??????? "????????? ???? ? ??????????? ????? ??????? ??????-???????????? ?????? ? ??????? ????????????? ???????? ? ????????".
"?? ? ????????? ??????? ????????? ??????? ????? ???????????????? ?? ????? ???????????? ?????? ???? ??????????? ? ????????????? ??????????? ????????? ????? ??????? ???????????? ? ??????-???????????? ????????", – ??????? ? ????????.
?????????? ??????? ???????, ??? ????? ?.???? ? ??????? ?????? ??? "??? ??????????? ??????? ? ?????????? ?????????, ????????????? ??????????????? ???????? ? ???? ????????????? ????????". ?? ??????? ??????? ?? ??, ??? ?????????? ???????? ???????? ? ????????? ??? ????? ?? ??????? ???????????????? ??????? ? ????????????? ?????????? ??????? ??? ? ?????????? ????? ????????????, ? ??????? ???? ????? ????????????? ????????????? ???????? ???????????? ??????.
Koch on Vatican II
A June 27 posting by Father John Zuhlsdorf (we studied Latin together with Father Reginald Foster at the Gregorian in the 1980s) has an interesting text by Bishop Koch on how to correctly interpret the Second Vatican Council. Here is the link: http://wdtprs.com/blog/2009/06/a-swiss-bishop-sounds-off-about-vatican-ii/
And here is the actual article, with Father Zuhlsdorf's comments in italic inside brackets. The text is from the July 2009 monthly newsletter to the priests of the Diocese of Basel with my emphases and comments.
By Bishop Kurt Koch
What moves me?
More honesty please! [A good way to start.]
In the last few weeks a lot of journalists, and also some clergy, have been expressing their opinions of Pope Benedict. [Surely this has to do with Summorum Pontificum and the lifting of the SSPX excommunications.]
In these opinions were also contained many half-truths, untruths, and slanders. The worst accusation asserts that the Pope wishes to go back to before the Second Vatican Council. This accusation is the worst because it implies that the very person who possesses the teaching authority of the universal Church would work to undermine the authority of the Council. This verdict, however, would be completely mistaken.
As a young theologian, in fact, Benedict XVI contributed very much to the Council. [And, as a young theologian he also criticized some aspects of the Council's documents.]
Anyone who seeks to understand the Pope now—not just from the media—but also by reading what he writes, would come to the conclusion that he has oriented his entire magisterium on the Council. [Hmmm… interesting statement. "…dass er sein ganzes Lehramt am Konzil orientiert". Maybe a better way to say this is "toward the Council"? He has grounded his own teaching as Pope in the Council documents? Fine. But at the same time I wonder if we would do better to say that Benedict has reoriented the Council, rather, the understanding – the interpretation – of the Council toward the entire Magisterium?]
How should we then understand the accusation being made?
Many people have signed a petition for the unqualified acceptance of the Council. Right from the start, the expression "unqualified acceptance" irritates me because I don't know anyone—myself included—to whom it would apply. A few arbitrarily chosen examples will suffice: [This is great….]
– The Council did not abolish Latin in the liturgy. On the contrary, it emphasized that in the Roman Rite, apart from exceptional cases, the use of the Latin language must be maintained. Who among the vocal defenders of the council wishes "unqualified acceptance" of that? [Right. Hey, you liberals out there! Wanna sign on to that?]
– The Council declared that the Church regards Gregorian Chant as the "music proper to the Roman Rite", and that it must therefore "be given primary place." In how many parishes is this implemented "without qualification?" [Liberals only like the parts of the Council that they like.]
– The Council expressly requested that governmental authorities voluntarily give up those rights to participation in the selection of bishops, that had arisen over the course of time. Which defender of the Council advocates "without qualification" for that? [Most liberals think that there should be popular or at least local election of bishops without interference from Rome.]
– The Council described the fundamental nature of the liturgy as the celebration the pascal mystery and the eucharistic sacrifice as "the completion of the work of our salvation." How can that be reconciled with my experience, made in many different parishes, that the sacrificial understanding of the Mass has been completely eliminated from the liturgical language and the Mass is now understood only as a meal or "the breaking of bread?" In what way can one justify this profound change by reference to the Council? [I am starting to like this bishop.]
– No office of the Church was given more significance by the Council that that of bishop. [One might actually argue that way too much significance.] How can we then understand the widespread diminishment in Switzerland of this office of the Church, which is justified by reference to the Council? When, for example, Hans Kung denies completely the teaching authority of the bishops, allowing them only the office of pastoral leadership? [ZzzzzzOT!]
It would not be difficult to lengthen this litany. Even so, it should be obvious why I demand more honesty in the current debate about the Council. Instead of accusing others, and even the Pope, of wishing to go back to before the Council, everyone would be well advised to look over their own books and reassess their own personal position on the Council. [In other words READ THE TEXTS.]
Because not everything that was said and done after the Council, was therefore done in accordance with the Council—and that applies also to the diocese of Basel.
In any case, the last few weeks have illustrated to me that a primary problem in the current situation has been a very poor, and in part very one-sided understanding and acceptance of the Council, [We might even call it a "hermeneutic of discontinuity and rupture"] even by Catholics that defend the Council "without qualification."
In this regard we all—once more including myself—have a lot of ground to make up. Therefore I again repeat my urgent request: More honesty please!
+ Kurt Koch
Bishop of Basel
Here is the original German of Koch's July 2009 letter on the Second Vatican Council:
Bistumsseite für Pfarrblätter vom Juli 2009
(Link: http://bistum-basel.ch/seite.php?na=1,3,0,115089,d)
By Bishop Kurt Koch
Was bewegt mich?
Mehr Ehrlichkeit bitte!
In den vergangenen Wochen ist von journalistischer, aber auch von pastoraler Seite viel über Papst Benedikt geurteilt worden. Darunter befand sich auch viel Halbwahres, Unwahres und Verleumderisches. Der schlimmste Vorwurf behauptet, der Papst wolle hinter das Zweite Vatikanische Konzil zurückgehen. Ein solcher Vorwurf ist deshalb schlimm, weil er unterstellt, der Inhaber des universalkirchlichen Lehramtes würde die Autorität eines Konzils untergraben. Ein solches Urteil ist aber völlig verfehlt. Benedikt XVI. hat bereits als junger Theologe viel zum Konzil beigetragen. Wer ihn jetzt als Papst nicht nur aus den Medien wahrnimmt, sondern auch liest, was er sagt, wird feststellen, dass er sein ganzes Lehramt am Konzil orientiert. Wie muss man dann aber den genannten Vorwurf verstehen?
Nicht wenige haben eine Petition für eine uneingeschränkte Anerkennung des Konzils unterschrieben. Bereits diese Formulierung irritiert mich, weil ich niemanden – mich eingeschlossen – kenne, auf den dieses vollmundige "uneingeschränkt" zutreffen würde. Es mag genügen, einige willkürlich ausgewählte Beispiele zu nennen:
– Das Konzil hat das Latein in der Liturgie nicht abgeschafft. Es hat vielmehr betont, dass im römischen Ritus der Gebrauch der lateinischen Sprache, soweit nicht Sonderrecht entgegensteht, erhalten bleiben soll. Wer von den lautstarken Konzilsverteidigern hält sich daran "uneingeschränkt"?
– Das Konzil hat erklärt, die Kirche betrachte den Gregorianischen Gesang als "den der römischen Liturgie eigenen Gesang" und er müsse deshalb "den ersten Platz einnehmen". In welcher Pfarrei wird dem "uneingeschränkt" nachgelebt?
– Das Konzil hat die staatlichen Obrigkeiten ausdrücklich gebeten, freiwillig auf geschichtlich zugewachsene Rechte auf Mitwirkung bei Bischofswahlen zu verzichten. Welcher Konzilsverteidiger setzt sich "uneingeschränkt" dafür ein?
– Das Konzil hat das Wesen der Liturgie als Feier des Pascha-Mysteriums und das Opfer der Eucharistie als "Vollzug des Werks unserer Erlösung" bezeichnet. Wie ist damit meine Feststellung zu vereinbaren, die ich in verschiedenen Pfarreien machen muss, dass der Opfergedanke völlig aus der liturgischen Sprache verschwunden ist und die Messe nur noch als Mahl oder "Teilen des Brotes" gesehen wird? Mit welchem Recht beruft man sich für diese schwerwiegende Veränderung auf das Konzil?
– Wohl kein zweites Amt hat das Konzil derart neu gewichtet wie das Bischofsamt. Wie ist damit die weitgehende Relativierung dieses Amtes in der Kirche in der Schweiz unter Berufung auf das Konzil zu verstehen – so wenn z.Bsp. Hans Küng den Bischöfen ein Lehramt überhaupt abspricht und ihnen nur das pastorale Amt der Leitung lässt?
Diese Litanei liesse sich unschwer verlängern. Sie dürfte auch so zeigen, warum ich in der heutigen Auseinadersetzung um das Konzil mehr Ehrlichkeit einfordere. Statt anderen, zumal dem Papst, vorzuwerfen, hinter das Konzil zurückgehen zu wollen, wäre man gut beraten, über die eigenen Bücher zu gehen und zu überprüfen, wie man selbst zum Konzil steht. Denn nicht alles, was nach dem Konzil gesagt und getan wird, ist bereits deshalb nach (=gemäss) dem Konzil – auch im Bistum Basel nicht. Die vergangenen Wochen haben mir jedenfalls gezeigt, dass ein Hauptproblem in der gegenwärtigen Situation eine fehlende und teilweise sehr einseitige Aufnahme des Konzils ist – auch bei Katholiken und Seelsorgenden, die das Konzil "uneingeschränkt" verteidigen. Diesbezüglich haben wir alle – mich wiederum eingeschlossen – noch einigen Nachholbedarf. Deshalb nochmals meine dringliche Einladung: Mehr Ehrlichkeit bitte!
+ Kurt Koch
Bischof von Basel
Original Text of the Appointment
Here is the Vatican's original official July 1 announcement of the retirement and appointment in Italian:
RINUNCIA DEL PRESIDENTE DEL PONTIFICIO CONSIGLIO PER LA PROMOZIONE DELL'UNITÀ DEI CRISTIANI E NOMINA DEL SUCCESSORE
Il Santo Padre Benedetto XVI ha accolto la rinuncia, presentata per raggiunti limiti di età dall'Em.mo Card. Walter Kasper all'incarico di Presidente del Pontificio Consiglio per la Promozione dell'Unità dei Cristiani ed ha chiamato a succedergli nel medesimo incarico S.E. Mons. Kurt Koch, finora Vescovo di Basilea, elevandolo in pari tempo alla dignità di Arcivescovo.
"The Holy Father Benedict XVI has accepted the retirement, presented due to reaching the age limit, of the Most Eminent Cardinal Walter Kasper in the office of President of the Pontifical Council for the Promotion of the Unity of Christians and has called to succeed him in the same office His Excellency Monsignor Kurt Koch, until now Bishop of Basel, raising him at the same time to the dignity of Archbishop."
"He that takes truth for his guide, and duty for his end, may safely trust to God's providence to lead him aright."

 —

Blaise Pascal

 (French mathematician, philosopher, physicist and writer, 1623-1662)

Note: Pilgrimage with special meetings inside the Vatican

. We are now beginning to take preliminary requests for our Fall 2010 and Spring 2011 pilgrimages, which will include visits to Assisi, Norcia, Rome and the Vatican. If you would like information about these trips, email us at:

 

[email protected]

com

 

Best-Seller: A Talk by Dr. Robert Moynihan about the "Old Mass" on CD

Unexpectedly, this little talk has become a minor "best-seller."

We have now produced more than 2,000 of these CDs, and they are still running out every few days. Why?

Evidently, people really like this talk!

It is called: "The Motu Proprio: Why the Latin Mass? Why Now?"

In this talk, Dr. Moynihan gives a 2,000-year history of the Mass in 60 minutes which is clear and easy to understand. The talk covers questions like:

— Does the motu proprio overcome some of the liturgical confusion since Vatican II?
— Who was Annibale Bugnini?

— The mind of Pope Benedict: How can the Church restore the sense of the presence of God in the liturgy?

Special note: Three years ago, we participated in a concert in Rome (on March 29, 2007) in which a Russian choir and orchestra, flying in from Moscow, performed a new version of The Passion According to St. Matthew composed a few months before by the young Russian Orthodox bishop (now Metropolitan and "foreign minister" of the Russian Orthodox Church, Hilarion Alfeyev).

That moving concert, in which one or two of the exhausted women singers fainted on stage and had to be carried off, was broadcast live worldwide via a Vatican Television Center feed by EWTN.

No DVD or CD was ever made of that concert — until a few days ago. After nearly three years, we have finally produced the DVD and CD of that historic concert, and they are now available for sale.

I believe the sound of this music, and the sight of the performance, especially during Holy Week, when we recall Christ's Passion, will bring tears to your eyes.

 

Other Gift Ideas:

Christmas Oratorio (Russian Concert) on DVD 

On December 17, 2007, a leading Russian orchestra performed an exceptional "world premiere" concert of Russian Christmas music at the Basilica of the National Shrine of the Immaculate Conception in Washington, DC. Now you can order your copy of the concert on DVD, which includes English sub-titles.

The music is a completely new composition by a young Russian Orthodox Archbishop, Hilarion Alfeyev, 43. At the time, he was the Russian Orthodox bishop for all of central Europe, based in Vienna, Austria. He is now a Metropolitan and the head of the External Relations Department of the Russian Orthodox Church.

Makes a wonderful gift. Order one for yourself, one for a loved one and one for a friend… at three copies, the price is less!

 Click here to order

 

To subscribe to the print edition of Inside the Vatican, click here

The newsflash is free, but there are costs associated with producing it. To support this writing, you may call our toll-free number in the USA, 1-800-789-9494, or click here

 

 

 Special note: We would be happy to receive feedback from our readers about these newsflashes. This newsflash is currently being sent to 17,100 people around the world. We hope it meets with your approval, and we will be happy to try to improve it according to your suggestions and needs.

"Inside the Vatican is a magazine I read cover to cover. I find it balanced and informative. I especially appreciate its coverage of art and architecture. It is not only an important magazine, it is also a beautiful one." —Prof. Mary Ann Glendon, Harvard University Law School, former United States Ambassador to the Holy See
Facebook Comments