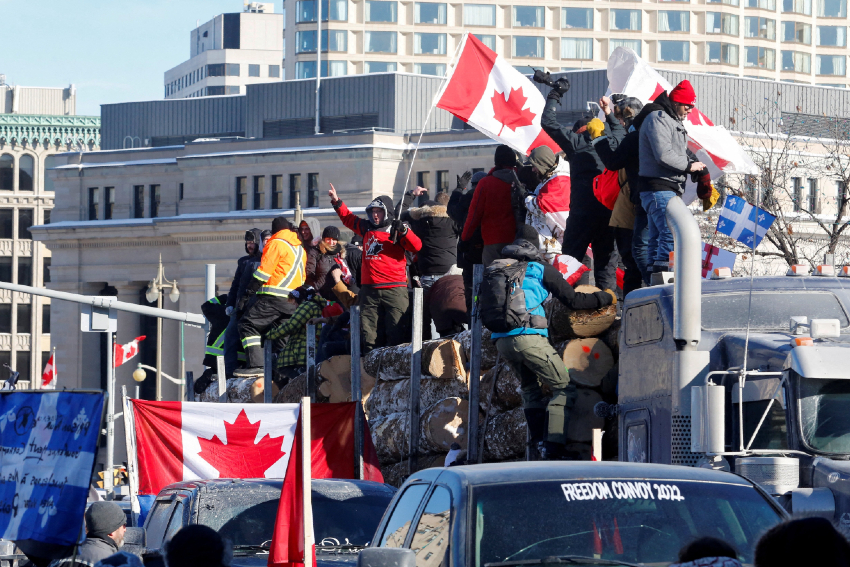 Letter #27, 2022, Monday, February 7: Freedom
    In this letter, I simply wanted to offer some information about a remarkable phenomenon which most of us have heard about but which most of us don't know very much about.
    Two videos which were sent to me by others struck me quite deeply. The first was a press conference that some of the leaders of the truckers gave in Quebec this morning. The men seemed thoughtful and from what I could tell quite peaceful, noble, and desirous of the common good. It struck me that they spoke with great honesty from their hearts and that some of the government officials in Canada and also in the United States have not spoken to the public with equal transparency. So I thought you might look at this video just for a minute or two to see who these truckers are.
    And then I saw a video of Royal Canadian Mounted Policeman Corporal Daniel Bulford. Bulford also struck me as a man of integrity and honor and someone interested in the common good. I included a video link to his explanation as to why he has resigned from service as one of the security guards for Canada's Prime Minister Justin Trudeau, and become one of the security advisors to the truckers in Quebec. Even if you only take 30 or 60 seconds listening to Corporal Bulford, I think it will give you a clearer sense as to who these men are, what they believe, and what has disturbed them about the government policies up until now and spurred the massive public protest that we are now seeing in Canada, and also in some other countries.
    Below the two videos, there are several reports on these matters.
    It appears that the events of the last two years have posed a challenge to democracy in the sense that decisions were taken worldwide without taking into account the consequences for the lives and freedoms of the world's citizens. The narrative that was constructed won the approval of many because the danger seemed so profound. But no meeting of the minds has been able to occur as the developments in recent months have seemingly changed the narrative. Therefore there is a tremendous need for transparency both about the health conditions we face due to the virus and its variants and due to the vaccinations and their consequences and due to the lockdowns and their economic effects (we all know that literally millions of small businesses from restaurants to small tutoring companies have closed down from the beginning of 2020; the small businesses that have been sacrificed were often willing to accept their demise for the good of all, but the big businesses were protected and preserved and the loss of the small businesses has changed our society forever.)
    It is cold in Canada and there is a potential for this situation to turn ugly. I pray that it all remains peaceful and that the Canadian people find a way to embrace the common good and protect the individual rights of citizens in accordance with the Constitution of Canada. This seems to me to be the right way forward. —RM
    

Truckers' Press Conference
    A presser from the freedom convoy addressing some of the concerns including the Ottawa Mayor declaring a state of emergency. Also discussed is the actions taken by the Ottawa police and how it impacts the convoy. (video at link)
    

Corporal Bulford Resigns From His Position of Personal Security for Justin Trudeau
    "I have drawn my line in the sand. No more silence and compliance from me."
    @TheVigilantFox (video at link)
    

Former sniper for Trudeau is coordinating volunteer security for truckers (link)
    CORRECTION: A previous version of this story erroneously stated that Cpl. Bulford was fired. That is not the case, and The Counter Signal apologizes for the error.
    Corporal Daniel Bulford, a former RCMP sniper who was resigned after refusing to take the vaccine, has a new job: supporting security operations for volunteers in the adopt-a-trucker program.
    Before the press conference for trustworthy media covering the Freedom Convoy began, The Counter Signal ran into Bulford, who confirmed that he's no longer protecting the ungrateful Prime Minister.
    Many will remember Bulford from an explosive interview with The Counter Signal last year, wherein he spoke out against the vaccine mandate, characterizing the government's decision to impose such a mandate as "authoritarian type behaviour."
    Anyone who wants to watch the full interview can do so by clicking here.
    Bulford, a staunch defender of Canadians' freedom and spokesman for Mounties 4 Freedom, resigned over his refusal to comply with the mandate.
    Yes, after more than a decade of serving his country, he was let go over a highly personal medical decision.
    He later spoke with Rebel News, explaining his rationale for sticking to his guns and not complying.
    "I definitely fall into a category that would be considered low-risk — almost 40, just a little bit shy of that mark, very healthy, very active, I don't have any underlying comorbidities — and I've made it a part of my lifestyle, ever since probably going as far back as high school, to take health and fitness seriously," Bulford explained.
    Clearly, his passion for defending his fellow Canadians hasn't been diminished one iota, and he now has an equally important job safeguarding truckers who undoubtedly appreciate him more than Trudeau ever did.
    

Canada Trucker Protest: Ottawa Shifts to Aggressive Gear in Policing 'Freedom Convoy' (link)
    Police arrest those attempting to ferry fuel and food in bid to end 11-day demonstration against Covid-19 vaccine mandates
    By Paul Vieira
    Feb. 7, 2022
    OTTAWA—Police in the Canadian capital are trying to prevent protesters who have parked hundreds of heavy-duty trucks in the downtown core from obtaining fuel, food and other supplies in a stepped-up effort to end the 11-day demonstration against Covid-19 vaccine mandates.
    Ottawa police were more aggressive in tactics over the weekend, as local politicians demanded an immediate end to the protest, organized by a group named Freedom Convoy 2022. The protest has clogged up traffic in the city and upended residents' day-to-day lives. Protesters have vowed to stay in the capital until all governments in Canada drop mandates related to Covid-19 vaccination, as well as other economic and social restrictions.
    

Why are truckers protesting in Canada? (link)
    The protest has turned into a wider critique of public health measures and Prime Minister Justin Trudeau's government.
    

Canada police seize fuel in attempt to break up truckers' vaccine protests (link)
    By Anna Mehler Paperny and David Ljunggren
    February 7, 2022
    OTTAWA, Feb 7 (Reuters) – Police in Canada's national capital have seized thousands of liters of fuel and removed an oil tanker as part of a crackdown to end an 11-day-old protest against the federal government's health measures and vaccine mandates, police said on Monday.
    "We are turning up the heat in every way we possibly can," Ottawa Police Chief Peter Sloly told reporters. "We are asking for a major push of resources to come in the next 72 hours."
    The "Freedom Convoy" consisting largely of truckers began as a movement against a Canadian vaccine requirement for cross-border drivers. But it has since evolved into a rallying point against Prime Minister Justin Trudeau's strict measures to fight the pandemic.
    This weekend, police counted 1,000 trucks and 5,000 protesters, down from 3,000 trucks and 10,000 to 15,000 protesters last weekend, Sloly added.
    Ottawa awoke to its second week of what its political and policing leaders now describe as a siege with Sloly saying the occupation has gone beyond anything he can adequately deal with. The protests have been largely peaceful.
    A short stretch of Metcalfe Street in downtown Ottawa, home to Canada's parliament, central bank, and buildings including Trudeau's office, smelled of campfire on Monday. A clustering of trucks, cars and tractors without trailers bore signs deriding everything from vaccines and mandates to Canada's carbon tax.
    One sign showed a poster of Canada's Charter of Rights and Freedoms, which guarantees rights including that of life, liberty and security of the person – subject to "reasonable limits."
    Packets of water bottles, briquettes and diapers were piled high beside open-sided white tents with tables of food.
    There was also evidence of pushback from residents. Small signs in the ground-floor windows of an apartment building a few blocks away said: "GO HOME MORONS" and "VACCINES SAVE LIVES."
    The Canadian government, which has refused to back down on the issue, will hold a news conference on Monday afternoon to discuss the blockade. Trudeau, who is isolating after testing positive for COVID-19, will not attend.
    Trudeau and his family left their downtown home after truckers started arriving in Ottawa and his location has not been disclosed due to security concerns.
    PORTABLE SAUNAS
    Late night honking and occasional fireworks have disrupted the normally quiet life of the residents in downtown Ottawa.
    An Ottawa court will hear an application for an injunction to end the loud honking downtown residents say has become incessant and unbearable.
    Lawyer Paul Champ, who represents the plaintiffs, told Reuters on Sunday he expects the police to enforce "to some extent" an injunction if the court grants it.
    On Sunday night, police began removing gas and fuel supplies at a logistics encampment set up by protesters, after the city's mayor declared a state of emergency on Sunday.
    A well-organized supply chain — including portable saunas, a community kitchen and bouncy castles for children — has sustained the protesters. It has relied partly on funding from sympathizers in the United States, police said.
    Former U.S. President Donald Trump and Tesla (TSLA.O) CEO Elon Musk have praised the truckers.
    Over the weekend, protests spilled over into other large Canadian cities, including the financial capital Toronto, and were met with counter demonstrations.
    Canadians have largely followed government's health measures and nearly 79% of the eligible population has taken double dose of the vaccine. But recent polls have shown frustrations against restrictions are growing.
Facebook Comments