Funeral in Baghdad
The funeral of those slain in Sunday's terrorist attack on a Syriac Catholic church in Baghdad, Iraq
By Robert Moynihan
ALL SOULS' DAY
TUESDAY, NOVEMBER 2, 2010
(This photograph is of a bas-relief of the Blessed Virgin Mary at the entrance of Baghdad's Syriac Catholic cathedral, damaged in Sunday night's massacre of about 60 people celebrating Mass within its walls. The bullet holes and the marks on Our Lady's chin and veil were a result of the assault Sunday evening.)
Seven of the 60 people who died in Sunday's bloody siege on Baghdad's Syriac Catholic Cathedral were buried today.
But why, precisely, were they killed? Why was this particular cathedral a target? Was this a random act, or a planned one? If planned, as it seemingly was, then by whom? These gunmen were wearing military uniforms. Of what kind? From where? Survivors said the gunmen spoke with accents, that they did not seem to be Iraqi. If so, where were they from? Survivors who looked in the killers' eyes said they appeared to be "crazy men," not in their right minds, that they killed pitilessly and without seeming purpose, indiscriminately — that they seemed possessed. If this is true, is there any way of ascertaining whether the gunmen were intoxicated, on drugs, or in some way "programmed" to kill? Can their corpses be tested for possible doping of some kind?
The liturgy was led, in the absence of the Syriac archbishop, by the Chaldean Catholic patriarch, Cardinal Emmanuel III Delly (photo).
I never wrote that I met Cardinal Patriarch Delly again in Rome. I wrote two weeks ago that I met him, briefly, on Friday evening, October 22, shook his hand, and asked him why he had spoken so favorably at the Synod about the situation of Christians in Iraq. "I have nothing more to say," he told me then. He clearly did not wish any sort of interview. He did not realize that I did not want an interview at all, only to understand better why he had said what he said. I accepted that I would never have the chance to speak at length with him. But the next day, Saturday, October 23, I ran into him again, by chance…
"We are gathered here in this sacred house to say farewell to our brothers who were just the day before yesterday exclaiming love and peace," Patriarch Delly told the mourners. "Now fate has decided that they will leave us."
That Saturday, I was eating a late afternoon meal at a table outside a restaurant on the Borgo Pio, the little cobblestoned street which runs to St. Anne's Gate and into the Vatican, when, unexpectedly, I saw Patriarch Delly walking down the street. It was about 4 in the afternoon. He was walking with five other men, apparently friends — perhaps bodyguards? He was evidently taking an afternoon constitutional. I got up from the table. "Good evening, Your Eminence," I said, walking toward him. He looked at me, shook his head, and increased the speed of his walking. The bodyguards stepped between us…
Among the congregation was the head of one of Iraq's Shiite Muslim political parties, tears running down his face, according to wire reports.
Twenty minutes later, another monsignor attending the Synod came down the Borgo, and stopped. I told him I had just seen Patriarch Delly, and had wished to talk to him, but had been unable to. "Well, he's staying just down the street at the Pensionato Romano," the monsignor said. "Go there." I paid for my meal and walked over to the place where Patriarch Delly was staying, the Pensionato Romano, just behind Vatican Radio. As I reached the door, Patriarch Delly and his five friends returned from their walk. They saw me, but swept by me into the residence…
(Here is a link to a web page about this residence: https://www.domusromana.it/brief%20history.htm)
I entered and stood by the front desk. Patriarch Delly and four of his friends sat in the lobby and talked. "They are waiting for dinner," the priest at the desk told me. I asked him to ask one of the men with Patriarch Delly to come over to the desk. The priest immediately motioned to the man with his hand. The man came to the desk. "Hello," I said, "I just wanted to explain why…" "Excuse me," the man said. "The Patriarch doesn't wish to speak with anyone. Please leave him in peace." And he turned and walked away. I looked toward Patriarch Delly sitting a few feet away, then turned and left. I did not write about this, but thought of it again when this massacre occurred in Baghdad on Sunday, and when Delly celebrated this funeral Mass today…
A condolence telegram from Pope Benedict XVI was read: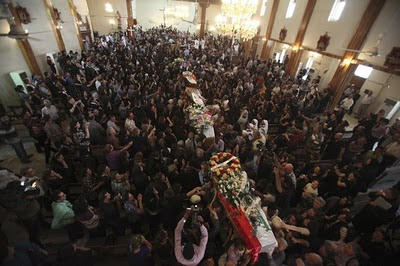 "Deeply moved by the violent death of so many faithful and their priests Tha'ir Saad and Boutros Wasim, I wish, during the sacred funeral rite, to share spiritually in this occasion and pray that these our brothers and sisters are welcomed by the mercy of Christ into the Father's House."
The funerals in Iraq seem closer to me now. For seven years, American troops have been in Iraq, and yet the Christian community there always seemed distant to me, far away. Only at the Synod, this October in Rome, as I watched and listened, did I begin to be conscious of the true gravity of the situation of the Christians in the Middle East — the threats, kidnappings, the killings — and to feel somehow "connected" to that situation, even though I live far away, in a place where gunmen have never come into my church and killed women and children. I felt connected also to Patriarch Delly, in his silence, even if he did not feel connected to me…
"For years this country has been suffering untold hardships and even Christians have become the subject of brutal attacks that, in total disregard of life — an inviolable gift from God — seek to undermine confidence and peace."
During the Synod, there were revealing moments. First of all, the Pope's own, powerful interpretation of the predicament we face in our world: false gods, lying gods, gods of money and power, gods who are in fact demons, gods claiming to bring joy and life, but bringing sorrow and death. Those words the Pope spoke on the first morning of the Synod, on October 11, the anniversary of the opening of the Second Vatican Council — 11/11/10 — were among the most powerful of his pontificate. "These gods must fall," he said. They must not rule men's lives, and compass their deaths. They must fall…
"I renew my call that the sacrifice of our brothers and sisters may be the seed of peace and true rebirth, and that those who care about reconciliation, solidarity and fraternal coexistence, find the strength and motivation to do good."
Prayers for the Faithful Departed
Prayer for the dead is one of the greatest acts of charity we can perform. Our prayers help them during their time in Purgatory, so that they can enter more quickly into the fullness of heaven.
De Profundis
The De Profundis ("Out of the Depths") is a penitential psalm that is sung as part of vespers (evening prayer) and in commemorations of the dead.
We know all who are in Purgatory will enter Heaven, but we are still bound by charity to try to lessen the suffering of the Holy Souls through our prayers and deeds. While our first responsibility is to those people we have known, it is important to remember in our prayers those souls who are most forsaken.
Words of Psalm 130 (Psalm 129 in the Septuagint numbering)
De profundis clamavi ad te, Domine;
Domine, exaudi vocem meam. Fiant aures tuæ intendentes
in vocem deprecationis meæ.
Si iniquitates observaveris, Domine, Domine, quis sustinebit?
Quia apud te propitiatio est; et propter legem tuam sustinui te, Domine.
Sustinuit anima mea in verbo ejus:
Speravit anima mea in Domino.
A custodia matutina usque ad noctem, speret Israël in Domino.
Quia apud Dominum misericordia, et copiosa apud eum redemptio.
Et ipse redimet Israël ex omnibus iniquitatibus ejus.
Translated:
Out of the depths I cried unto you, O Lord;
O Lord, hear my prayer! Let your ears be attentive
to the voice of my supplication:
If you, O Lord, mark iniquities, Lord, who can stand?
But with you is forgiveness; and because of your law, I waited for you, O Lord.
My soul trusted in his word.
My soul hoped in the Lord.
As a sentinel waits for the dawn, let Israel wait for the Lord;
For with the Lord is kindness, and plenteous with him redemption;
And he will redeem Israel from all his iniquities.
News Accounts
Here below are recent stories on the events in Baghdad. They contain some of the odd details of this massacre, which remains mysterious. Did most of the victims die before the authorities raided the church, or during the raid? Were the gunmen Iraqis, or not? In either case, who trained them, and where, and for what ultimate purpose? To break up Iraq into separate pieces? Were the attacks on Sunday connected with the 13 bombings today throughout the city? Will this break the will of the Christians of Iraq to stay in their homeland, or will a further exodus begin now?
(1) As funeral is held, more bombings kill 76 across Baghdad
By REBECCA SANTANA, Associated Press – Tue Nov 2, 7:34 pm ET
BAGHDAD – Rapid-fire bombings and mortar strikes killed 76 people and wounded more than 200 across Baghdad's myriad neighborhoods Tuesday, demonstrating the insurgents' ability to carry out coordinated strikes from one side of the capital to the other.
The attack — blasts in at least 13 separate neighborhoods — was clearly designed to hit civilians at restaurants and cafes where many Iraqis were gathered to enjoy the warm evening. The sophistication and the targets — Shiites — suggested that al-Qaida-linked Sunni militants were responsible for the deadliest day in Iraq since May.
The strikes, two days after the bloody siege of a downtown church, were stunning in their scope — indicating a high degree of coordination and complexity from an insurgency that just a few months ago U.S. and Iraqi officials were saying was all but defeated.
"They say the situation is under the control. Where is their control?" said Hussein al-Saiedi, a 26-year-old resident of Baghdad's sprawling Sadr City slum, where 21 people were killed when a parked car blew up near a market in Tuesday's deadliest bombing.
"We were just standing on the street when we heard a loud noise, and then saw smoke and pieces of cars, falling from the sky," al-Saiedi said. People were fleeing the site in panic, frantically calling the names of their relatives and friends."
The bombings began at about 6:15 p.m. and lasted for hours. The assailants used booby-trapped cars and a motorcycle, roadside bombs and mortars. Though 10 neighborhoods targeted were home to mostly Shiites, a couple of strikes hit Sunni communities as well.
In addition to the 76 dead, 232 people were wounded, according to police and hospital officials who spoke on condition of anonymity because they were not authorized to speak to the media.
Prime Minister Nouri al-Maliki called the string of blasts and the church siege crimes by terrorists and former members of the Baath Party — which once ruled Iraq under Saddam Hussein — against innocent civilians designed to provoke sectarian strife and destablize the government.
"The criminal acts that targeted the Christians at the Lady of Salvation church and the civilians in Baghdad are political blasts intending to halt the forming of the government," he said in a statement. Iraq has been without a new government since the March 7 elections, leaving a political vacuum that many fear insurgents are trying to exploit.
There was no immediate claim of responsibility, but suspicion fell on al-Qaida.
"We do not have any conclusive information at this time as to the responsible parties but this seems to be typical AQI (al-Qaida in Iraq) tactics," said Lt. Col. Eric Bloom, a U.S. military spokesman.
Bloom said American military advisers were at some of the 13 to 17 explosion sites, working with Iraqi military explosives disposal teams.
Fearing retribution for the attack, police on loudspeakers told people in the Sunni neighborhood of Azamiyah to stay home. In Sadr City, police ordered people to go home.
The surge in violence is raising fresh concerns about the planned pullout of American troops next year. The U.S. now has just under 50,000 troops in Iraq, down from a wartime high of 170,000.
A State Department audit concluded Tuesday that the Obama administration could be overstating what U.S. diplomats can do to contain Iraq's ethnic and sectarian tensions without U.S. military forces.
The auditors also questioned whether American diplomats who remain behind will be adequately protected against insurgent violence, and their report faulted Washington for its planning of the transition from a U.S. military-led mission in Iraq to one run by American civilians in 2011.
In its report, the State Department's office of inspector general said stability in Iraq may be years away. It warned that the failure of Iraqi political leaders to form a unity government has interfered with the "urgent task" of planning for Washington's post-2011 diplomatic role.
Stephen Biddle, an Iraq watcher at the Council on Foreign Relations, said it will be difficult for U.S. diplomats to keep a lid on Sunni-Shiite and Arab-Kurd rivalries in the absence of a sizable American military presence.
"Normally, stabilizing a situation like this requires peacekeepers," he said. "Peacekeepers are soldiers. That doesn't say there aren't important and valuable things that government civilians can do. But … security protection is important in this environment, and that's not something State Department civilians do."
Iraq has been plagued by conflict between Shiite and Sunni Muslim sects since the 2003 collapse of Saddam Hussein's regime, which was dominated by the minority Sunnis. It was supplanted by a Shiite-dominated government that remains in power until today.
Tuesday's blasts came just hours after Christians gathered at a downtown church to mourn 58 people killed in an assault on a Sunday Mass. An al-Qaida-linked group claimed responsibility for that attack — the deadliest ever against Iraq's dwindling Christian community.
"They murdered us today, and on Sunday they killed our brothers the Christians," said al-Saiedi, the Sadr City resident.
The complex attack carried out on parishioners celebrating Mass at the Our Lady of Salvation church in an affluent Baghdad neighborhood emphasized the particularly dangerous position that the country's Christians occupy among Iraq's sectarian structure.
Iraq's top Catholic prelate, Chaldean Cardinal Emmanuel III Delly, urged the government to protect the nation's Christian community and not let their promises just be ink on paper.
"We are gathered here in this sacred house to say farewell to our brothers who were just the day before yesterday exclaiming love and peace," Delly told a weeping congregation at the Chaldean St. Joseph Church in central Baghdad.
In a show of force, Iraqi security forces flooded the streets around the church where black-clad parishioners mourned for the dead parishioners.
But as the security forces concentrated their efforts in the central Karradah neighborhood where the funeral took place, militants appeared to have spread out in a ring across the capital where the evening attack unfolded just hours later.
Adnan Anbar, a 42-year-old man who was crossing the street in Sadr City when the parked car blew up, questioned the effectiveness of the hundreds of police and army checkpoints scattered throughout Baghdad.
"What are all these checkpoints about?" Anbar asked. "Where is the government?"
___
Associated Press writers Robert Burs in Washington and Lara Jakes and Mazin Yahya in Baghdad contributed to this report.
(Here is the link to this report: https://news.yahoo.com/s/ap/20101102/ap_on_re_mi_ea/ml_iraq)
(2) Bloodshed in Baghdad cathedral hostage drama
By Khalil Murshadi
46 Christians killed when US-backed Iraqi forces storm Sayidat al-Nejat cathedral to free hostages held by Al-Qaeda.
November 1, 2010
Grieving Catholics in Baghdad marked All Saints Day Monday in mourning for 46 Christians killed during a hostage drama with Al-Qaeda gunmen that ended in an assault by Iraqi forces backed by US troops.
Mourners throughout Monday were seen carrying coffins containing bodies of the dead from out of the church and loading them onto vehicles for transfer to the morgue. Most of the victims were to be buried on Tuesday.
The rescue drama on Sunday night, two months after US forces formally concluded combat operations in Iraq, ended with two priests among at least 46 slain worshippers.
"It was carnage," said Monsignor Pius Kasha, whose Syriac Catholic church was targeted by the militants, whom witnesses said were all armed with automatic rifles and suicide belts.
"There were less than 80 people inside the church, and only 10 to 12 escaped unhurt," he said, giving an account that differed from the official Iraqi version. He said two priests were killed, and 25 worshippers were wounded, among them a priest who was shot in the kidney.
An interior ministry official, in an updated toll, said there had been more than 100 worshippers in the church and that 46 had been killed and 60 wounded. He said seven security members also had died, adding that five attackers were killed.
A witness said that immediately on entering the Sayidat al-Nejat Syriac Christian cathedral during evening mass, the gunmen shot dead a priest while worshippers huddled in fear.
"They entered the church with their weapons, wearing military uniforms. They came into the prayer hall, and immediately killed the priest," said one of the freed hostages, an 18-year-old man who declined to give his name.
"We heard a lot of gunfire and explosions, and some people were hurt from falling windows, doors and debris."
Iraqi officials had said that at least one of the gunmen who raided the cathedral had blown himself up with a suicide belt as police made a first attempt to enter. Witnesses said the militants had began to fire their weapons as soon as they entered the church.
Traces of Flesh, blood, bullet marks and shattered glass littered the cathedral, said an AFP journalist who went to the scene in Baghdad's central Karrada district Monday.
"It resembles a battlefield," he said.
US soldiers dressed in combat gear also took part in the assault, some of the witnesses said.
"I was freed by Americans, they came first and the Iraqis came after," said an 18-year-old man outside the church, shortly after drama ended.
Another freed hostage said the same, and an AFP reporter saw American soldiers in assault gear at the scene.
But Sameer al-Shuaili, spokesman of Iraq's anti-terror unit, said that no Americans were involved.
"The (Iraqi) anti-terror forces are the only forces who raided the church, there were no Americans at all," he said.
The US military said it had "advisers" near the scene, but that US soldiers were not involved in the assault.
"There were no US soldiers involved in the assault to free the hostages," said Colonel Barry Johnson, a US military spokesman in Iraq.
The Chaldean bishop of Baghdad, Bishop Shlimoune Wardouni, said that the gunmen were demanding the release of detainees held in Iraq and Egypt.
The SITE monitoring group said Monday that the Islamic State of Iraq, the local branch of Al-Qaeda, had claimed the Baghdad attack, saying its fighters had captured the Christians and also gave the Coptic church in Egypt a 48-hour deadline to release women it said were being held captive by the Christians.
SITE said the threat comes amid calls by jihadists and Al-Qaeda's media arm for Muslims to take action against the Egyptian Coptic church over the alleged imprisonment of two women, both wives of Coptic priests.
Egypt refused on Monday to react to the demands.
"Egypt categorically rejects having its name or affairs pushed into such criminal acts," the foreign ministry said in a statement issued in Cairo. It also "strongly condemned" the attack on the Baghdad church.
The Vatican, Italy and France also condemned the hostage-taking in Baghdad, with Pope Benedict XVI on Monday branding the attack as "absurd and ferocious violence" against Christians in Iraq.
Around 800,000 Christians lived in Iraq in 2003 but their number has since shrunk to 550,000 as members of the community have fled abroad, according to Christian leaders.
Iraqi Christians have frequently been the target of violence, including murder and abductions. Hundreds have been killed and several churches attacked since the US-led invasion to oust Saddam Hussein in 2003.
Violence has abated in Iraq since its peak in 2006-2007, but deadly bombings, gunfights and kidnappings are still routine.
(Here is a link to this report: https://www.uruknet.de/?s1=1&p=71388&s2=02)
(3) Hostage Case at Baghdad Church Ends in Bloodbath
By JOHN LELAND
Iraqi Forces Storm a Church With Hostages in a Day of Bloodshed
October 31, 2010
BAGHDAD — Iraqi antiterrorist forces stormed a church where gunmen had taken close to 100 hostages on Sunday in an afternoon of chaos that became a bloodbath. At least 30 hostages and 7 security officers were killed, and 41 hostages and 15 security force members were wounded, according to a source at the Ministry of the Interior.
The source spoke on the condition of anonymity because he was not authorized to speak to reporters.
Abdul-Kader Jassem al-Obeidi, the minister of defense, said that most of the hostages were killed or wounded when the kidnappers set off at least two suicide vests as they took over the church. He defended the decision to storm the building, saying, "This was a successful operation with a minimum of casualties, and killing all the terrorists." He added that an unspecified number of suspects were also arrested.
The source at the Ministry of the Interior said that the police had arrested eight gunmen believed to be affiliated with the Islamic State of Iraq, a militant organization connected to Al Qaeda in Mesopotamia.
Hussain Nahidh, a police officer who saw the interior of the church, said: "It's a horrible scene. More than 50 people were killed. The suicide vests were filled with ball bearings to kill as many people as possible. You can see human flesh everywhere. Flesh was stuck to the top roof of the hall. Many people went to the hospitals without legs and hands."
The violence began shortly after 5 p.m. on Sunday. The gunmen first attacked the Baghdad stock exchange in the Karada neighborhood, killing two security guards and wounding four others, setting off two bombs and then taking refuge in the nearby Sayidat al-Nejat church.
The church — one of six bombed in August 2004 — was filled for Sunday services. A local television channel, Baghdadiya, reported receiving a telephone call from someone claiming to be one of the attackers and demanding the release of all members of Al Qaeda imprisoned in Arab countries.
Karada is an area dotted with federal police checkpoints, local police patrols and political parties with security details, as well as security guards attached to the stock market and the church. Mr. Obeidi, the defense minister, said, "It seems like there was negligence by the security forces, which we will investigate later."
The attack came two days after a suicide attack at a cafe in Diyala Province killed 21 people, the worst assault in more than a month, and as members of Iraq's four political blocs planned to meet in the heavily fortified Green Zone to try to break the impasse that has left Iraq without a new government nearly eight months after the national election.
Major acts of violence have not proliferated during the political deadlock, as many have feared, but smaller, focused attacks have been commonplace, stirring fears of a return to high levels of bloodshed.
The Iraqi antiterrorist unit, known as the Golden Force, which has been criticized for not being able to stop attacks, moved quickly to end the siege. Its forces swarmed the church by helicopter and sent in grenades and smoke grenades, but were rebuffed by the terrorists.
Security officers then stormed the church from the ground, breaking through the gates. Spokesmen from the police and the Ministry of the Interior would not give details of the final assault on the church, or say how many kidnappers were involved.
It was unclear whether the attackers' main target was the stock market or the church, or whether they planned to attack both.
The church, with a huge cross visible from hundreds of yards away, was already surrounded with concrete bollards and razor wire, and church leaders have been fearful of attack since the Rev. Terry Jones in Gainesville, Fla., threatened to burn a Koran on the anniversary of the Sept. 11 attacks on the World Trade Center and the Pentagon. Mr. Jones decided not to burn the Koran.
Iraqi employees of The New York Times contributed reporting.
(Here is a link to this report: https://www.uruknet.de/?s1=1&p=71371&s2=01)
(4) Iraq PM fears wave of violence after church attack
Monday, November 1, 10:49 am ET
BAGHDAD – Iraq's prime minister says an attack on a Catholic church in Baghdad was an attempt by insurgents to pull Iraq back into sectarian fighting.
Shiite Prime Minister Nouri al-Maliki said in a statement Monday that the attackers also sought to drive more Christians out of the country.
Iraq's dwindling Christian community was grieving and afraid on Monday after militants seized a Baghdad church during evening Mass, held the congregation hostage and triggered a raid by Iraqi security forces. The attack left at least 52 people killed and 67 wounded — nearly everyone inside.
The attack, claimed by an al-Qaida-linked organization, is the latest assault against Iraq's Christians, whose numbers have plummeted since the 2003 U.S.-led invasion as the community has fled to other countries.
"It was a massacre in there and now they are cleaning it up," he said Monday morning. "We Christians don't have enough protection … What shall I do now? Leave and ask for asylum?"
"Now they make a show," said Jamal Jaju, who watched as Iraqi forces set up a chain link fence around the church and pushed back observers. "What can I say? I lost at least 20 friends in there."
Pope Benedict XVI denounced the assault as "ferocious" and called for renewed international efforts to broker peace in the region. Catholics made up 2.89 percent of Iraq's population in 1980; by 2008 they were merely 0.89 percent.
Islamic militants have systematically attacked Christians in Iraq since the collapse of Saddam Hussein's regime.
Sunday's bloodbath began at dusk, when militants wearing suicide vests and armed with grenades attacked the Iraqi stock exchange. Only two guards were injured in the assault, which may have been an attempt by the militants to divert attention from their real target — the nearby church in an upscale Baghdad neighborhood.
That attack soon followed. The gunmen went inside the church and took about 120 Christians hostage.
Maj. Gen. Hussein Ali Kamal, the deputy interior minister, said 52 people were killed and 67 wounded. The dead included at least 10 policemen, two priests and five to eight attackers, according to various accounts.
It was unclear whether most hostages died at the hands of the attackers or during the rescue.
According to two security officials, most of the deaths were in the basement where a gunman killed about 30 hostages when Iraqi forces began to storm the building. One official said the gunman set off an explosives vest he was wearing, but the other said the gunman threw two grenades at his hostages. Both spoke on condition of anonymity because they were not authorized to talk to journalists.
Video footage from an American drone that was overhead during the attack showed a black plume of smoke pouring out of the church followed by flashes before security forces charged inside. U.S. forces often supply air support to Iraqi forces conducting operations on the ground, feeding them video footage from their airborne drones.
"We have no clear picture yet whether the worshippers were killed by the security forces' bullets or by terrorists, but what we know is that most of them were killed when the security forces started to storm the church," said Christian lawmaker Younadem Kana, who condemned the operation as "hasty" and "not professional."
Baghdad military spokesman Maj. Gen. Qassim al-Moussawi said Monday that security forces arrested five suspects, some of whom were not Iraqi.
A cryptically worded statement posted late Sunday on a militant website allegedly by the Islamic State of Iraq appeared to claim responsibility for the attack.
The group, which is linked to al-Qaida in Iraq, said it would "exterminate Iraqi Christians" if Muslim women in Egypt were not freed.
It specifically mentioned two women that extremists maintain have converted to Islam and are being held against their will in Egypt.
The two are wives of priests. Some believe they converted to Islam to leave their husbands since divorce is banned by Egypt's Coptic Church. One woman disappeared in 2004 and the other this past July.
Egypt's Christians had originally maintained they were kidnapped and staged rallies for their release. In both cases, police subsequently recovered the two women, who denied they had converted. They were then spirited away to distant monasteries.
The cases were widely publicized in Egypt, which has its own fraught sectarian relations, have continued to be a rallying point for Egypt's hardline Muslims. They hold weekly demonstrations in mosques calling for the women's "release."
Bishop Morqos, an assistant to Egypt's Coptic pope, told The Associated Press that the women fear for their lives and will remain in seclusion.
"The two are afraid to appear in public, fearing assassination by extremists," he said.
In their message Sunday, the militants called on the Vatican, which held a meeting last month to discuss the fate of Christians in the Middle East, to release the women.
"We direct our speech to the Vatican and say that as you met with Christians of the Mideast a few days ago to support them and back them, now you have to pressure them to release our sisters, otherwise death will reach you all," it said.
On Monday, Iraqi authorities took extra measures to protect Christian neighborhoods and churches in Mosul, Kirkuk and Baghdad. Additional police cars and checkpoints were seen near many churches, and authorities were conducting extensive searches on cars and pedestrians heading to churches.
"This is more than a tragedy," said Iraq's Human Rights minister, Wijdan Mikheil, who is a Christian.
Choking back tears as she spoke with reporters outside Our Lady of Deliverance church, she said: "What is happening to Iraqis in general and Christians in particular is an attempt to push them out of the country, but we hope Iraqis remain united."
Our Lady of Deliverance is a Syrian Catholic church.
Karim Khalil, a 49-year-old Iraqi Christian, said he moved to Syria with his family last year because he felt his religion made him a target in Baghdad.
"Iraqi militias threatened me, saying I was on the side of the Americans because I am Christian," Karim told the AP. "They said I would be killed if I stayed in Iraq."
Now he lives in Damascus with his wife and five children.
"I have left behind my house and everything to escape with my family," he said.
Many other Iraqi Christians living in Syria refused to speak to the AP. They said they fear militias may exact revenge on their families in Iraq.
Associated Press writers Albert Aji in Damascus, Syria, Sinan Salaheddin in Baghdad and Sameer N. Yacoub in Amman, Jordan contributed to this report.
A Visit to the Consistory


Inside the Vatican 

has organized a small pilgrimage to attend the November 20 consistory in Rome. We have two places still open. If you wish for more information about this visit, please email 

DTomlinson@InsideTheVatican.com 

or call 

904-699-0960

. If you have ever wished to visit the Vatican, consider joining us for the Consistory.

"Fight the good fight of faith, lay hold on eternal life." —St. Paul, First Letter to Timothy 6:12




A Talk by Dr. Robert Moynihan about the "Old Mass"

This talk gives a 2,000-year history of the Mass in 60 minutes which is clear and easy to understand. The talk covers questions like:

— Does the motu proprio overcome some of the liturgical confusion since Vatican II?
— Who was Annibale Bugnini?

— The mind of Pope Benedict: How can the Church restore the sense of the presence of God in the liturgy?

 

To

 subscribe

 to the print edition of 

Inside the Vatican

, 

click here 

The newsflash is 

free

, but there are costs associated with producing it. To support this writing, you may call our toll-free number in the USA, 1-800-789-9494,

or click here

"Inside the Vatican is a magazine I read cover to cover. I find it balanced and informative. I especially appreciate its coverage of art and architecture. It is not only an important magazine, it is also a beautiful one." —Prof. Mary Ann Glendon, Harvard University Law School, former United States Ambassador to the Holy See
Facebook Comments