"Totally Alone"
A talk with two former members of the Society of St. Pius X who are seeking a home in the Church. A bit more on the upcoming encyclical. A note about Pope Pius XII. Plus, Suor Giovanna retires…
By Robert Moynihan, reporting from Rome
"It's a little romantic. There are certain parts of the island where you can stand and look out to sea and you are totally alone, just you and God. It's a perfect atmosphere to pray." —Brother Magdala Maria, member of a traditionalist congregation which lives on Golgotha Monastery Island in the Orkney Islands off the northern coast of Scotland (photo)
"A level of thinking above this"
This morning, I met Vatican journalist Angela Ambrogetti just before 8 a.m. in front of the Holy Office and told her the bad news.
I had scheduled an interview for 9 a.m. with a leading Church theologian to discuss the upcoming social encyclical.
The theologian at first had agreed to the appointment, but later decided otherwise.
"He has canceled the interview," I said to Angela. "What do you want to do? We can either forget about it… or go anyway…"
"Andiamo," Angela said immediately. "Why not? A journalist has to insist…"
So we drove through the morning traffic and reached our destination.
At the entrance, the secretary called the theologian. We waited. Would he send us away without seeing us?
"He will see you in 10 minutes," she said.
"You see?" Angela said.
Ten minutes later we began to discuss the theological background of the upcoming encyclical, which the Vatican announced today will be made public at a press conference of July 7 — just before US President Barack Obama arrives in Rome.
The theologian clearly knew the encyclical's contents well.
The encyclical "does not condemn free enterprise," he said, but calls for "an ethic in free enterprise" — an "ethical capitalism," he said.
The encyclical is written on a more profound level than most treatises on social and economic problems, he said.
"The encyclical's message is not somewhere on the spectrum of left, center, and right," he said. "Rather, it is on a level of thinking above this.
"The idea is precisely to help the world to come out of a profound crisis with a vision for the future based on basic moral principles of right and wrong.
"It presents a vision of man as a being who can know what is good, and true, and can choose the good, can choose solidarity, brotherhood.
"It is fundamentally an encyclical of hope — that we can face the present global economic crisis and overcome it."
The key is in the name itself, he said: Veritas in caritate ("Truth in charity" or "Truth in love").
"At the center of our present crisis is a crisis of truth," he said. "The encyclical sets forth the truth about man, and man's dignity, and calls for a cultural as well as a religious commitment to something beyond personal profit — the common good of all."
Back in the Vatican Press Office, journalists were gathering for a celebration.
Sister Giovanna Gentile, an Italian nun from northern Italy, was retiring after 25 years of service in the press office.
She received a Vatican award for her years of service, and held back tears.
She has always been a great help to us, and we wish her well in the years ahead.
This afternoon, I received an email from a friend in America who said two of his friends were in Rome, and that he thought we should get together. So, after an exchange of phone numbers, we arranged for dinner this evening at La Vittoria on via delle Fornaci.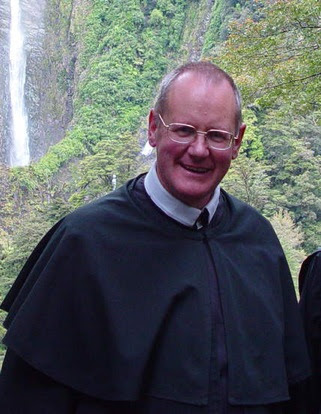 Father Michael Maria (photo), 55, born in New Zealand, and Brother Magdala Maria, 29, born in Sydney, Australia, but descended from one of the kings of Samoa, were for many years members of the Society of St. Pius X.
However, two years ago, after Pope Benedict published his motu proprio on the liturgy, Summorum Pontificum (July 7, 2007), the two, and several of their friends, decided to leave the Society and try to return to full communion with Rome.
They have hoped for many months that their "assimilation" into the Church might take place quickly, but it has not yet occurred.
"We are still in no man's land," Father Michael told me. "We're not incardinated anywhere, though we have received faculties to hear confessions from our local bishop in Scotland."
Father Michael, the oldest of six children, was ordained a priest of the Congregation of the Most Holy Redeemer (Redemptorist) in 1978, and it was not until eight years later, after something that happened during Pope John Paul II's trip to New Zealand in 1986, that he felt moved to draw close to Archbishop Marcel Lefebvre.
"I still remember clearly a large outdoor Mass in New Zeland," Father Michael said. "I was one of the concelebrants. As I was distributing communion, a young man came up, took the host in his hand, then closed his hand on it, breaking it, and tossed it into the air. When it fell, I knelt to pick up the pieces. I saw that the man was going up to other priests and doing the same thing, so I went to the security guards and told them about the desecration that was occurring. But that wasn't the only thing that happened. I saw many young people sitting in the back, eating potato chips and drinking soft drinks, then getting up to go to communion. No fast at all. I felt the lack of reverence for the Eucharist at this papal Mass was so great that I had to find a different home in the Church."
Father Michael started reading about the liturgy, including the works of Michael Davies, and he slowly made his way toward the Society of St. Pius X, traveling to the Society's seminary in Econe, Switzerland, where he came to know Archbishop Lefebvre well.
"What kind of man was Lefebvre?" I asked.
"He was a very humble man," Father Michael replied. "He was always very thoughtful. Whenever I came to see him, he always had some gift for me, a book, or some other small item. I felt he was a kind and good man, a holy man."
Father Michael was present when Lefebvre, together with Bishop Antonio de Castro Mayer, conducted the four episcopal consecrations on June 30 which led to the first and only public schism in the Church since the Second Vatican Council.
And Father Michael remained in the society of St. Pius X for another 19 years, serving in a St. Pius X parish in southern England.
But two years ago, Father Michael decided that Pope Benedict's gesture in permitting wider use of the old liturgy compelled him to respond. He decided to seek a way to return to full union with Rome.
"We have drawn up a contitution for an order called Sons of the Most Holy Redeemer, and we have presented it to the Ecclesia Dei Commission for approval," Father Michael said. "We have been hoping against hope that it would be accepted quickly, perhaps before Cardinal (Dario) Castrillon-Hoyos retires on July 4…"
"But that is only three days away…" I said.
"I know," Father Michael said. "We are losing hope. But we haven't given up."
Father Michael said he and two other priests and some 15 brothers lives a common life together on an island off the coast of northern Scotland.
"I am of Scottish descent," Father Michael said. "When we left southern England two years ago, we visited Scotland, and came to a place where we found this isolated, barren island, completely uninhabited. It was for sale for 200,000 pounds. We had no money, but we decided to pray a novena in the hope that a way would be opened for us to make that our home. Within a couple of days, a house that had been donated to us was suddenly sold, giving us a considerable portion of the money needed. Then other gifts came unexpectedly, and by the 9th day, 236,000 pounds had arrived. We were able to buy the island."
The 18 men have built a chapel and a series of small hermitages in a row, about 15 feet apart, and live a common life on the island.
"What is the island like for you, who are from the South Pacific?" I asked Brother Magdala.
"There are no trees," he said. "And the water is very cold. You can't swim it it, except perhaps for one day in the summer. The air is all salt-laden; it burns the trees.
"It's a little romantic. There are certain parts of the island where you can stand and look out to sea and you are totally alone, just you and God. It's a perfect atmosphere to pray."
"What is your daily life like on the island?" I asked.
"We rise at 4:55 a.m.," Father Michael said. "We wash and dress and at 5:25 a.m there is a bell to go to the chapel. There we spend 30 minutes in mental prayer, and then we celebrate Mass at 6 a.m. according to the old rite, in Latin. After Mass we have a quarter hour of Thanksgiving. At 7 a.m. we have breakfast…"
"Is it a good breakfast?" I asked.
"Yeah, it's great," Father Michael replied. "We have our own milk from 10 Jersey cows, tea, bread, jam, coffee, and sometimes porridge… At 7:30, we pray a rosary in the chapel. At 8 a.m., we pray the hours, Prime and Terce, according to the 1962 Breviary. From 8:30 to 12:30, we work. We have a farm, and we are still doing lots of construction. At 12:30 a bell rings, and we gather in the chapel for Sext and None, as well as a particular examen of conscience, and a litany to Our Lady. At 1 we eat lunch in silence while an inspirational reading is read. At 1:30 we have an hour of recreation, starting with washing the dishes, then talking in the common room. From 2:30 to 5:30 we have a little silence in honor of Our Lord's three hours on the cross. We include in this time a half hour of mental prayer, a half hour of spiritual reading, and 15 minutes of Eucharistic adoration before the Blessed Sacrament. At 5:30 we say Vespers and Compline and spend time in mental prayer meditating on the Passion of Our Lord. At 6 p.m. we have supper followed by 1 hour of recreation. From 7:30 to 8 p.m. we have night prayer, and from 8 to 9 we have free time. At 9 p.m. we have lights out."
I asked Brother Magdala (photo below), who is a strapping young man about 6 foot 2 inches in height with broad shoulders, what had prompted his vocation to this life.
"I always wanted to be a priest from the time I was a young lad," he said. "My father is Luamanuvae, chief of the village of Sala'loga in Samoa. When I was a teenager, I thought of making a career as a professional rugby player. I was being considered for a $250,000 per year contract with a professional team in Australia. But then I attended a mission which Father Michael and Father Anthony preached, in Sydney, at the St. Pius X church there. They spoke about the four last things: death, judgment, hell and heaven. I knew then that I had to give my life entirely to God, though in what form I did not know. If you had been there to hear those sermons, you would have felt the same way!
"I prayed a lot in those next weeks, and after six months, I knew I had a religious vocation. I didn't believe I was leading a good life. I realized that if I stayed in the world, I might not be able to save my soul. The spirituality of the Redemptorists is to save one's own soul and the souls of others.
"I came to realize that the most important thing to do is to live in union with God. And this means something different from what most people think. Because if you are praying, and God wants you to be doing something else, you have to stop praying and do what God wants you to do. For St. Alphonsus Liquori, the definition of sanctity is when our will and the will of God are perfectly united."
"Do you think many people today are not living in union with the will of God?" I asked.
"Clearly!" Father Michael replied. "Consider just the demographic situation of Italy and Europe. There are very few children today, less than 1.2 per family. This is below replacement level. That means people are not having the families they should be having. God wishes people to be fruitful, to have the joy of children and grandchildren. And then there are the statistics about confession and communion. They are completely out of balance. Confession is vitally important."
"How would you explain that importance?" I asked.
"Confession brings about the reconciliation of the soul with God through the forgiveness of sin and the infusion of grace," Father Michael said. "It is actually an astonishing thing — to be able to have true contrition for every sin one has committed in one's whole life. This brings a spiritual freedom nothing else can bring. It breaks the shackles of sin which bind us so tightly. But it requires the humility of the penitent. The basis of all the virtues is humility. Your charity can only be as high as your humility is deep."
The three of us walked into St. Peter's Square. High above us, there were extra lights on next to the Pope's rooms in the Apostolic Palace. Usually only the two windows to the right are lit. Tonight there were five windows lit.
"I guess something special is happening tonight," I said. "I've never seen the palace lit up like this before."
"I have been attacked harshly by many in the Society since I left," Father Michael said. "But I have no regrets. I want nothing more than to be in union with the Holy Father, and to serve him, as the Vicar of Christ."
The Orthodox and the Pope
One of the great issues in the Church, and one of the great concerns of Pope Benedict, is the Great Schism between the Latin West and the Greek East, which dates to the year 1054 A.D.
The last days of June each year are a time when leaders of the Orthodox world come to Rome to share in the celebration of the Feast of Sts. Peter and Paul.
This year, on June 27, Pope Benedict met with Orthodox Metropolitan Emmanuel of France, Bishop Athenagoras of Sinope, who serves as the assistant metropolitan of Belgium, and Deacon Ioakim Billis of the Ecumenical Patriarchate of Constantinople. All three are Greek Orthodox, representing Ecumenical Patriarch Bartholomew of Constantinople, who could not come in person to Rome, during the closing of the year of St. Paul on June 28 and at the Mass for the feast of Sts. Peter and Paul June 29.
The participation of the Orthodox delegation in the liturgies "reminds us of our common commitment to the search for full communion," Pope Benedict said.
Pope Benedict said the international Catholic-Orthodox dialogue commission would meet in October in Cyprus. The topic: the role of the bishop of Rome in the communion of the Church during the first 1,000 years of Church history.
Today I received an email from Gary Krupp, an American who is heading up an effort to defend Pope Pius XII against charges that he was "silent" and did nothing to help the Jews during World War II.
"I am beginning the process to recommend Pius XII for Righteous Among Nations at Yad Vashem," Krupp wrote. "I need any transcripts of interviews for priests and Jews you may have interviewed over the years for people who are still alive. These need to be where they may have intervened to save Jews, deliver documents, arrange transport, hiding, anything. Once this is done it will force Yad Vashem to open a file and follow a very exacting investigation which has simply not happened to date."
Special note to readers: We would be happy to receive feedback from our readers about these newsflashes. This newsflash is currently being sent to 14,200 people around the world. We hope it meets with your approval, and we will be happy to try to improve it according to your suggestions and needs. —The Editor

 

"

Inside the Vatican

 is a magazine I read cover to cover. I find it balanced and informative. I especially appreciate its coverage of art and architecture. It is not only an important magazine, it is also a beautiful one." 

—Prof. Mary Ann Glendon, Harvard University Law School, former United States Ambassador to the Holy See

This newsflash is free. However, there are costs associated with producing it. If you would like to support this free newsflash, you may click on the icon above and contribute via credit card. Your donation will help us to expand and improve this service. You may call our toll-free number in the USA, 1-800-789-9494, and ask how you may support our work. —The Editor
Facebook Comments