An interview with Nigerian

Cardinal Francis Arinze

, 88, former Prefect of the Congregation for Divine Worship and the Discipline of the Sacraments
By Barbara Middleton for Inside the Vatican
Cardinal Francis Arinze, who was born in 1932 in Eziowelle, Nigeria, and went on to become a priest, bishop and cardinal (elevated by Pope John Paul II) of the Church, became the Prefect Emeritus of the Vatican Congregation for Divine Worship and the Discipline of the Sacraments in 2008, after serving there for six years. Prior to that, he was the President of the Secretariat for Non-Christians (now the Pontifical Council for Inter-religious Dialog) from 1985 to 2002. He was President-delegate of the Synod of Bishops on the Eucharist in 2005, and Pope Benedict asked him to preach the Lenten exercises for the Roman Curia in 2009.
******
Inside the Vatican: What led you to think about the holy priesthood? How old were you when you began to think about a vocation?
Cardinal Francis Arinze: That a young man begins to think of going to the seminary to become a priest is really a work of God's grace. It is God's grace which begins, continues the desire and allied works of preparation, and finally brings the whole venture to a happy conclusion. Nevertheless, God's Providence wants the cooperation of the human being.
To answer directly to your first question, I can say that God's grace led me to think of becoming a priest. I was 14 years old when I entered the junior seminary in January 1947. But I began to think about becoming a priest much earlier, especially increasingly from the years 1942 to 1946 when, as a primary school child, I attended Mass every week, saw a priest, learned Catholic doctrine and began to receive the sacraments.
Were there priests that you met as a young person that influenced you?
ARINZE: Definitely, there were priests that I met that influenced me in the desire to become a priest in ways that God knows best, without necessarily any express proposal from them. Prominent among them was Father Michael Iwene Tansi of Aguleri in Onitsha Archdiocese. He was ordained priest in 1937. After two years as assistant priest to Father John Cross Anyogu (who later in 1957 became Auxiliary Bishop of Onitsha and in 1962 Bishop of Enugu) in Nnewi, Father Tansi was appointed as the first parish priest of Dunukofia in January 1940. He is the first priest that I ever knew. The other priest who played a major role in my entering the junior seminary in 1947 was Father Mark Unegbu who was parish priest in Dunukofia in 1946 and 1947. I was one of the Mass servers to both priests. In Divine Providence, it is interesting that as Archbishop of Onitsha, I was the chief bishop that ordained Father Mark Unegbu to the Bishopric at Emekuku as Bishop of Owerri 23 years later in 1970. Other priests in Nigeria who influenced me in my journey towards the priesthood were all Irish Holy Ghost Fathers: Fathers William Brolly, Peter Regan, James Breen, James O'Neil and Michael Smith.
I understand that Blessed Iwene Tansi baptized you. Did that have an impact on your vocation?
ARINZE: Not only did Father Michael Tansi baptize me on November 1, 1941, but my first confession was in his hands, as was my First Communion. He prepared me for Confirmation in 1943. He was my parish priest at Dunukofia from 1940 to 1945. I was one of the boys in his Standard Five and Standard Six Boys' Boarding House at Dunukofia in 1945. When he was transferred to Akpu Parish in 1945 and later to Aguleri in 1949, I, as a junior seminarian, visited him during our holidays in 1948 and 1949. When he was a monk in Mount Saint Bernard Abbey, Leicester, England, 1950 to 1964, I visited him in 1959 and December 1963. During my years as a seminarian in theology in Rome, 1955 to 1960, I wrote to him sometimes and he responded. He was my number one spiritual father. I attended his burial Mass in the monastery in January 1964 because in that year I was doing a one-year course in London. You can see that he had a strong impact on my priestly vocation.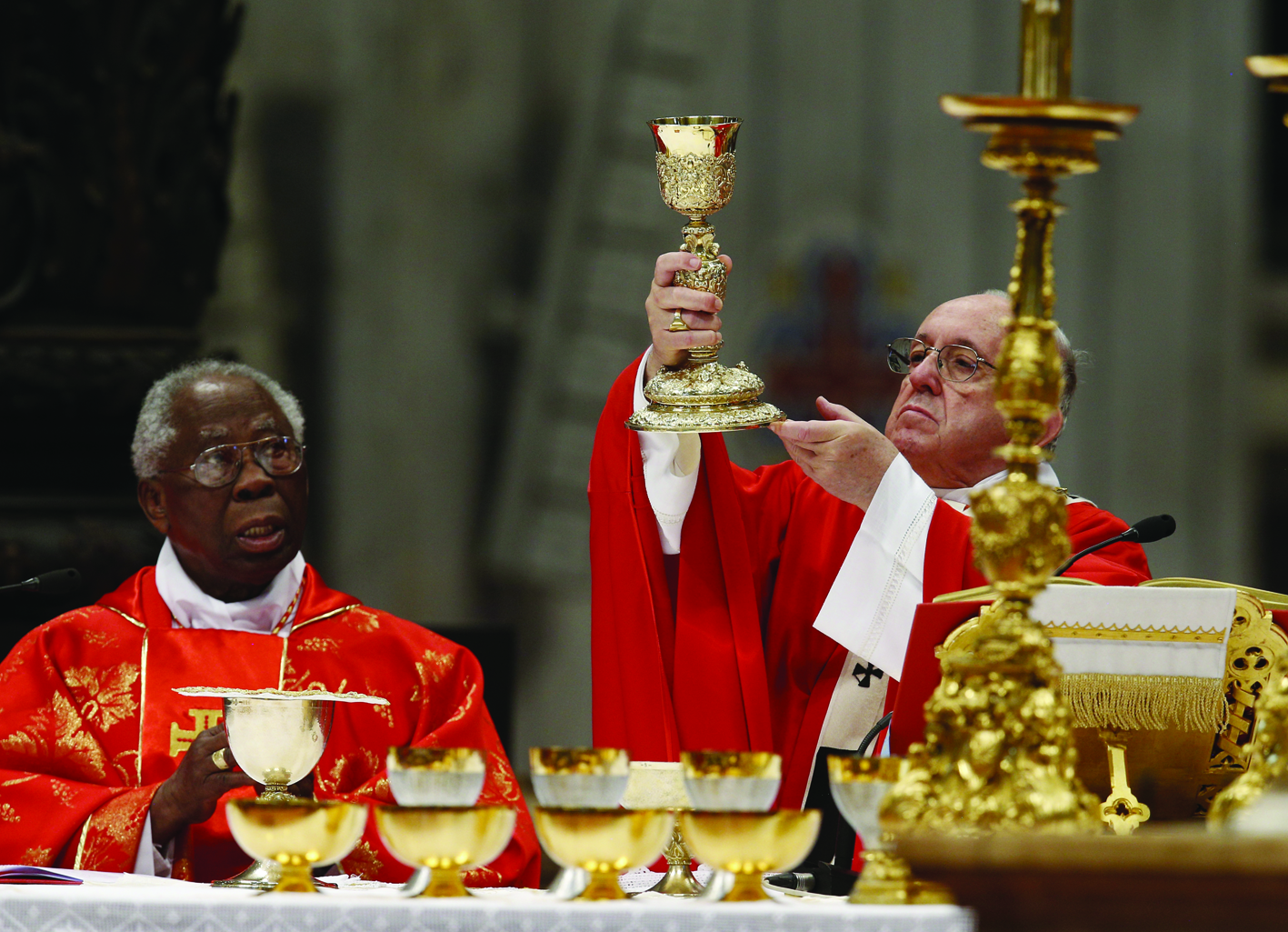 "That a young man begins to think of going to the seminary is really a work of God's grace"
Where is the sainthood cause today of Blessed Tansi?
ARINZE: This much I can say on the Canonization of Father Tansi. Father Michael Iwene Tansi had a reputation as a holy priest even before he left Nigeria in 1950 to become a monk in England, where he died on January 20, 1964. Ten years after his death, as Archbishop of Onitsha, I organized a symposium in his honor at Onitsha to gather information about him from people who had known him before most of such people would die themselves. Later I went to the Congregation for the Causes of the Saints in the Vatican and said to the Prefect, Cardinal Bafile: "I have a saint in heaven. Please canonize him." The Cardinal laughed and told me that they do not canonize like that. On his advice, I wrote the Bishop of Nottingham, in England, whose diocese had the prior right to conduct the Beatification and Canonization Causes (because the candidate died in that diocese) and requested him to waive his right so that Onitsha Archdiocese could conduct the processes. He responded and waived his right.
I was already transferred to Rome when my successor as Archbishop of Onitsha, Archbishop Stephen Ezeanya, got the mortal remains of Father Tansi OCSO exhumed in Mount St. Bernard Abbey and brought to Onitsha in 1986. Archbishop Ezeanya set up the Beatification Cause tribunal in Onitsha. The tribunal worked very well and after some years, all the canonical steps were carried out in Onitsha and in the Vatican, and Father Tansi was declared by the Holy Father to have practiced the virtues to an heroic degree. Later the reported healing of an Aguleri woman from cancer after she touched the coffin containing the bones of the holy man was approved by the Pope as a miracle in 1997, again after the long canonical process had gone through the required stages in Onitsha and in the Congregation for the Causes of the Saints in the Vatican.
To cut a long story short, Pope John Paul II (himself later canonized in 2018) flew to Nigeria and beatified Father Cyprian Michael Iwene Tansi, OCSO, at Oba, near Onitsha, on 22 March, 1998.
The next step is to get another miracle approved so that he can be canonized. The situation this month of February 2021 is that in October 2020 the Onitsha Archdiocesan Tribunal transmitted to the Congregation for the Causes of the Saints its positive approval of the healing from cancer of an Eziowelle woman, Mrs. Anaduaka, after she had touched the remains of Blessed Tansi in Onitsha Basilica. The document is now going through the processes in the Congregation. If the outcome is positive and the Holy Father approves, then the road will be open for the Pope to fix a day for the canonization of Blessed Cyprian Michael Iwene Tansi, OCSO.
What schools did you attend? Did they impact your vocation? How did serving as an altar boy influence your vocation? 
ARINZE: I attended the following schools: Saint Edward's Catholic School, Eziowelle, 1939-1942; Saint Anthony's Catholic School, Dunukofia, 1943-1946; All Hallows Seminary, Nnewi and Enugu, 1947-1950; Bigard Memorial Seminary, Enugu (for philosophy), Jan 1953-Aug 1955; Pontifical Urban University, Rome (for theology), Oct 1955-Dec 1960; Institute of Education, London, Sept 1963-June 1964. Of course these schools impacted my vocation to the sacred priesthood in different ways.
Serving as an altar boy influenced my priestly vocation very much. When boys of primary school age undergo the discipline of serving a priest at the altar, and if the priest is a holy man, God's grace works in ways unknown to us. Most of the boys in Onitsha Archdiocese who opt to enter the junior seminary are former altar boys. If no altar boy from a parish ever desires to enter the seminary, then the priests in that parish will have to examine their consciences, their faith, their way of celebrating Mass and their example of a prayer life. Here the question can be raised, whether it is not a psychological mistake to get girls around the altar, since girls cannot become seminarians and cannot be ordained priests. It is interesting that the familiar name for Mass servers in Italian is chierichetti, which means "little clerics."
Tell us about your journey and your early years in the holy priesthood.
ARINZE: I was a junior seminarian from 1947 to 1950. In 1951 and 1952 I was teaching in the Junior Seminary, now known as All Hallows Seminary, Onitsha. Philosophy course in Bigard Memorial Seminary, Enugu 19631955 and theology in Urban University, Rome, 19551960, while living in the international seminary called Collegio Urbano di Propaganda Fide. I was ordained priest on 23 November, 1958 by Cardinal Gregorio Agagianian in the chapel of that Collegio. As a student priest in Europe, I was in London for doctoral research in libraries in summer 1959 and in two parishes in Germany to visit priest friends in 1959 and 1960. I participated in the International Eucharistic Congress held in Munich, Germany in summer 1960. With doctoral studies completed in December 1960, I returned to Nigeria the same month by the boat General Mangin, from Marseilles to Lagos.
My first assignment back in Nigeria was to teach Liturgy and parts of Philosophy in Bigard Memorial Seminary, Enugu, from January 1961 to August 1962. Then I was made Education Secretary for Enugu Diocese from September 1962. It was during that assignment that my Bishop, Bishop John Cross Anyogu, sent me to England to do a year of Postgraduate Studies in Education in the Institute of Education in London.
Back in Nigeria in August 1964, I continued my work as Education Secretary until July 1965 when I was named Coadjutor Bishop of Onitsha. In those years as professor in Bigard Memorial Seminary or as Education Secretary, I did what was possible to help parish priests at confessions and Sunday Mass and to conduct spiritual retreats for groups.
What led you to Rome?
ARINZE: I was sent to Rome two times: as a seminarian in 1955-1960 and as a Bishop from 1984. My coming to Rome as President of the Pontifical Council for Inter-religious Dialogue in 1984 was a decision of Pope John Paul II. Later I understood that the Holy Father had had that intention from his visit to Nigeria in 1982. He did not oblige me to come to Rome. Indeed he gave me the choice, either to remain in Nigeria as Archbishop of Onitsha or to come to Rome to work in some office of the Roman Curia in 1984. I refused to choose. I left him to decide and tell me the will of God for me and assured him that I would be happy doing God's will. The Pope decided and I started work in the Pontifical Council for Inter-religious Dialogue, which at that time was called the Secretariat for Non-Christians, in September 1984. It was a major change for me and for the people of Onitsha Archdiocese.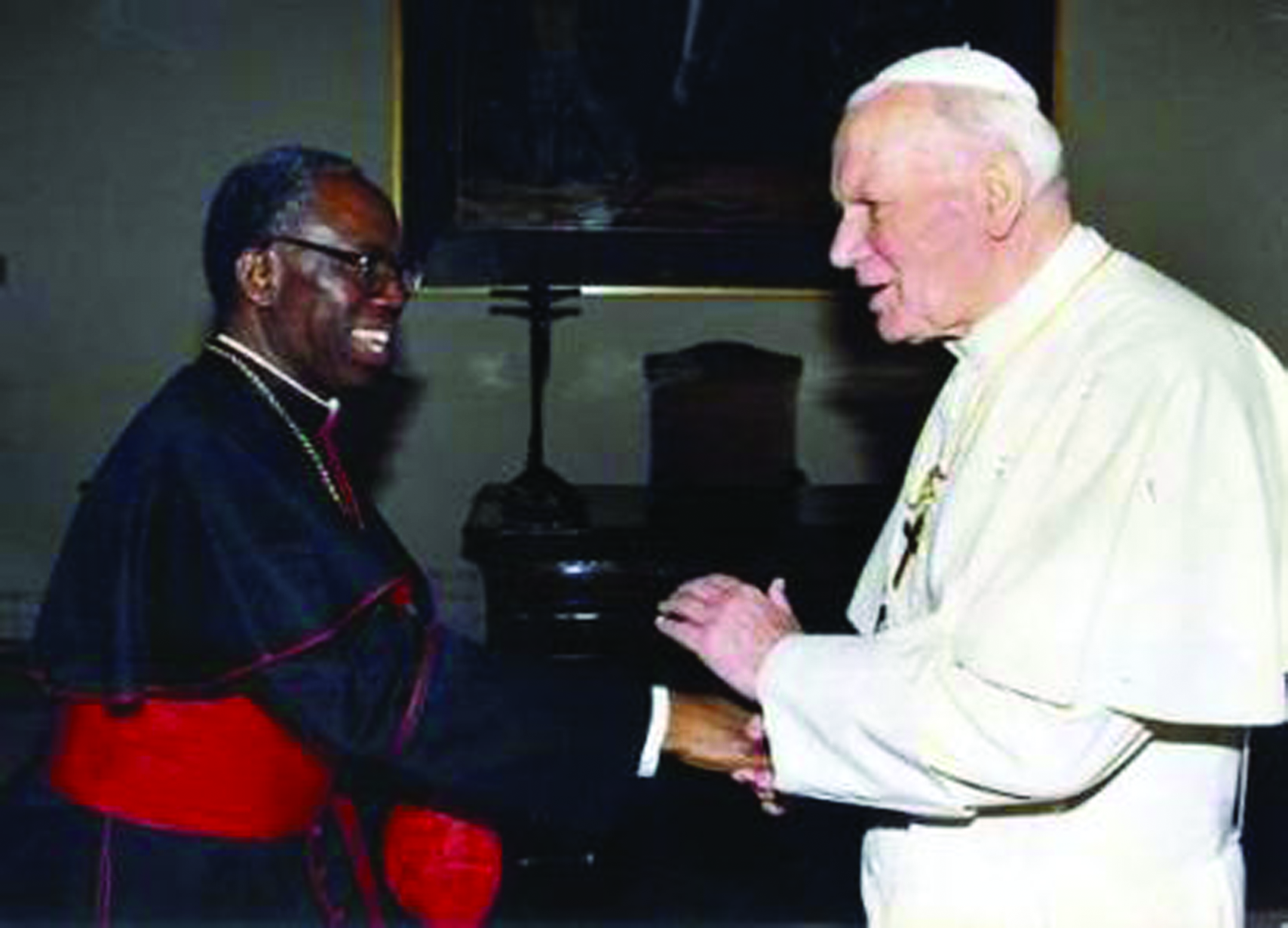 "John Paul II was well-informed, full of courage and faith and trust in Divine Providence"
Tell us about your relationship with St. John Paul II and Pope Emeritus Benedict. What were their greatest impacts in the Church?
ARINZE: During the pontificate of Pope John Paul II I was President of the Pontifical Council for Inter-religious Dialogue from 1984 to 2002 and Prefect of the Congregation for Divine Worship and the Discipline of the Sacraments from 2002 till his death. It was an honor and a joy to work under his overall direction. He invited the President (or Prefect) of each Council or Congregation, together with the Bishop Secretary and the (usually) Monsignor Undersecretary to a working lunch three or four times a year. These were heart to heart discussions that helped the staff of these offices to work in harmony with the Pope. John Paul II was well-informed, full of courage and faith and trust in Divine Providence.
Pope Benedict XVI is a well-known theologian and teacher. Under his pontificate, I appreciated very much those work audiences when he would go over with me and sometimes the Secretary the details of work on the topics that our Congregation earlier submitted to him for his directives and decisions. Pope Benedict did much to persuade the Lefebvre group to come back to full communion in the Church, but the group did not reciprocate as much as one would have wished.
Saint Pope John Paul II will be remembered especially for his worldwide vision, his evangelizing energy, his all-round teaching clarity and his encouragement of young people, families, cultural groups, workers and people under persecution. His contribution to the collapse of Communism in West-Central Europe is remarkable. Pope Benedict will be credited by history as a great teacher and a humble Pope who knew when to hand over [his post] to another.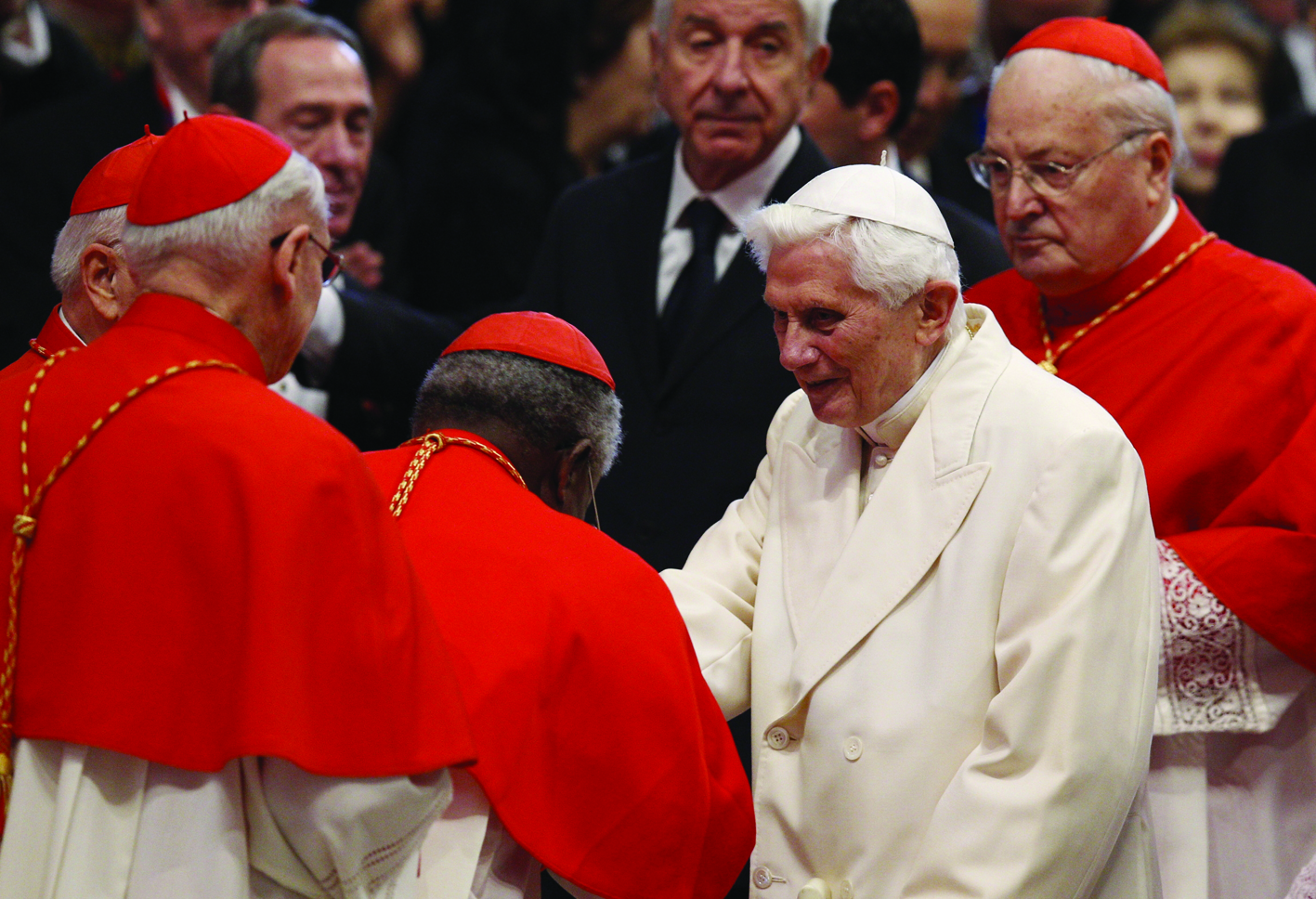 "Pope Benedict did much to persuade the Lefebvre group to come back to full communion in the Church, but the group did not reciprocate"
What was some of your most critical work as the Prefect of the Congregation for Divine Worship and Discipline of Sacraments?
ARINZE: When I was Prefect of the Congregation for Divine Worship and the Discipline of the Sacraments, some of the more important works done by that Congregation between 2002 and 2008 can be listed as follows:
a) Sustained effort to convince priests to celebrate Holy Mass according to approved rites and to avoid adding or subtracting personal wishes;
b) Publication of the Instruction Redemptionis Sacramentun in 2004 on proper celebration of the Holy Eucharist;
c) Encouragement of Diocesan Bishops in their role as Directors of the sacred liturgy;
d) Conferences on the sacred liturgy and its proper celebration;
e) Insistence on the proper translation of liturgical texts;
f) Preparation of the book, Compendium Eucharisticum;
g) Suggestions for the celebration of The Year of the Eucharist 2004-2005.
What are the most challenging issues facing the Church today?
ARINZE: Some of the most challenging issues facing the Church today are the following;
a) Convince each member of the Church to do his or her own specific part in the general mission of the Church, that is, lay faithful (who are 99% of the Church), clerics and religious;
b) Convince priests of the importance of the lay apostolate and therefore that the lay faithful have their own distinctive role as leaders, according to Vatican II Lumen Gentium and Apostolicam Actuositatem;
c) Form and encourage holy priests;
d) Build up Christian families. Defend marriage and the family in the media and in civil law;
e) Promote more attention to Holy Scripture, to spiritual retreats and to the spread of Catholic literature;
f) Promote youth apostolate with well-prepared leaders.
What is the most important message you would like to convey to the young people of today? 
ARINZE: I would like to convince young people of today of the key place of religion in human life.
Young people have to be helped to face major life questions such as: what is life on earth for? Is God calling you to marriage, or to the sacred priesthood, or to the consecrated life? What contribution are you personally making to society? What is the road to true and lasting happiness? Who are your heroes in life? Who is Jesus Christ for you?

Facebook Comments