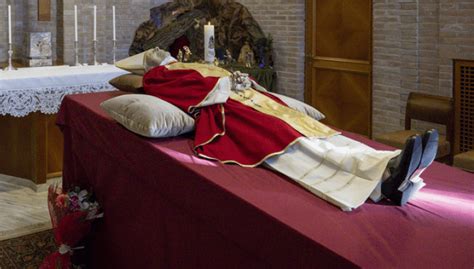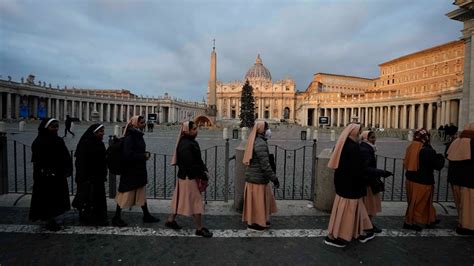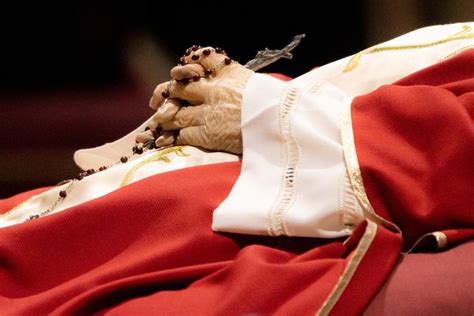 The deceased Pope's final message to the world: prayer is central for the life of human beings. Thus, Rosary beads are seen entwined in the hands of the late Pope Emeritus Benedict XVI as his body lies in state on January 3 in St. Peter's Basilica, where tens of thousands over three days are lining up to pay their last respects (photo: Daniel Ibañez / CNA)
    

Letter #1, 2023 Tuesday, January 3: Benedict's Funeral
    Emeritus Pope Benedict XVI's funeral Mass will be celebrated in St. Peter's Basilica at 9:30 a.m. on Thursday, January 5, two days from now.
    You will be able view it live on EWTN here.
    ***
    Benedict died on Saturday, December 31 — the last day of 2022 — at his residence of the past 10 years in the Vatican Gardens, at the age of 95.
    ***
    Benedict's last words: "Signore, ti amo !" ("Lord, I love you!")    
    As confirmed by his personal secretary Archbishop Georg Gänswein, Benedict's last words were "Signore, ti amo !" ("Lord, I love you!").
    And, though Benedict was born and raised in Germany, he pronounced his last words in Italian, having spent, in addition to many months in the 1960s during the Second Vatican Council (1962-65), the last four decades of his life, from 1982 until 2022 (40 years) in Rome.
    Unlike the death of St. John Paul II almost 18 years ago on April 2, in 2005, Benedict's death was not announced in St. Peter's Square nor was there a peal of bells.
    Confirmation of his death was reported by the director of the Vatican Press Office, Dr. Matteo Bruni.
    "Under the sign of simplicity"
    Bruni told reporters that "following the wishes of the Pope Emeritus, the funeral will be held under the sign of simplicity," stressing that it will be a "solemn but sober funeral."
    "The express request on the part of the emeritus pope is that everything be simple, both with regard to the funeral, as well as the other celebrations and gestures during this time of pain," Bruni added.
    After his death Saturday morning, the body of Benedict XVI remained in the Mater Ecclesiae Monastery, his place of residence since his resignation in 2013. The small monastery is located in the Vatican Gardens, on a hill behind St. Peter's Basilica.
    First images from the monastery
    On January 1, 2023, the Holy See released the first images of the body of the Pope Emeritus with a rosary in his hand and lying at the foot of the altar in the monastery's chapel.
    The chapel is the same place where, in addition to celebrating Mass, it received public visits from Pope Francis and the new cardinals every time there was a consistory in the Vatican. (Since it continues to be Christmas liturgically, the chapel still has a small Christmas tree and a manger.)
    Next to the remains of Benedict XVI, some kneelers were placed for prayer.
    A few hours later dozens of people including cardinals, bishops, priests, Vatican workers, nuns from different congregations and even journalists who cover the activities of the Holy See, were able to enter the monastery to keep vigil and pray with the remains of the Pope before they were transferred to San Peter.
    From the monastery to the basilica….
    In a very simple, quiet ceremony, at 7:00 am on January 2, the body of the Pope Emeritus was transferred from the Mater Ecclesiae Monastery to St. Peter's Basilica to begin the wake and allow thousands of pilgrims to say their last goodbyes.
    The Archpriest of the Basilica, Cardinal Mauro Gambetti, received the remains of Benedict XVI with a liturgical act that lasted about 30 minutes.
    Among the attendees were Archbishop Georg Gänswein, who was his personal secretary since 2003, and the master of liturgical celebrations, Bishop Diego Ravelli.
    Then from 9:00 am (see photo above) to 7:00 pm the faithful from all over the world were allowed to enter St. Peter's Basilica to visit the body of Benedict XVI.
    It is estimated that at least 65,000 people came to visit the Pope Emeritus on the first day of his wake.
    The remains of Benedict XVI will remain on display in St. Peter's Basilica until Wednesday, Jan. 4 (tomorrow).
    Visiting hours for Tuesday and Wednesday are from 7:00 a.m. to 7:00 p.m. (Rome time).
    Funeral of Benedict XVI
    Pope Francis will preside over the funeral of Benedict XVI on Thursday, January 5 at 9:30 a.m. (Rome time), in St. Peter's Square.
    Two official state delegations, those of Italy and Germany, will attend the funeral of Pope Emeritus Benedict XVI.
    The President of Italy, Sergio Mattarella, was one of the first to visit the funeral chapel of Pope Benedict XVI. Prime Minister Giorgia Meloni, accompanied by other officials from her government, also attended on the morning of Monday, January 2, and prayed for several minutes before the remains of the Pope Emeritus.
    Many other heads of state will come to pay respects and attend the funeral in an unofficial capacity, including the President of Hungary, Katalin Novak; the President of Poland, Andrzej Duda; King Philip of Belgium; and Queen Sofia of Spain, among others.
    Funeral Mass readings released
    The Vatican has released the missal for Pope Emeritus Benedict XVI's funeral Mass.
    Here is a preview of the readings and prayers that will be offered at the funeral of Benedict XVI:
    The Collect prayer will be prayed in Latin:
    Let us pray. O God, who in your wondrous providence chose your servant Benedict to preside over your Church, grant, we pray, that, having served as the Vicar of your Son on earth, he may be welcomed by him into eternal glory. Who lives and reigns with you in the unity of the Holy Spirit, God, forever and ever. Amen.
    The readings for Pope Emeritus Benedict XVI's funeral Mass will be:
    Isaiah 29:16-19, read in Spanish;
    Psalm 23, sung in Latin;
    1 Peter 1: 3-9, in English; and
    Gospel of Luke 23: 39-46, read in Italian.
    In the Prayers of the Faithful, the second prayer will be said in German:
    For Pope Emeritus Benedict, who has fallen asleep in the Lord: May the eternal Shepherd receive him into his kingdom of light and peace.
    At the end of the Prayers of the Faithful, Pope Francis will pray:
    God our Father, lover of life, hear the prayers we raise to you with faith in the Risen Lord for Pope Emeritus Benedict and for the needs of the Church and our world. Grant us a share in fellowship with you in the heavenly Jerusalem, where sorrow and tears will be no more. Through Christ our Lord. Amen.
    The Prayer Over the Offerings:
    Look with favor on the offerings of your Church as she calls on you, O Lord, and by the power of this sacrifice grant that, as you placed your servant Benedict as High Priest over your flock, so you may set him among the number of your chosen Priests in heaven. Through Christ our Lord. Amen.
    Prayer at the end of the Eucharistic Prayer III, offered in Latin:
    Remember your servant Pope Emeritus Benedict, whom you have called from this world to yourself. Grant that he who was united with your Son in a death like his, may also be one with him in his Resurrection, when from the earth he will raise up in the flesh those who have died, and transform our lowly body after the pattern of his own glorious body. To our departed brothers and sisters, too, and to all who were pleasing to you at their passing from this life, give kind admittance to your kingdom. There we hope to enjoy forever the fullness of your glory, when you will wipe away every tear from our eyes. For seeing you, our God, as you are, we shall be like you for all the ages and praise you without end, through Christ our Lord, through whom you bestow on the world all that is good.
    The Prayer after Communion will be prayed in Latin:
    Let us pray. As we receive sacred sustenance from your charity, O Lord, we pray that your servant Benedict, who was a faithful steward of your mysteries on earth, may praise your mercy forever in the glory of the saints. Through Christ our Lord.
    After Communion there will be a Final Commendation and Farewell followed by a moment for silent prayer:
    Dear brothers and sisters, in celebrating the sacred mysteries we have opened our minds and hearts to joy-filled hope; with confidence we now offer our final farewell to Pope Emeritus Benedict and commend him to God, our merciful and loving Father.
    May the God of our fathers, through Jesus Christ, his only Son, in the Holy Spirit, Lord and Giver of Life, deliver Pope Emeritus Benedict from death, that he may sing God's praises in the heavenly Jerusalem in expectation of the resurrection of his mortal body on the last day.
    May the Blessed Virgin Mary, Queen of the Apostles and Salus Populi Romani, intercede before the Eternal Father, that he may reveal the face of Jesus his Son to Pope Emeritus Benedict and console the Church on her pilgrimage through history as she awaits the Lord's return.
    After Pope Francis incenses the mortal remains of Benedict XVI, the Pope will pray in Latin:
    Gracious Father, we commend to your mercy Pope Emeritus Benedict, whom you made Successor of Peter and shepherd of the Church, a fearless preacher of your word and a faithful minister of the divine mysteries.
    Welcome him, we pray, into your heavenly dwelling place, to enjoy eternal glory with all your chosen ones. We give you thanks, Lord, for all the blessings that in your goodness you bestowed upon him for the good of your people.
    Grant us the comfort of faith and the strength of hope.
    To you Father, source of life, through Christ, the conqueror of death, in the life-giving Spirit, be all honor and glory forever and ever.
    The choir and the congregation will sing the following Antiphons:
    May the angels lead you into paradise; may the martyrs come and welcome you and take you to the holy city, the new and eternal Jerusalem.
    May choirs of angels welcome you and with Lazarus, who is poor no longer, may you have eternal rest.
    As Benedict XVI's coffin is carried to his place of burial in the crypt of St. Peter's Basilica, the choir will sing the Magnificat in Latin.
    Magnificat in Latin
    "Magníficat ánima méa Dóminum,
    Et exultávit spíritus méus in Déo salutári méo.

    Quia respéxit humilitátem ancíllæ súæ,
    ecce enim ex hoc beátam me dícent ómnes generatiónes.
    Quia fécit míhi mágna qui pótens est :
    et sánctum nómen éjus
    Et misericórdia éjus a progénie in progénies timéntibus éum.
    Fécit poténtiam in bráchio súo :
    dispérsit supérbos ménte córdis súi.
    Depósuit poténtes de séde,
    et exaltávit húmiles.
    Esuriéntes implévit bónis :
    et dívites dimísit inánes.
    Suscépit Israël púerum súum,
    recordátus misericórdiæ súæ.
    Sicut locútus est ad pátres nóstros,
    Abraham et sémini éjus in saécula.
    Glória Pátri et Fílio et Spirítui Sáncto,
    Sicut érat in princípio, et nunc, et sémper,
    et in saécula sæculórum.
    Amen."
    ***
    "It Broke his Heart"
    Speaking of the liturgy, below is a very brief video I have posted to bring to your attention a rather interesting, and important, interview given by the secretary of Emeritus Pope Benedict, Archbishop Georg Gänswein, to German journalist Guido Horst.
    In the interview, Gänswein told Horst that, when Pope Benedict had read Pope Francis' July 16, 2021 motu proprio Traditionis custodes ("Of tradition the guardians"), a decree which mandated an end to the celebration of the old rite of the Mass, the Tridentine rite, in many places around the world, it had "broken his heart."
    Benedict had tried to protect a special space for the old liturgy in the Church through his document Summorum Pontificum of July 7, 2007, but that protection was reversed by the decree of Pope Francis.
    In my brief reflection on this passage from the Horst-Gänswein interview, I argue that it would seem good to find a way to protect the old liturgy, which Benedict XVI cared so deeply about, even if the celebration of the old liturgy is being characterized (wrongly, in my view) as a practice which draws people away from the true Catholic faith.
    Benedict XVI as late as last year felt the suppression of the old liturgy was a tragic, painful decision, not only for him, but for all those attached to the old liturgy, who find in it spiritual comfort and strength.
    Perhaps a way might still be found to preserve the old liturgy, a liturgy Pope Benedict, as the Pope of the Universal Church, sought to protect in his July 7, 2007 decree. —RM        
    

"He was like a father to me" (link)
    At the links above and below is exclusive interview conducted by Guido Horst with Archbishop Georg Gänswein, 66, private secretary to the late Pope Benedict XVI, who died in Rome at the age of 95 on the final day of last year, at 9:34 in the morning, on December 31, 2022.
    Here is a link to a page containing both an abridged version of the video interview (3 minutes and 30 seconds) and to the full video, 34 minutes 45 seconds, here.
    There are English subtitles (the two spoke in German) so readers who do not speak German may still enjoy watching the interview, as the English subtitles make it easy to understand.
    Archbishop Gänswein was the late Pope's closest confidant. He served Joseph Ratzinger as private secretary from his days as Prefect of the Congregation for the Doctrine of the Faith. After his election to the papacy, Benedict XVI kept Gänswein as his private secretary. No other person had such a close-up view of Benedict's pontificate.
    Gänswein remained at the side of the now deceased pontiff until the very end. In an interview for this Internet portal, Gänswein looks back on Benedict XVI's time in office and talks about the years following his resignation from the Petrine Office.
    The interview in Rome was conducted by Guido Horst, chief editor of the Catholic newspaper Die Tagespost.
    Here is another report from an Italian news agency on the upcoming funeral:
    

Benedict XVI's funeral delegations are added (link)
    Vatican employees will be able to be absent from services to attend funerals
    Vatican City, January 3. The number of delegations, official and non-official, who will participate in the solemn funeral of Pope Emeritus Benedict XVI which will take place on Thursday 5 January in St. Peter's Square, presided over by Pope Francis, is being outlined.
    In the absence of an official list yet, attendances are gradually being clarified, with the confirmation that there will be two "official" delegations present in St. Peter's Square, those from Germany and that from Italy.
    In total, to date, there are eight representatives of the various states that will certainly be present at the funeral and 23 ecumenical delegations from all over the world.
    Queen Sofia and Minister Félix Bolanos will arrive in Rome from Spain, King Philip and Queen Mathilde from Belgium, President Andrzej Duda from Poland, President Marcelo Nuno Duarte Rebelo de Sousa from Portugal, and President Katalin Novak from Hungary.
    As for the "official" delegations, however, the German one will be led by President Frank-Walter Steinmeier, while a representation will also come from Bavaria, the native region of the Pontiff emeritus, led by Governor Markus Soder.
    As far as Italy is concerned, the delegation should instead be led by President Sergio Mattarella.
    In terms of ecumenical representations, the presence, among others, of that of the Patriarchate of Moscow led by Metropolitan Antony of Volokolamsk, President of the Department for External Ecclesiastical Relations of the Patriarchate of Moscow, was noted.
    From what has been learned, even Vatican employees, if not engaged in a service deemed indispensable, will be able to take advantage of permits to go to funerals if they wish.
    [End Askanews article]
    And here is an article about a new book about to come out by Archbishop Gänswein:
    

Benedict aide's tell-all book will expose 'dark maneuvers' (link)
    By Nicole Winfield
    January 2, 2023
    VATICAN CITY (AP) — Pope Emeritus Benedict XVI's longtime personal secretary has written a tell-all book that his publisher on Monday promised would tell the truth about the "blatant calumnies," "dark maneuvers," mysteries and scandals that sullied the reputation of a pontiff best known for his historic resignation.
    Archbishop Georg Gaenswein's "Nothing but the Truth: My Life Beside Pope Benedict XVI" is being published this month by the Piemme imprint of Italian publishing giant Mondadori, according to a press release.
    Benedict died Saturday at age 95 and his body was put on display Monday in St. Peter's Basilica ahead of a Thursday funeral to be celebrated by his successor, Pope Francis.
    Gaenswein, a 66-year-old German priest, stood by Benedict's side for nearly three decades, first as an official working for then-Cardinal Joseph Ratzinger in the Congregation for the Doctrine of the Faith, then starting in 2003 as Ratzinger's personal secretary.
    Gaenswein followed his boss to the Apostolic Palace as secretary when Ratzinger was elected pope in 2005. And in one of the most memorable images of Benedict's final day as pope Feb. 28, 2013, Gaenswein wept as he accompanied Benedict through the frescoed halls of the Vatican, saying goodbye.
    He remained Benedict's gatekeeper, confidant and protector during a decade-long retirement, while also serving until recently as the prefect of Francis' papal household. It was Gaenswein who performed the anointing of the sick last Wednesday, when Benedict's health deteriorated, and it was he who called Francis on Saturday to tell him that Benedict had died.
    According to Piemme, Gaenswein's book contains "a personal testimony about the greatness of a mild man, a fine scholar, a cardinal and a pope who made the history of our time." But it said the book also contained a first-hand account that would correct some "misunderstood" aspects of the pontificate as well as the machinations of the Vatican.
    "Today, after the death of the pope emeritus, the time has come for the current prefect of the papal household to tell his own truth about the blatant calumnies and dark maneuvers that have tried in vain to cast shadows on the German pontiff's magisterium and actions," the press release said.
    Gaenswein's account would "finally make known the true face of one of the greatest protagonists of recent decades, too often unjustly denigrated by critics as 'Panzerkardinal' or 'God's Rottweiler,'" it said, referring to some common media nicknames for the German known for his conservative, doctrinaire bent.
    Specifically, the publisher said Gaenswein would address the "Vatileaks" scandal, in which Benedict's own butler leaked his personal correspondence to a journalist, as well as clergy sex abuse scandals and one of the enduring mysteries of the Vatican, the 1983 disappearance of the 15-year-old daughter of a Vatican employee, Emanuela Orlandi.
    The book appears to be just part of what is shaping up as a postmortem media blitz by Gaenswein, including the release Monday of excerpts of a lengthy interview he granted Italian state RAI television last month that is to be broadcast Thursday after the funeral.
    According to the excerpts published by La Repubblica newspaper, Gaenswein recounted how he tried to dissuade Benedict from resigning after the then-pope told him in late September 2012 that he had made up his mind. That was six months after Benedict took a nighttime fall during a visit to Mexico and determined he no longer could handle the rigors of the job.
    "He told me: 'You can imagine I have thought long and hard about this, I've reflected, I've prayed, I've struggled. And now I'm communicating to you that a decision has been taken, it's not up for discussion,'" Gaenswein recalled Benedict saying.
    Gaenswein also referred to the struggles, scandals and problems Benedict faced during his eight-year pontificate, recalling he had asked for prayers at the start to protect him from the "wolves" who were out to get him. Gaenswein cited in particular the "Vatileaks" betrayal, which resulted in the butler being convicted by the Vatican tribunal, only to be pardoned by the pope two months before his resignation.
    "Anyone who thinks there can be a calm papacy has got the wrong profession," he said.
    [End AP article]
Facebook Comments