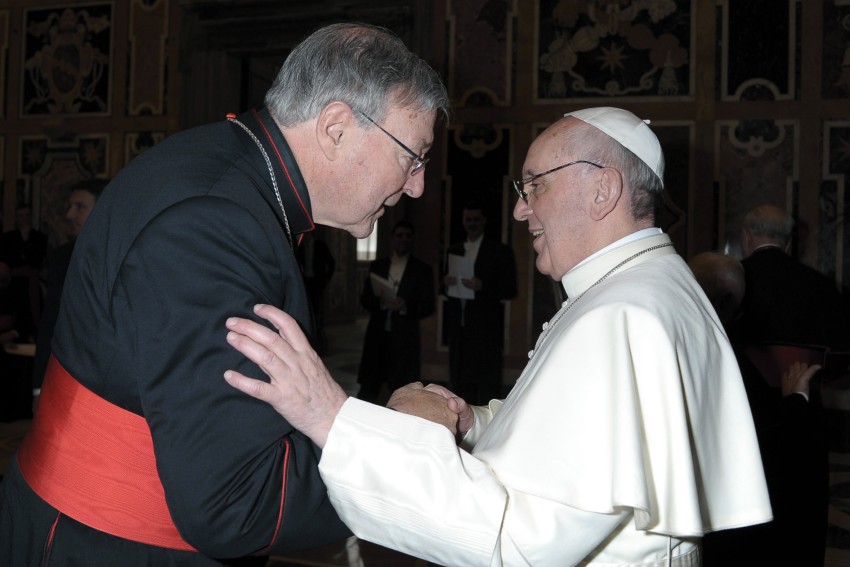 Cardinal George Pell of Sydney, Australia, greets Pope Francis during his audience with cardinals in 2013 at the Vatican. Pell passed away last night in Rome after undergoing surgery for a hip replacement. He was 81. (CNS photo).
    "I was fortunate enough to have Cardinal Pell visit and speak at my parish just over a year ago. Truly a holy, brilliant, courageous, Christ-like man. In a better world, he'd have been the 2013 conclave's choice. R.I.P." —Comment posted on a website after the news of the death of Cardinal Pell last night in Rome (link)
    

"Letter #11, 2023 Wednesday, January 11: Cardinal George Pell
    Sad news.
    Cardinal George Pell has passed away.
    He was 81.
    He died in a Roman hospital at about 8:50 p.m. after undergoing hip replacement surgery, which at first seemed quite successful.
    The Pillar reported that "sources close to the cardinal said that he had been able to make conversation with nurses in his recovery room, before he suddenly went into cardiac arrest shortly before he died." (link)
    So he died of a heart attack after the completion of the surgery.
    ***
    This video of Pell speaking, below, from just a few days ago, is worth watching, I think.
    I recommend you click on it and listen for a few moments to the thoughtful words of the cardinal on the death of Pope Benedict XVI.
    This gives a good summary of the type of man Pell was.
    Strong, thoughtful, articulate, faithful.
    ***
    Pope Francis in 2014 chose Pell to be his right-hand man in reforming the finances of the Vatican, so Pell came to Rome from Australia and rolled up his sleeves.
    He worked hard, and he uncovered much, and he proposed ways that the money affairs could be handled with more transparency.
    This made him enemies.
    We spoke about this, and I wished him the best in pursuing the task set for him by the Pope.
    ***
    I did know him…
    I remember having a cafe with him in the Piazza of Santa Maria in Trastevere.
    Must have been springtime in 2007, so, 15 years ago…. But not positive….
    We talked of the papacy of Benedict, and of the efforts of the curia to block some of the things Benedict wished to do.
    Particularly with regard to the liturgy.
    Seems all the liberal bishops were flying to Rome to tell Benedict their churches, their flocks, did not want the old liturgy more widely celebrated.
    But Benedict went ahead, finally — almost 2.5 years after his election — because of the opposition… perhaps there were things he compromised on in the text of Summorum Pontificum because of that opposition…
    Pell was a big, powerful, warm-hearted man who was weakened by the suffering he passed through.
    The charges against him were revealed to have been false, and his conviction overturned. Yet he spent 13 months in prison.
    I cannot help but feel that his death was due in part to the weakening of his health brought on by the suffering he passed through.
    He attempted to bring order to the Vatican finances. He publicly revealed there were some 1 billion euros in off-balance sheet accounts. Perhaps he was too honest.
    He was a man of faith in a world that wishes to hide from the faith, or overthrow the faith, or mock the faith, because the faith reveals the evil of their deeds.
    He was a giant of a man, and he was a man who suffered much for being a man of the Church.
    May the soul of George Pell rest in peace, and may eternal light shine upon him. —RM
    NOTE: Consider joining me at Easter in Italy. We begin in Assisi, then go to Norcia and visit there with the Benedictine monks. Then we go to Rome for the Easter Vigil and Easter Sunday Masses in St. Peter's. Then we visit Manoppello to see the Holy Veil which many believe contains a miraculous image of Christ's face.
    Go to InsideTheVaticanPilgrimages.com to sign up.
    All best wishes.—RM
    

Pope praises Pell as 'faithful servant', with 'coherent and committed witness' (link)
    By Crux Staff
    Jan 11, 2023
    ROME – Following the surprise death of Australian Cardinal George Pell late Tuesday Rome time, Pope Francis has praised the 81-year-old prelate as a "faithful servant, who, without faltering, followed his Lord with perseverance even in the hour of trial."
    Without being specific, the pope appeared to be referring to charges of sexual abuse lodged against Pell in his native country in 2018, for which he was convicted and spent 13 months in prison before being exonerated by Australia's supreme court.
    Francis also praised Pell for his role as the first-ever Secretary for the Economy in the Vatican, referring to "his solid collaboration with the Holy See in the context of its recent economic reform, for which he laid the foundations with determination and wisdom."
    The full text of the pope's message, which was addressed to Italian Cardinal Giovanni Battista Re as Dean of the College of Cardinals, follows.
    "I have sadly learned of the news of the passing of Cardinal George Pell, prefect emeritus of the Secretariat for the Economy. I wish to express to you and to the College of Cardinals, in a special way to the dear brother David and to other family members, my closeness."
    "I extend feelings of live condolences, remembering with a grateful heart his coherent and committed witness; his dedication to the Gospel and to the Church; and particularly his solid collaboration with the Holy See in the context of its recent economic reform, for which he laid the foundations with determination and wisdom."
    "I raise prayers of suffrage so that this faithful servant, who, without faltering, followed his Lord with perseverance even in the hour of trial, may be welcomed in the joy of heaven and receive the award of eternal peace."
    "Sending to you, to the family of the departed, and to those who share in the sorrow at his passing, my blessing."
    [End Crux article]
    

DEATH OF HIS EMINENCE GEORGE CARDINAL PELL (link)
    A Statement from the Catholic Archbishop of Sydney, Most Rev. Anthony Fisher OP
    January 11, 2023
    Today we have lost a Cardinal of the Church, a former Archbishop of Sydney, a fine priest, a good Christian soul.
    The Church in Australia and around the world is deeply saddened at the sudden passing of Cardinal George Pell, the former Archbishop of Sydney and of Melbourne.
    Cardinal Pell's episcopal motto was 'Be Not Afraid' and through good days and bad, he lived up to these words as a man of courage and with a big heart, who trusted in divine providence.
    He fearlessly proclaimed the Gospel and worked to explain the teachings of the Church. He spoke truth as he found it, however difficult or unpopular. He was also a man of prayer, of deep Christian faith and a loving shepherd to his flock in parishes, schools, hospitals and throughout his dioceses.
    I was in Rome last week for the funeral of another great churchman and close friend of Cardinal Pell, Pope Benedict XVI. The Cardinal and I did not know it would be the last time we would see each other in this life, but he was in good spirits and his regular, witty self, and I am thankful that we shared this time together.
    Cardinal Pell was a proud Australian who loved this country and its people and he was awarded a Companion of the Order of Australia in 2005.
    The Archdiocese of Sydney thrived under his leadership. He saw great promise in youth, and his vision in bringing World Youth Day 2008 to Sydney saw a whole generation of young Catholics respond to Christ's call. Our community as a whole was uplifted by this colossal event and moved by the testimony it offered.
    His Eminence was an author of books and a regular newspaper columnist, a lecturer and leader in Catholic education, and a scholar in his own right. He served the broader Church as a member of the Congregation for the Doctrine of the Faith, the Vox Clara Commission, the Pontifical Council for the Family and the Congregation of Bishops.
    As Prefect for the Secretariat of the Economy, member of Pope Francis' Council of Cardinal Advisors and one of the highest-ranking church officials in the world, the Cardinal's work for openness in Church affairs was hugely important.
    His final years were marked by his wrongful conviction and imprisonment, but he bore this with grace and goodwill and gave us all an example of how to accept suffering with dignity and peace. His words of reconciliation with his detractors and concern for survivors increased in authenticity as he steadfastly and successfully maintained his innocence.
    He will be remembered as a courageous leader who inspired so many clergy and lay faithful around the world to proclaim Christ crucified, risen and with us still.
    [End, statement on George Pell's death by Archbishop Anthony Fisher]
Facebook Comments