The Essence of the Pontificate
A brief reflection on the six years of Benedict XVI's papacy. Plus, a Holy Week pilgrimage begins…
By Robert Moynihan, from Rome
What has been the essence of Pope Benedict XVI's first six years, since his election on April 19, 2005, six years ago today?
What has been the pontificate's chief characteristic?
If one thinks of the pontificate as a whole, it is clear that the center of Benedict's papacy is teaching. This pontificate is the pontificate of a teacher — of a man trained to be a professor who was a professor in Germany for almost 20 years, and who, since 2005, has become the professor, not of a classroom, but of the whole Church.
His Wednesday audiences for many years have been the occasion for a series of talks on saints in Church history. Taken together, these talks amount to an overview of the entire history of the Church. (These magisterial talks ought to be collected, and published, as a series of books.)
Likewise, his three encyclicals and two books on Jesus have clarified and amplified his teaching.
But what has been the essence of this teaching?
The essence of the teaching has been Christ.
It is a "Christo-centric" pontificate, oriented toward Christ, centered on Christ, with Christ at the center of all its activity and preaching.
And this explains why the Pope has published two lengthy books on Jesus of Nazareth, books which take up in a profound way the question of who Jesus was, and what he means for the world and human reality.
This "Christo-centrism" is also a "Logos-centrism," since Christ is the Logos, the "Word" of God.
In this view, there can be no ultimate conflict between reason and faith, as Christ himself is reason, and so reason stems from and finds its deepest expression precisely in Christ.
In this context, one of Benedict's basic ideas can be found in his address on the "Crisis of Culture" in the West, a day before Pope John Paul II died, when he referred to Christianity as the religion of the Logos (the Greek for "word", "reason", "meaning", or "intelligence"). He said then:
"From the beginning, Christianity has understood itself as the religion of the Logos, as the religion according to reason… It has always defined men, all men without distinction, as creatures and images of God, proclaiming for them… the same dignity. In this connection, the Enlightenment is of Christian origin and it is no accident that it was born precisely and exclusively in the realm of the Christian faith…. It was and is the merit of the Enlightenment to have again proposed these original values of Christianity and of having given back to reason its own voice…
"Today, this should be precisely [Christianity's] philosophical strength, in so far as the problem is whether the world comes from the irrational, and reason is not other than a 'sub-product,' on occasion even harmful of its development — or whether the world comes from reason, and reason is, as a consequence, its criterion and goal… In the so-necessary dialogue between secularists and Catholics, we Christians must be very careful to remain faithful to this fundamental line: to live a faith that comes from the Logos, from creative reason, and that, because of this, is also open to all that is truly rational."
Benedict also emphasized that "only creative reason, which in the crucified God is manifested as love, can really show us the way."
"Friendship with Jesus Christ"
At the conclusion of his first homily as Pope, on April 24, 2005, Benedict referred to both Jesus Christ and John Paul II.
Citing John Paul II's well-known words, "Do not be afraid! Open wide the doors for Christ!", Benedict XVI said this:
"Are we not perhaps all afraid in some way? If we let Christ [the Logos, the word of God] enter fully into our lives, if we open ourselves totally to Him, are we not afraid that He might take something away from us?… And once again the Pope said: No! If we let Christ into our lives, we lose nothing, nothing, absolutely nothing of what makes life free, beautiful and great. No! Only in this friendship do we experience beauty and liberation….When we give ourselves to Him, we receive a hundred-fold in return. Yes, open, open wide the doors to Christ – and you will find true life."
In his book Jesus of Nazareth, Benedict said, his main purpose was "to help foster the growth of a living relationship" with Jesus Christ.
What else?
One might ask: What else could be at the center of a papacy? What else besides Christ could be at the center of the life and work of the Bishop of Rome, successor of Peter?
A wise and rather worldly old cardinal once told me that Benedict's fundamental problem as Pope was that he had no concept of power.
Not that he exercised power — papal authority — in a wrong or exaggerated or improper way, but that he had no concept whatsoever of what power is.
The funny thing is, the old cardinal, despite his shrewdness, was wrong. Benedict has a more profound sense of what true power is than this cardinal has ever imagined.
But it is true, Benedict is not a player of power games.
He is not attempting to interject the Church or the Vatican or the papacy into the increasing vacuum in the "power playing" of this world.
Rather, he is a living, teaching reminder that all power ultimately resides in the eternal, divine Lord, who has already vanquished the ultimate powers of this world — sin, meaninglessness, and death.
How will history judge?
I asked a monsignor today how he thought history would judge this pontificate.
"With each year that passes, it will be judged more favorably," the monsignor replied. "We have not begun to understand the greatness of this Pope."
============================
Lenten Obligation
By seeming chance, as I prepared to begin a Holy Week pilgrimage to Assisi, Norcia, then back to Rome for Holy Saturday and Easter, I just came across the definition of the Lenten obligation to go to confession, and it struck me that it might be of interest to one or another of the readers of these emails. (The questions and answers come from the old Baltimore Catechism.)
Q. 1349. What is meant by the command of confessing at least once a year?
A. By the command of confessing at least once a year is meant that we are obliged, under pain of mortal sin, to go to confession within the year.
Q. 1350. Should we confess only once a year?
A. We should confess frequently, if we wish to lead a good life.
Q. 1351. Should we go to confession at our usual time even if we think we have not committed sin since our last confession?
A. We should go to confession at our usual time even if we think we have not committed sin since our last confession, because the Sacrament of Penance has for its object not only to forgive sins, but also to bestow grace and strengthen the soul against temptation.
Q. 1352. Should children go to confession?
A. Children should go to confession when they are old enough to commit sin, which is commonly about the age of seven years.
Q. 1353. What sin does he commit who neglects to receive Communion during the Easter time?
A. He who neglects to receive Communion during the Easter time commits a mortal sin.
Q. 1354. What is the Easter time?
A. The Easter time is, in this country, the time between the first Sunday of Lent and Trinity Sunday.
Q. 1355. When is Trinity Sunday?
A. Trinity Sunday is the Sunday after Pentecost, or eight weeks after Easter Sunday; so that there are fourteen weeks in which one may comply with the command of the Church to receive Holy Communion between the first Sunday of Lent and Trinity Sunday.
==============================
The Pilgrimage Begins
Our little pilgrimage, just 15 people, has an unexpected addition: a golden retriever.
One of our pilgrims has a health condition which requires her to travel with a specially trained dog. The dog's name is Morgan, and we met for the first time this evening. Tomorrow we travel together to Assisi, city of St. Francis, lover of animals. It promises to be a memorable journey…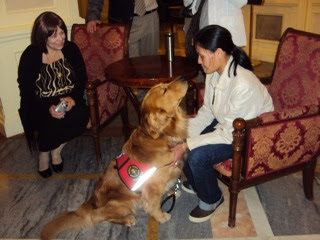 An Old Friend
Tonight I also met my old friend, Roger McCaffrey (in the center in the photo below, along with one of our pilgrims from the United States). Roger is the founder of Latin Mass magazine, and the publisher of Catholic Books. He was staying in the same place I was staying for these past few days, but without either of us knowing. (I saw his name on the breakfast list this morning, and left a note for him, and had the chance to talk with him this evening.) It was an interesting conversation, as he has 30 years of experience in publishing Catholic books and magazines. He told me he now thinks that all Catholic print publications face such grave challenges that most will not survive more than a few more years, as readership will decline and prices to print and mail will rise. (All the more reason for those reading this who would like to support our work to subscribe to Inside the Vatican magazine.)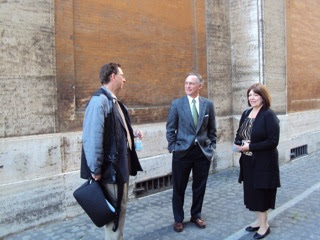 Preparing for the Beatification of Pope John Paul II
I note again that we have prepared free prayer cards for the Beatification of Pope John Paul II on May 1; to order, click on the images in the column to the left. For small orders, the prayer cards are free, but there is a small charge of $2 to cover shipping and handling.
A blessed Holy Week to all.
—Robert Moynihan
Facebook Comments