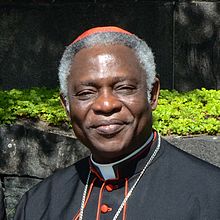 Cardinal Peter Turkson, 73, from Ghana, who has been the head of an important Vatican office for several years. He reportedly has resigned, effective December 31, 2021. The report has not been officially confirmed
   "Cardinal Peter Turkson, who is considered one of Pope Francis' top allies on humanitarian issues such as migrants and the environment, has reportedly resigned as prefect of the Dicastery for Promoting Integral Human Development (DPIHD), an office he's led since 2016."—report today in La Croix (link)    
    "Father Augusto Zampini, an Argentinean priest to whom the Pope gave a key managerial role in the Covid commission, abruptly resigned last August. It is understood that he was given one day to pack up and return to his home diocese. La Croix was told by sources that, curiously, the priest completely destroyed his personal archives before leaving Rome." —Ibid.
    

Letter #180, 2021, Friday, December 17: Cardinal Turkson abruptly resigns

    
    In a move that has a certain mystery attached to it, one of the most important and reliable of the curial cardinals upon whom Pope Francis has relied for many years, Cardinal Peter Turkson, 73, of Ghana, has reportedly — abruptly and without explanation — handed in his resignation as head of one of the more important Vatican offices, effective in two weeks, on December 31, 2021.
    The word in Rome is that the reason for the resignation was "governance issues," but this is just a rumor. No one has yet published a well-sourced report detailing the reasons for this resignation.
    

Pope Francis turns 85
    Also today, December 17, Pope Francis celebrates his 85th birthday. We offer our sincere felicitations, and our prayers that Francis receive the strength and wisdom to carry out the task set before all Popes, and all disciples of Christ: to announce the "Good News" (the Gospel), in season and out of season, so that souls, wounded, suffering, lost, may be healed blessed, sanctified, saved, through repentance for sins, amendment of life, acceptance of the freely-offered grace of God, and, in so doing, participating in that victory over sin and death which Jesus made possible for all men and women through his sacrificial passion and freely accepted death on the cross, almost 2,000 years ago now.
    ***
    

The Turkson resignation
    I have met Turkson several times, and I appreciate the goodness and friendliness of the man.
    Turkson spoke to me a bit about his life and faith.
    One thing that he confided was his experience in Albany, New York. He spent winters there many years ago, as a seminarian. "I still remember that cold winter wind," he said. "I nearly froze there." For all who know how cold it can be in upstate New York in the winter, his words will be understandable, and elicit a certain compassion(!)….
    Turkson was born in 1948 Wassaw Nsuta, in Western Ghana, to a Methodist mother and a Roman Catholic father. He is the fourth child of 10 children. His mother sold vegetables in the open market while his father worked as a carpenter. He studied at St. Teresa's Minor Seminary in Amisano, Ghana, and St. Peter's Regional Seminary in Pedu before attending St. Anthony-on-Hudson Seminary in Rensselaer, New York [Note: next to or part of Albany, New York] where he graduated with an M.A. in Theology and a Master of Divinity. He was ordained to the priesthood by Archbishop John Amissah on 20 July 1975. Additionally, he earned a licentiate in Sacred Scripture from the Pontifical Biblical Institute in Rome in 1980. From 1987 to 1992, he pursued doctoral studies in Sacred Scripture at the Pontifical Biblical Institute in Rome but his work on his thesis was interrupted by his appointment as archbishop of Cape Coast.    
    I have a certain sympathy for Turkson, therefore. He has braved the Albany winters and the Roman summers in order to serve the Church. He is like so many of the men and women in the Church, who have offered their lives in order to be disciples of Christ, wherever He wishes to have them serve.
    Now Turkson has abruptly resigned.
    This seems significant, because Turkson in recent months has been, arguably, the leading representative of the Catholic Church in Africa in the Vatican hierarchy (alongside the retired Cardinal Francis Arinze of Nigeria, now 89, and the former head of the liturgy congregation, now retired Cardinal Robert Sarah (and here), 76, of Guinea, in West Africa.
    I do not know the reasons for his resignation.
    I do know that Turkson did have a meeting for about one hour in September with Dr. Robert Malone.
    Malone has recently called for a halt in vaccinating children based on the fact that children are not vulnerable to the virus, and the effects of the vaccines are not yet fully known. (link)
    Malone told me personally two weeks ago, when I met with him at his home in Virginia, that he had sought out a meeting with a Vatican official as part of a search for a moral authority in the world which might have the courage to speak out in favor of prudence and scientific caution and against certain potentially dangerous exaggerations and abberrations in the policies currently being followed worldwide with regard to the response to the Covid pandemic. Malone said he hoped to find that moral voice in Pope Francis, or in the circle of Pope Francis, and so he wished to meet with one of Pope Francis' top advisors — in the event, he met with Turkson — in order to discuss these delicate matters.
    As I understood Dr. Malone — who is not a Catholic — Malone has been rather disappointed up until now in his search for that interlocutor within the Catholic Church who might have the time, courage, interest and integrity to consider all the facts with regard to the various issues in effectively combatting the virus, in such a way as to avoid certain hasty and potentially counter-productive and dangerous decisions.
    Turkson, as head of the Vatican office that Pope Francis established to deal with issues of human dignity, social justice, immigration, and now vaccine policy, was an appropriate interlocutor.
    Malone went to him hoping that he might be able to offer Turkson insights that Turkson might bring to the attention of Pope Francis.
    Now Turkson has abruptly resigned his post.
    ***
    Here is an article from La Croix, a rather progressive source for Catholic news, on Turkson's resignation:
    

Cardinal Peter Turkson, the pope's "Minister of Charity", reportedly resigns
    Sources say the 73-year-old African has tendered his resignation as head of the Dicastery for Human Development over governance issues
    By Loup Besmond de Senneville | Vatican City
    December 17, 2021
    Cardinal Peter Turkson, who is considered one of Pope Francis' top allies on humanitarian issues such as migrants and the environment, has reportedly resigned as prefect of the Dicastery for Promoting Integral Human Development (DPIHD), an office he's led since 2016.
    Several Vatican sources confirmed reports of the cardinal's resignation, which first appeared Thursday evening on traditionalist websites.
    The sources said the 73-year-old Ghanaian would likely step down on January 1st and that several other senior officials at the dicastery may also be resigning.
    Rumors of a shake-up have been circulating for some time at the DPIHD.
    Pope Francis created the dicastery in 2016 by merging four previously existing pontifical councils and their combined number of some 60 employees into one mega-office.
    It's located in Trastevere at the Vatican-owned Palazzo San Callisto.
    Cardinal Turkson had headed one of the now-defunct councils (Justice and Peace) since 2009 at the time he was given his current post.
    The dicastery is a key component to putting the Pope's social teaching into practical action.
    It has the fifth largest budget of the Roman Curia, rounding out at some 13.24 million euros in 2020.
    Only the Congregation for Oriental Churches (18.4 million), the worldwide network of papal nunciatures (39.2 million) and the Dicastery for Communication (43.7 million) are allocated more money.
    Serious internal tensions
    The DPIHD budget was further increased after the health crisis, due to the establishment of the Vatican Covid Commission.
    The commission, which facilitates strategies for creating a better world in the aftermath of the pandemic, has recourse to external consultants and has been exempted from a Vatican hiring freeze imposed in 2014.
    The dicastery is even allowed to pay employees on fixed-term contracts higher salaries than people who work in other Vatican departments.
    But, according to several inside sources, merging the four previous offices into one has created some very strong tensions, mostly due to coordinating difficulties.
    Investigation and resignations
    That prompted Pope Francis to call on Cardinal Blaise Cupich of Chicago last June and ask him to lead a "visitation" (or investigation) of the dicastery and assess its functioning.
    The cardinal and two assistants completed their work on July 1 and it is understood that they recommended that the specific tasks of each of the dicastery's sections be more clearly defined.
    Turkson's resignation would mark the failure of the merger of the dicastery, at least in the way it has functioned up to now.
    Father Augusto Zampini, an Argentinean priest to whom the Pope gave a key managerial role in the Covid commission, abruptly resigned last August.
    It is understood that he was given one day to pack up and return to his home diocese.
    La Croix was told by sources that, curiously, the priest completely destroyed his personal archives before leaving Rome.
    Meanwhile, Salesian Sister Alessandra Smerilli, a 46-year-old economist, was appointed at the end of August to be the secretary (or the Number 2 official) of the dicastery.
    She replaced Bruno-Marie Duffé, a priest from France who had completed a five-year term.
    [End, La Croix article of December 17, today]
        ***
    Here is Dr. Malone's recent December 14 (three days ago) statement to parents:
    

Full Text of Dr. Malone's Statement (link):
    By Dr. Robert Malone
    December 14, 2021
    My name is Robert Malone, and I am speaking to you as a parent, grandparent, physician, and scientist. I don't usually read from a prepared speech, but this is so important that I wanted to make sure that I get every single word and scientific fact correct.
    I stand by this statement with a career dedicated to vaccine research and development. I'm vaccinated for COVID and I'm generally pro-vaccination. I have devoted my entire career to developing safe and effective ways to prevent and treat infectious diseases.
    After this, I will be posting the text of this statement so you can share it with your friends and family.
    Before you inject your child – a decision that is irreversible – I wanted to let you know the scientific facts about this genetic vaccine, which is based on the mRNA vaccine technology I created.
    They've now killed close to TWICE as many kids from the vaccine as have died from COVID
    There are three issues parents need to understand:
    The first is that a viral gene will be injected into your children's cells. This gene forces your child's body to make toxic spike proteins. These proteins often cause permanent damage in children's critical organs, including:
    – Their brain and nervous system
    – Their heart and blood vessels, including blood clots
    – Their reproductive system
    – And this vaccine can trigger fundamental changes to their immune system
    The most alarming point about this is that once these damages have occurred, they are irreparable.
    – You can't fix the lesions within their brain
    – You can't repair heart tissue scarring
    – You can't repair a genetically reset immune system, and
    – This vaccine can cause reproductive damage that could affect future generations of your family
    The second thing you need to know about is the fact that this novel technology has not been adequately tested.
    – We need at least 5 years of testing/research before we can really understand the risks
    – Harms and risks from new medicines often become revealed many years later
    Ask yourself if you want your own child to be part of the most radical medical experiment in human history.
    One final point: the reason they're giving you to vaccinate your child is a lie.
    – Your children represent no danger to their parents or grandparents
    – It's actually the opposite. Their immunity, after getting COVID, is critical to save your family if not the world from this disease
    In summary: there is no benefit for your children or your family to be vaccinating your children against the small risks of the virus, given the known health risks of the vaccine that as a parent, you and your children may have to live with for the rest of their lives.
    The risk/benefit analysis isn't even close.
    As a parent and grandparent, my recommendation to you is to resist and fight to protect your children.
    [End, Dr. Malone's December 14 statement]
    ***    
    Note to all readers: We are continuing our Christmas fund-raising drive. We hope to raise $30,000 between now and December 31 to support these letters, interviews, videos, and analyses during the upcoming year. Please go to this link to make your donation.
Facebook Comments