Letter #183, 2021, Monday, December 20: The Nathanson Files, Tape #7: The Hosea Initiative
    I sat down in November for an interview with Terry Beatley, author of "What if We've Been Wrong?" and president of the Hosea Initiative, discussing how the abortion industry has deceived Catholics.
    The seventh part of this interview has been posted and is now available on Rumble (link) and YouTube (link).
    All of the tapes from this interview will be posted on our Rumble channel and YouTube channel so be sure to subscribe and turn on notifications to ensure you do not miss any content.
    Click the video below for the seventh part of the interview in which, Terry Beatley explains how her promise to Dr. Nathanson led to a nationwide movement on behalf of women, children, and families.
    ***
    Note to all readers: We are continuing our Christmas fund-raising drive. We hope to raise $30,000 between now and December 31 to support these letters, interviews, videos, and analyses during the upcoming year. Please go to this link to make your donation.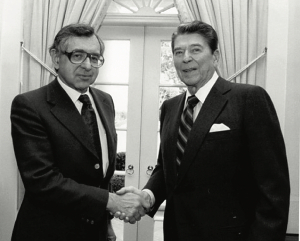 Above left, the late Dr. Bernard Nathanson (1926-2011) meets US President Ronald Reagan; center, Dr. Nathanson and St. Mother Teresa of Calcutta; right, Dr. Nathanson meets Pope John Paul II
    Here is the transcript of the seventh tape from The Nathanson Files:
    

Tape #7 The Nathanson Files: The Hosea Initiative
    This is part 7, in which, Terry Beatley explains how her promise to Dr. Nathanson led to a nationwide movement on behalf of women, children, and families.
    Robert Moynihan: So what you have done really is, in your own life, committed yourself to spreading the message of Dr. Nathanson. You've created an initiative, the Hosea Initiative. What is that? What are you doing in that initiative?
    Terry Beatley: The Hosea Initiative, it's a non-profit, educational organization.
    One of the primary things that we do is we teach.
    And we teach about the legacy of Dr. Bernard Nathanson, the history of how Margaret Sanger, and we do it decade by decade, how she turned America upside down with her gospel of contraception and the fall out of that.
    We teach about the connection between breast cancer and abortion.
    We teach about how by legalizing abortion, it fast-tracked Margaret Sanger's racist population control plan, which she called The Negro Project.
    And today it has killed well over 21 million black American babies.
    And so, we focus on these tough issues and our motto is "we love people with the truth."
    You know, sometimes the truth is ugly, sometimes the truth is hard to hear.
    But what we've learned is that when we can love people with the truth, they are much more willing to stand on the facts and not just the propaganda.
    Moynihan: And what is the Hosea Initiative's motto? What is the phrase from Hosea that you base your work on?
    Beatley: Yeah, that's a common question.
    I named it Hosea Initiative after the bible verse, Hosea 4:6, "My people perish for lack of knowledge."
    It doesn't say, "My people perish for voting the wrong way." It's, "My people perish for lack of knowledge."
    And so, what we've experienced is that if you do what Apostle Paul wrote about, you know, "Stand firm, have nothing to do with the evil deeds of darkness, but rather expose them, expose them to the light."
    Dr. Nathanson's legacy is light.
    To me, it's the light of Christ.
    How Christ didn't turn his back on America's abortion king.
    In fact, Christ saved America's abortion king from eternity in hell.
    And it's a story for every American to learn.
    For every American to pass down to the next generation. So that we… so that we can restore a culture of love and life.
    Moynihan: And Terry, your own journey is a witness to faith and I think women around the country would be interested to hear some of the things that you went through. Could you tell us about your witness?
    Beatley: Well, my witness in fulfilling the promise to Dr. Nathanson? Is that what you mean?
    Moynihan: Yes, and how it affected your life.
    Beatley: Oh, my goodness. It affected [me] in many different ways.
    In fact, I am going to write book number 2. It'll be a little thin book, but it's going to be a lot about the God stories, about how God moved this journey forward.
    There's probably not enough time in this interview to talk about it all, but I would like to share about Divine Mercy. That's been a theme.
    And it took me… I am a Catholic revert, and I didn't know about Divine Mercy, or I didn't know about the Chaplet of Divine Mercy.
    And so, it took me a number of years to realize this is what the Lord wants to do with the story of Dr. Nathanson, is to introduce mercy, God's divine mercy, to every American.
    And especially to the people who have suffered from abortion. It could be men. It could be women.
    And so, Divine Mercy has been a constant theme.
    Moynihan: I see. So, if a woman listening to this would have the inspiration to contact you, how should she do so?
    Beatley: Oh. She could reach me via email at [email protected].
    Moynihan: Would you like to have people contact you?
    Beatley: Absolutely. I firmly believe this. In fact, I'm going to look right at the camera when I say this.
    I believe that Americans have been directly impacted by abortion. That's going to be men who have regretfully pushed women into the abortion mills or women who have incurred abortion.
    When they learn the story about Dr. Bernard Nathanson, they are going to realize that they were victims of propaganda.
    They were victims.
    So it's time to be healed of the guilt and the shame and the regret, all the buried feelings that abortion causes, and to embrace the truth of God's Divine Mercy.
    He is right there wanting to forgive and to love and to hug you with his Divine Mercy, his love.
    But I also think it is going to… once people have gone through the healing process and embrace God's Divine Mercy, I believe that what we are going to end up doing is raising up an army of people, an army.
    I am talking about millions of people who will say, "No more. We are done with this culture of death. We are done with division. We are done with hate. We are done with abortion. We are done with the exploitation of women. And we are going to create a new United States of America and restore the dignity of all human life.
    And I believe that is what God's going to do. As long as I don't give up.
    And I say it every day, "Jesus, I trust in You. Jesus, I trust in You."
    And the more I say it, the more God keeps moving the thing forward, including sitting here with you. I never anticipated Inside the Vatican.
    (to be continued)
    Our Work: An Overview
    We ask you to support Urbi et Orbi Communications with a small or large contribution, at this difficult time, in order…
    (1) to keep Inside the Vatican Magazine (which we have published since its founding in 1993, 28 years ago) independent and comprehensive… Now available to you digitally as well as in print! Now offering Virtual Events, ITV Writer's Chat and Reader's Chat!
    (2) to ensure that Inside the Vatican Pilgrimages can keep creating encounters.
    (3) to help bring the Catholic Church and the Orthodox Churches closer together by "building bridges" through our non-profit Urbi et Orbi Communications.
    (4) to sustain our occasional news and analysis emails, The Moynihan Letters, bringing valuable information and insight to thousands of readers around the world.
    Please, do not overlook this opportunity to work with us. We very much appreciate your gift, whether small or large.
    Thank you.
    In Christ,


Dr. Robert Moynihan and the rest of the Urbi et Orbi Team
Facebook Comments