Wednesday, March 17, 2021
    Feast of St. Patrick of Ireland (A.D. 387-461)
    St. Patrick, one of the world's most popular saints, was born in Roman Britain. When he was 14, he was captured by Irish pirates and taken to Ireland as a slave to herd and tend sheep. At the time, Ireland was a pre-Christian land of pagan Druids, but Patrick turned to God. In his memoir, The Confession, St. Patrick wrote: "The love of God and his fear grew in me more and more, as did the faith, and my soul was roused, so that, in a single day, I said as many as a hundred prayers and in the night, nearly the same. I prayed in the woods and on the mountain, even before dawn. I felt no hurt from the snow or ice or rain."
    Dear Friend,
    I write to send you my St. Patrick's Day greetings after a year of difficulties, due to the virus and travel restrictions and lockdowns, but also a year of many graces and much to be thankful for.
    Despite everything, the Church is beautiful. The faith is a treasure. And God is very good. He called us into being, he gave us the breath of life, he has granted us life and given us an eternal hope, a hope he has given freely to many, including to St. Patrick himself.
    I am particularly thankful for you, readers of this Letter, for I consider that you have been, in some way, God's good gift to me. Over many years, you have been supporters and associates in my task of writing about the Church and the faith, and of publishing Inside the Vatican magazine and my Moynihan Letters. For this, I wish to thank you. You have given me the strength and means to carry this work forward.
    I will keep going as long as I have the strength.
    Certainly, it is not pleasant to have to constantly dig up and face various evils seemingly reaching their tentacles into the very heart of the Church — pride and self-righteousness and hard-heartedness, as our recent Popes have all noted… Yet we must confront these issues, first in ourselves — first in myself — and then wherever they appear in our Church. In fact, some of my readers have told me that, while they appreciate the honesty and reliability of the news I report, they have to "take a break" from it because the burden of knowing what is happening is becoming too heavy to bear.
    Fair enough. I can understand that.
    I cannot do the same. Despite the strain, my calling is to keep writing the truth and exposing corruption and departure from the faith once handed down in my own way until I can no longer go on… or until those evils are overcome with charity and faith and goodness…
    The storm clouds are darkening by the day; some of the sheep are lost, dismayed, disoriented. And, like many other people, I ask myself, "What can I do? What can one simple person do about it all?"
    However, I don't believe everything is pure chance, that there is no reason behind the apparent chaos in many aspects of our lives. I don't believe it is by accident that I find myself in this time and in this place. I believe Inside the Vatican is the task I was meant to have. And I find that thought encouraging.
    Another encouragement comes from my many appreciative readers who urge me to go forward. The thoughtful, well-reasoned and heartfelt letters I frequently get from my readers show me I am not alone. These letters are evidence that what I am writing is needed and appreciated.
    Many of you have generously offered to share the load, to help with the expenses of keeping this print magazine afloat. I have never raised our subscription price since I founded the publication in 1993! Yet our printing and mailing costs continue to rise steadily.
    Here, Polish photographer Grzegorz Galazka and I discuss our new magazine, Inside the Vatican, with Pope St. John Paul II in August of 1993 in the courtyard of the papal castle in Castel Gandolfo, the Pope's summer palace, about 15 miles outside of Rome. The temperature was blazing hot, nearly 100 degrees, so I took off my coat jacket, though Grzegorz kept his on. The Pope is holding the very first issue of the magazine, the "Zero Issue," produced as a test in April of 1993, now 28 years ago. Galazka left Poland for Italy in 1984, and in 1984 I also left the United States for Rome. By strange coincidence, or providence, both of us crossed into Italy from our homelands on the same day, though we did not know it until years later. Our arrival was on May 19, 1984. Grzegorz came into Italy from the Austrian border, and I came into the country on an airplane from the USA at the airport of Fiumicino near Rome
    Inside the Vatican is a small magazine. We do not have any large institution, any religious order, like the Jesuits, or any university or think tank behind us. We rely on donations to supplement paid subscriptions, plus advertising revenues, and the revenues from pilgrimages to Italy and elsewhere (including Russia and Eastern Europe) that we conduct, to stay in print.
    I appreciate so much each and every donor who has kept us going all this time… almost 30 years now!
    Still, at the moment, funds again are running low. We have held no pilgrimages since the fall of 2019. Our work in that area has been entirely taken away from us. This has created a huge revenue shortfall for us. So I am turning to you, my friends, for help.
    I need to raise $50,000, or more—right away—to get us through the rest of 2021.
    Would you consider sending me a sacrificial gift of $100, $250 or $500? Could you afford to make an even larger gift?
    If you cannot send one of those amounts, please know that I will be grateful for even the smallest donation. You can make a donation at the following link.
    I realize that many cannot support us financially right now, but in such a case I would still like to ask you to say one brief prayer for Inside the Vatican — for Giuseppe and Lucy and Stefano and Jan and Grzegorz and their families living under lockdown in Rome, for the St. Martin de Porres Lay Dominican Community living in New Hope, Kentucky and for those working in our US editorial offices in Front Royal, Virginia — for all our staff, that we may be able to persevere, remaining faithful to our task, no matter the difficulties we face?
     I ask for this prayer in part because I have been reading a little book about prayer written by a Russian Orthodox archbishop who is a friend of mine, Metropolitan Hilarion Alfeyev. The title of the book is Prayer: Encounter with the Living God. (below, right)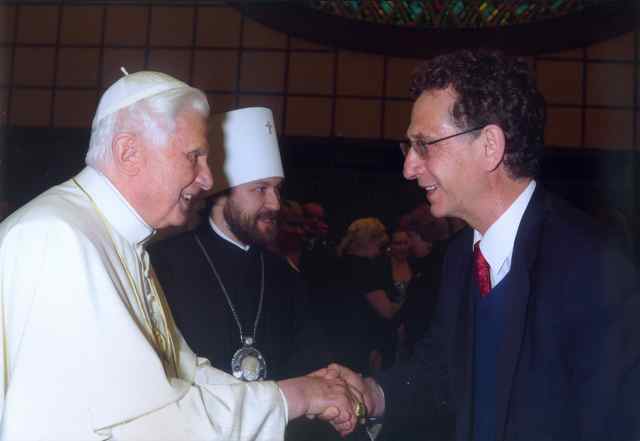 Here, in a photo from May, 2010, I greet Pope Benedict XVI, whom I came to know in the 1980s. We have just listened to a concert — which our Urbi et Orbi Foundation helped organize — in the Paul VI Audience Hall inside Vatican City. Archbishop Hilarion, composer of some of the music that was played, is in the background. The cover of Hilarion's book on prayer is to the right.
Hilarion writes: "Human life is akin to swimming through a sea or ocean. There are, of course, brave souls who, overcoming storms and tempests, cross the sea alone on a yacht. But, as a rule, people who cross the ocean come together on a ship moving from one shore to another. The Church is this ship in which Christians are moving together along the path of salvation. And common prayer is one of the most powerful means for advancing on this path."
    And Hilarion continues: "I would like to say a few words about the spiritual and emotional condition that people experience in prayer. Let us recall these verses of Mikhail Lermontov (1814-1841), one of Russia's greatest poets:
In a trying minute of life
If sadness o'erfills the heart,
One miraculous invocation
By rote, without cease, I recite.

There is a beneficent will
In the music of living words,
And there breathes in them
An unknown, sacred delight.
And the soul will release its burden
Doubt is far away
And it's easy to trust, and to cry,
And I feel so light, so light…
    "In these beautiful, simple words," Hilarion writes, "the great poet describes what happens to many people during prayer.
    "A person recites the words of prayer, perhaps familiar from childhood, and suddenly he feels a kind of enlightenment, a lightening, and tears. In Church language, this condition is called compunction. It is a condition that is sometimes given during prayer, when a person feels the presence of God more than usual.
    "It is a spiritual state, when the grace of God touches the heart directly.
    "Moments of such enlightenment are a sign that our prayer is not barren. They testify to the fact that God responds to our prayers and that the grace of God touches our hearts." 
Left to right: Ecumenical Patriarch of Constantinople Metropolitan Bartholomew (left) and Greek Orthodox Metropolitan Gennadios of Sassima (middle), as they receive me and a small delegation of the Urbi et Orbi Foundation in 2014 in the Phanar in Istanbul, Turkey. The Phanar is where the Patriarch of Constantinople lives and is, in this sense, the "Vatican" of the Orthodox Churches. We visited there as part of our effort to deepen collaboration between Catholic and Orthodox Christians in the hope that we may slowly "build bridges" to hasten a long-hoped for closer union between eastern and western Christians…
And since it is the Feast of St. Patrick, I am minded to propose for your reflection, and our common prayer — as we together cross the ocean of this world in our shared vessel that is the Church — the great poem of St. Patrick, which was also a great prayer, a powerful prayer, a beautiful prayer, which some spiritual teachers say may be prayed each day as a Morning Prayer:
The Breastplate (or Lorica) of St. Patrick
I arise today
Through a mighty strength, the invocation of the Trinity,
Through a belief in the Threeness,
Through confession of the Oneness
Of the Creator of creation.
I arise today
Through the strength of Christ's birth and His baptism,
Through the strength of His crucifixion and His burial,
Through the strength of His resurrection and His ascension,
Through the strength of His descent for the judgment of doom.
I arise today
Through the strength of the love of cherubim,
In obedience of angels,
In service of archangels,
In the hope of resurrection to meet with reward,
In the prayers of patriarchs,
In preachings of the apostles,
In faiths of confessors,
In innocence of virgins,
In deeds of righteous men.
I arise today
Through the strength of heaven;
Light of the sun,
Splendor of fire,
Speed of lightning,
Swiftness of the wind,
Depth of the sea,
Stability of the earth,
Firmness of the rock.
I arise today
Through God's strength to pilot me;
God's might to uphold me,
God's wisdom to guide me,
God's eye to look before me,
God's ear to hear me,
God's word to speak for me,
God's hand to guard me,
God's way to lie before me,
God's shield to protect me,
God's hosts to save me
From snares of the devil,
From temptations of vices,
From everyone who desires me ill,
Afar and anear,
Alone or in a multitude.
I summon today all these powers between me and evil,
Against every cruel merciless power that opposes my body and soul,
Against incantations of false prophets,
Against black laws of pagandom,
Against false laws of heretics,
Against craft of idolatry,
Against spells of women and smiths and wizards,
Against every knowledge that corrupts man's body and soul.
Christ shield me today
Against poison, against burning,
Against drowning, against wounding,
So that reward may come to me in abundance.
Christ with me, Christ before me, Christ behind me,
Christ in me, Christ beneath me, Christ above me,
Christ on my right, Christ on my left,
Christ when I lie down, Christ when I sit down,
Christ in the heart of every man who thinks of me,
Christ in the mouth of every man who speaks of me,
Christ in the eye that sees me,
Christ in the ear that hears me.
I arise today
Through a mighty strength, the invocation of the Trinity,
Through a belief in the Threeness,
Through a confession of the Oneness
Of the Creator of creation.    
Thank you sincerely, my dear friend and fellow sailor on the seas of this world, in the vessel of the faith, the Church.
    Allow me also to wish you the abundant graces of this coming Holy Week and Easter season.
    And a wonderful, happy St. Patrick's Day to you all!
    With gratitude,
    Robert Moynihan
    P.S.: Our country, our Church, our world, is in need of many prayers. The faith is heavily under attack, and massive cultural changes are underway. St. Patrick, pray for us.
    P.P.S. As you read this, please be reassured that I am still hard at work finishing the sequel to my book Finding Viganò, which was published on November 20, 2020. Those of you who give $100 or more in response to this appeal will automatically be placed on a list to get a free copy when it's published. Know that it will be mailed to you as soon as it is available. That should be later this year.
    Thank you for your support of our magazine, which strives to serve "the one thing necessary" — or rather, the one Person necessary — the Logos, the Word, Jesus Christ, the reason for all that is.   
I hope to hear from you soon.
    "…let us run with perseverance the race which is set before us, looking to Jesus the pioneer and perfecter of our faith…" —Hebrews 12:1-2
What our readers are saying
    "By God's Grace, enabling me to do the hard work over the last 18 years, I have been granted parole! Your magazine has been a gift, a valuable resource for me in learning more about my Faith. The subscription for me was provided by a volunteer/supporter of our Catholic chapel, where I have been a part of the choir and inmate ministry for 10 years. Now I am finally able to move on and begin life anew!" —Dwight Krizman, San Quentin State Prison, California
    "My neighbor Barbara Middleton gave me copies of your November, December, and January/February issues to look over. I was struck by the scholarly tone and organized presentation of the magazine as well as its beautiful photographic work. Sign me up for 2 years. Keep up the good work! God Bless!" —Walter Kraszewski, Shelby Twp., Michigan
    "I have been a subscriber to your beautiful magazine almost since its inception. I really enjoyed the reproductions of the Vatican Art, the celebrations of the various saints, the publication of the complete texts of the various papal encyclicals, and the balanced coverage of the events in the Vatican, as well as the liturgies and the recipes." —Ray E. Brown Jr., MA, Indianapolis, Indiana
    "I love and appreciate your magazine and your hard work. You're on my permanent "Prayer List." May God & Blessed Mother continue to bless you." —Connie Garza, Omaha, Nebraska
Facebook Comments