By Becky Derks with G. Galazka, CNA and CNS photos
Cardinal Tagle Bids Farewell to His Hometown in the Philippines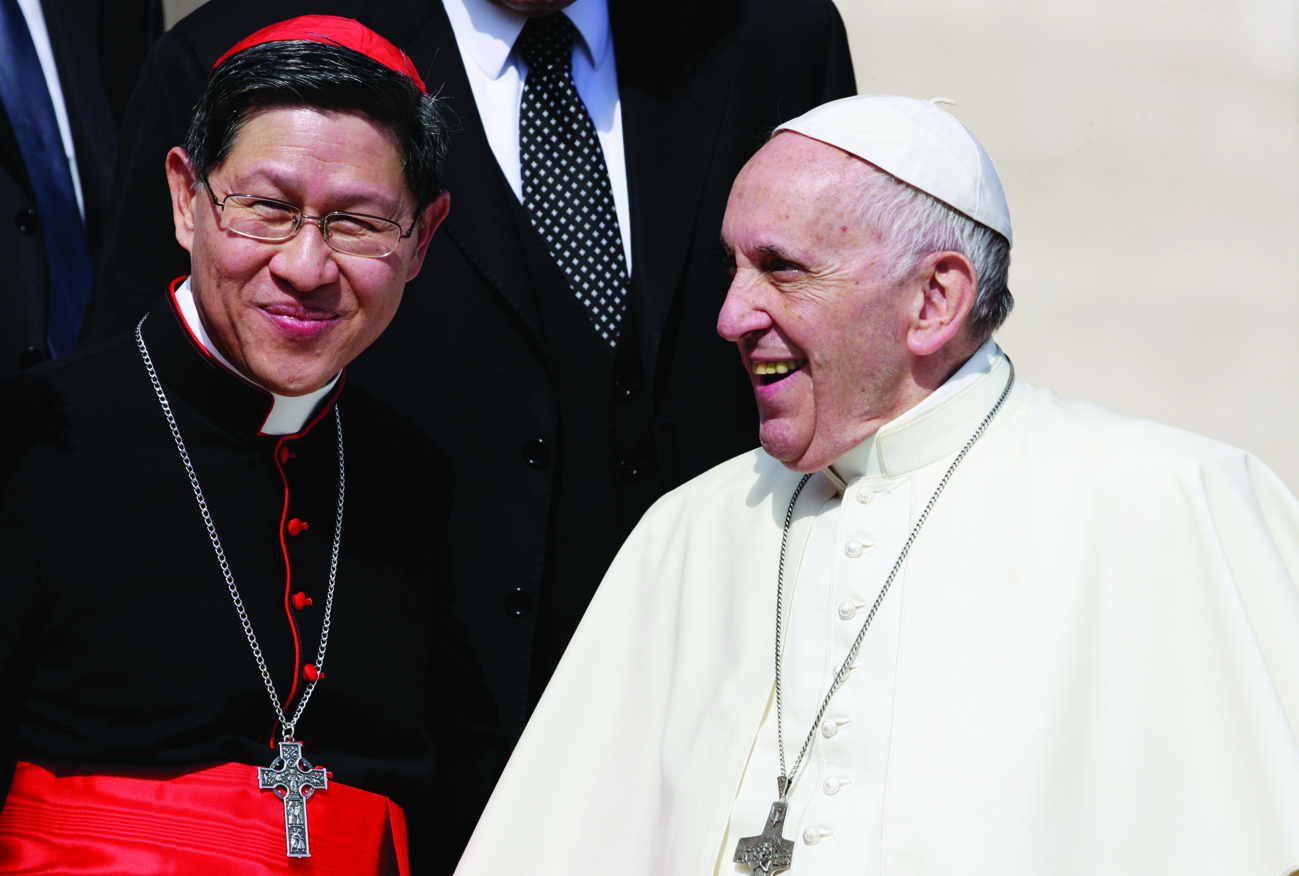 Cardinal Luis Antonio Tagle, archbishop of Manila, bid farewell to his hometown of Imus in Cavite Province on January 20, 2020, before his expected transfer to Rome, reported CBCP News. In a Mass at the Cathedral of Our Lady of the Pillar, he thanked all those who attended the celebration, including some public officials.
"This kind of celebration gives me strength," a teary-eyed Cardinal Tagle said.
It was the same cathedral where the cardinal was baptized a Catholic, and where he was ordained a priest in 1982 and a bishop in 2001. "From here, I will be an overseas Filipino worker (OFW)," he said. "Please continue praying for me, especially for Pope Francis."
The cardinal is expected to assume his post as the Prefect of the Congregation for the Evangelization of Peoples in Rome early this year. (Zenit)
Lima Archbishop Offers "clarification" on Controversial Eucharist Remarks
After controversial remarks, the Archbishop of Lima said that he did not intend to undermine the importance of prayer in the presence of the Eucharist.
"It is essential for us to maintain a level of entering and contemplating the mystery of the Lord made bread for us, the mystery of the transubstantiation as we call it more technically, which means the real presence of the Lord," Archbishop Carlos Castillo Mattasoglio said January 7.
Castillo's remarks came after he told Lima's synodal assembly January 7 that "no one is converted with the tabernacle." At that meeting, Castillo said that while Pope Francis has mentioned contemplation of the Eucharist as a source of spiritual growth, "no one is converted with the tabernacle. We are all converted from meeting people who ask us questions and who are human dramas where the possibility of encountering the Lord arises." (CNA)
Exorcist: Temptation – Not Possession – is the Most Significant Demonic Activity
Though dramatic representations of demonic possessions, as seen in Hollywood, can make them appear to be the primary method of the devil, one Dominican priest and exorcist has warned that the greater and more common threat to a person's salvation is the temptation to sin.
"The most common manifestation of the demonic is temptation, which is much more significant than possession," Fr. Francois Dermine, OP, told CNA.
An exorcist for over 25 years, he explained that possession is not a spiritual threat in the same way temptation is, and that a person who has been possessed by the devil may still make "extraordinary spiritual progress," and could even one day be a saint.
This is because demonic possession of a person's body occurs without that person's knowledge or consent. The possession in and of itself does not make the victim morally blameworthy.
"We must not undervalue the significance of temptation. It's not as spectacular as possession, but it's far more dangerous [to the soul]," Dermine said. (CNA)
---
Four Seminarians abducted in Nigeria
Four seminarians between the ages of 18 and 23 were abducted from their seminary in Kaduna, in northwestern Nigeria. Pius Kanwai, 19, Peter Umenukor, 23, Stephen Amos, 23, and Michael Nnadi, 18, were taken from Good Shepherd Seminary in Kaduna, around 10:30 p.m. on January 8 by gunmen. Police are searching for the four young men.
Nearly 270 seminarians live at Good Shepherd.
"The security situation in Nigeria is appalling," Thomas Heine-Geldern, executive president of Aid to the Church in Need International, said January 13. "Criminal gangs are further exploiting the chaotic situation and making matters still worse." He compared the situation in Nigeria to that of Iraq prior to the Islamic State's invasion: "Already at that stage, Christians were being abducted, robbed and murdered because there was no protection by the state. This must not be allowed to happen to the Christians of Nigeria. The government must act now, before it is too late." (CNA)
Film to portray Catholic Woman who saved Jewish children in WWII
The true story of Irena Sendler, a Polish Catholic woman who helped smuggle thousands of Jewish children out of the Jewish ghetto in Warsaw during World War II, will feature in a new historical thriller film produced by and starring Israeli actress Gal Gadot.
Gadot, an Israeli actress well-known for her 2017 role as Wonder Woman, is co-producing the film, The Courageous Heart of Irena Sendler, with her husband Jaron Varsano as the first project for their new production company, Pilot Wave. "As producers, we want to help bring stories that have inspired us to life," Gadot and Varsano told Deadline. "Pilot Wave will create content that promotes the perspectives and experiences of unique people and produce impactful stories aimed at igniting the imagination." According to Deadline, the new film will focus on Sendler's underground activities and her arrest, and "the drama becomes a race against time to save not only herself but the identities of the hidden thousands who'll face certain execution." (CNA)
---
Benedictine Sisters in Ecuador Inaugurate Baby Drop-off Box
A group of religious sisters in Santo Domingo, Ecuador. has installed the country's first baby dropoff box, as an alternative to abortion for mothers who find themselves unable to care for their newborns. The Missionary Benedictines inaugurated the country's first "Cradle of Life" baby drop-off box on December 10 in Santo Domingo. The box is located in the exterior wall of their Happy Valley Home, a temporary shelter providing foster care for at-risk girls and adolescents.
Sister Carmela Ewa Pilarska, a member of the home's leadership team, said the project hopes to respond to cases of abandoned infants, such as those found occasionally in cardboard boxes or abandoned houses.
"We would like to be the voice for so many newborns who struggled to survive, and we're speaking up for those newborns who didn't have the same fate," she said at a presentation of the "Cradle of Life" project. (CNA)
Christmas Eve Carolers for Cardinal Pell Gathered at Melbourne Prison in Australia
A group of local Catholics gathered outside Melbourne prison on Christmas Eve to sing carols for Cardinal George Pell, currently incarcerated in the facility, and to pray for him, as well as the other inmates and prison staff.
At 8 p.m. on December 24, about two dozen local Catholics gathered outside Melbourne Assessment Prison on the west side of the city center to sing Christmas carols and to pray for the cardinal and others in the jail.
One of the singers, John McCauley, told CNA that "we just wanted the cardinal to know he was loved and remembered at Christmas." The songs included traditional carols like O Come All Ye Faithful and Once in Royal David's City, as well as Australian favorites like The Three Drovers. Singers wrote messages of support and Christmas greetings in a copy of the carol book, which was left for Pell at the prison's front desk. (CNA)
---
"Angels Unawares" — Vatican Migration Sculpture Coming to United States
In 2019, Pope Francis unveiled a new bronze sculpture in St. Peter's Square, "Angels Unawares," a depiction of migrants throughout history crammed together on a boat with the Holy Family.
The artist, Timothy Schmalz, told CNA December 17 that a second cast of the "Angels Unawares" sculpture will be touring different cities around America before being permanently installed in a yet-to-be-disclosed location in the United States. The 20-foot-tall bronze statue is based on Hebrews 13:2, "By welcoming to strangers, many have entertained angels unawares."
For this work, Schmalz also had refugees from Africa visit his studio in Canada to model for some of the 140 different people depicted in the sculpture. He also collected vintage photographs of people's grandparents, who had crossed the Atlantic as immigrants.
"What I wanted to do is create a sculpture that is really inclusive of all migration," he said. "It exemplifies all historical migrations, all cultures, all races that have ever moved throughout the world." (CNA)
Pope Appoints First Woman to Managerial Position in Secretariat of State
Pope Francis has named Dr. Francesca Di Giovanni, 66, Undersecretary for Multilateral Affairs in the Vatican Secretariat of State, marking the first time that a woman has been appointed to a managerial position in the secretariat.
Di Giovanni has worked as an official in the department for more than 25 years, with specialties including humanitarian law, communications, migrants and refugees, and the status of women, according to Vatican Media. She will now work with Monsignor Miroslaw Wachowski, who also serves as Undersecretary for the Section of Relations with States, but focuses on bilateral affairs. Di Giovanni's field of multilateral affairs focuses on the interactions between inter-governmental organizations such as the United Nations. (CNA)
Facebook Comments