#4 Jakub Baryła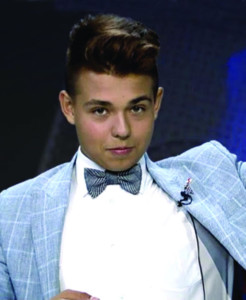 A Polish hero though still a youth
"I directed my prayer to the Mother of God. Policemen came and asked me to get out of the way. I said I couldn't do it…"
A 15-year-old Polish boy followed in the footsteps of his country's noble ancestors when, crucifix and rosary held high, he stood up against Poland's first and largest LGBT equality march this past August. Jakub Baryła of Polk, Poland said later that his inspiration came from Fr. Ignacy Skorupko, a priest and military chaplain during the Polish-Soviet War of 1918-21. Fr. Skorupko died heroically in the Warsaw battle with the Bolsheviks in 1920, holding a crucifix and leading the Polish army to victory.
Baryła later stated on Twitter that he held the cross to oppose the "bad deeds that are promoting homosexuality." According to the account on wPolityce.pl. Baryła said:
"I sat on the pavement and prayed in Latin with the words Salve Regina. I directed my prayer to the Mother of God, the ideal of purity. Policemen came to me and asked me to get out of the way. I said I couldn't do it because the participants of the march are destroying my Catholic faith and profaning the Polish flag by placing a rainbow on it."
In a statement on Twitter, Baryła said, quoting a certain Father Kramer: "Jesus and the cross stood against evil and sins. Our holy faith commands us to counteract evil deeds. I also tried to do it. Saying that I was going against people is harmful; I was going against the bad deeds that are promoting homosexuality."
In response to his bold actions, the Warsaw Monitoring Center on Racist and Xenophobic Behavior released a statement claiming that Baryła's action was merely the result of parents using their children for political nationalist ends. However, in response, Baryła sated:
"I am 15 years old, but I understand the reality that surrounds me and I can make decisions consciously." Baryła added that his own parents held "leftist" views.
What motivated Baryła's action? Baryła explained to the Polish media that he had initially decided against taking action until he saw a particular reprinting of the icon of Our Lady of Czestochowa. The image depicted Our Lady and the Christ Child with rainbow halos, and was later carried in the LGBT March. The icon of Our Lady of Czestachowa is one of the most beloved depictions of Our Lady by the Polish people, so it is no wonder that Baryła was prompted to act. "I didn't think about fear," he said. "I was focused on the cross I was holding. I am Catholic, so I focused on God who gives me strength. I have the impression that God was directing me."

Facebook Comments