#1 Svetlana Kasyan
Opera Star from Moscow, Russia
"Love and Art Should Reign Again"
Thirty-five year old Russian opera star Svetlana Kasyan celebrated her birthday this year at the Vatican with Pope Francis. Kasyan was born and raised in Georgia, and now resides with her husband and young daughter in Moscow. As an opera singer, Kasyan is accustomed to touring around the world. She sings often in Italy, and in Rome since 2013, has met Pope Francis on seven occasions over the years. This year, after her performance in Venice, she was invited to her second private Papal Audience, where Pope Francis greeted her with a birthday cake and candles, as it was her 35th birthday. The pontiff also awarded the star of the Lady of the Grand Cross of the Pontifical Order of Saint Sylvester to Kasyan. At this meeting, after speaking with the Holy Father, Kasyan invited him to visit her in Moscow and to visit Russia.
Kasyan's first meeting with the Holy Father took place in 2013, when Kasyan gave a solo concert in Rome in the Auditorium Conciliazione hall. The morning after, at an early Mass celebrated by Pope Francis in the Domus Santa Marta, Kasyan was able to speak with the Holy Father for a few minutes: "Yes, he gave me his blessing," Svetlana told Inside the Vatican. "He blessed my voice and told me to use it to give glory to God. Our meeting deeply moved me. I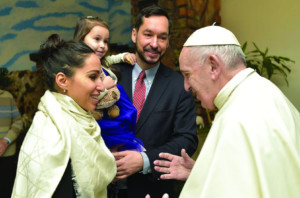 am at a loss for words. I cannot easily describe how I felt. I admire and love him very much. He is so very simple and genuine and I am so grateful to have met him." Moments later, she was in a taxi and on her way to the airport.
Born in Georgia in the Caucusus, Kasyan lost her father as a young child, and with what remained of her family, she fled from Georgia and found refuge in Kazakhstan. Eventually, she found her way to Moscow where she began to study music and singing; she was then eighteen years old. Kasyan eventually became a soloist with the Bolshoi Theater.
In 2013, after singing the lead role in "Tosca" at the Rome Opera House, Kasyan told the press, "I dedicated my Tosca tonight to the suffering people in Syria. I pray for peace and an end of violence around the globe. The world should learn again to listen to each other. Love and art should reign again."
"Yes, he gave me his blessing. He blessed my voice and told me to use it to give glory to God."

Facebook Comments