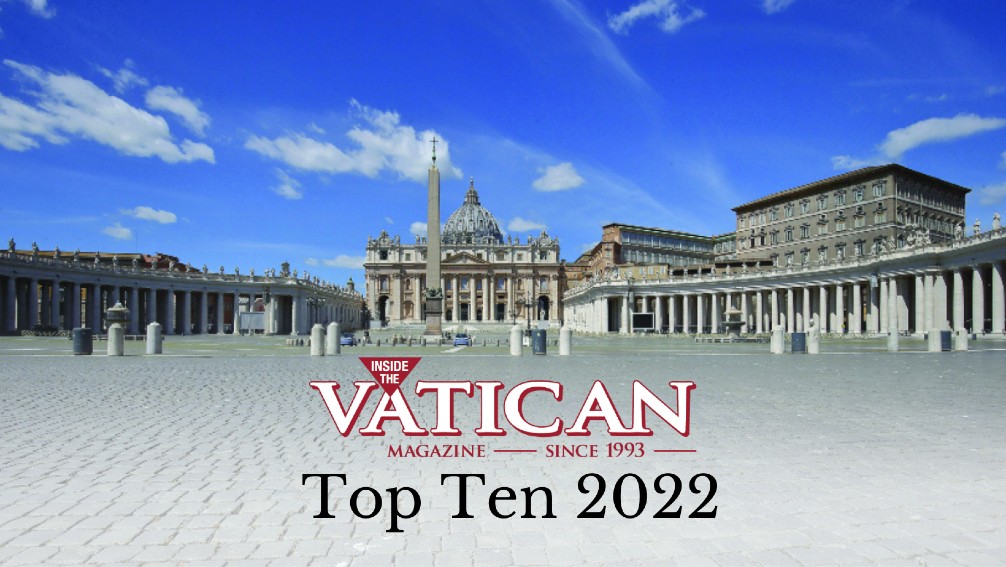 Ten Who Shine
Catholics who showed us the good and beautiful in 2022
In this issue, we spotlight ten Catholic individuals who "made a difference" in 2022 –– and beyond. Five of them are members of the Catholic clergy, men whose ordination has deepened and broadened a life-long desire to serve Christ and their fellow men by offering their entire lives to Him. Their life's work has been infused with the grace of the Gospel, transforming them to love and serve others because they were first "captured," falling in love with Jesus Christ, the Son of God.
Five of them are lay people who, like most of us, must struggle every day in between "the world" and "the Church," to keep that love burning. Each of us desires to shine a light on something good and beautiful that God has given us in this time, and that modern man in all his troubles and sorrows and confusion needs. The lay people we have chosen have done that. Join us in saluting our "Top Ten" of 2022!
    

Benedict Rogers
    

"This Work is About the Soul"
    A British Catholic fights rising religious oppression in Asia
    In a materialist age in which few people speak publicly about the existence of the human soul, human rights activist and writer Benedict Rogers, 48, dares to not only speak of the soul, but also to defend it in the public forum. 
    Rogers is the co-founder and chief executive of Hong Kong Watch and senior analyst for East Asia at Christian Solidarity Worldwide, a rights organization specializing in freedom of religion or belief. He is the cofounder and deputy chair of the UK Conservative Party Human Rights Commission, a member of the advisory group of the Inter-Parliamentary Alliance of China (IPAC) and a board member of the Stop Uyghur Genocide Campaign. He is also the author of several books; his newest, The China Nexus: Thirty Years In and Around the Chinese Communist Party's Tyranny, was released in October 2022 by Optimum Publishing International. 
    He received the US government's International Religious Freedom Champion award in 2021. Based in London, Rogers writes about issues of religion and rights in Asia, including in his regular column "Rights and Wrongs" on the UCANews (Union of Catholic Asian News) website. Among these issues are: 
    – the arrest and sometimes execution of thousands of political dissidents, and the years-long and ongoing genocidal campaign against the ethnic minority Rohingya of Myanmar; 
    – slavery, forced organ harvesting and persecution of the Ugyur and Tibetan minorities in Communist China, as well as persecution of the Catholic Church, surveillance and control of the Catholic faithful and imprisonment of Catholic clergy; 
    – arrest and imprisonment of pro-democracy activists (including nonagenarian Cardinal Joseph Zen) in Hong Kong; 
    –anti-Christian terrorism and government persecution in India and Pakistan. 
    Of particular concern to many is the Vatican-China agreement, renewed for the second time in October 2022, by which the Vatican was to have input in decisions of appointing Chinese bishops, and whose details remain undisclosed. 
    "If the details of the agreement were transparent and the gains more obvious, perhaps some of the Vatican's compromises might be more understandable. But this deal, first agreed on by the Vatican and China four years ago, has now been renewed for the second time with seemingly no scrutiny, review or transparency — and far from improving conditions for the Church in China, it has resulted in worsening repression and persecution. 
    "The only detail we know about the agreement itself is that it relates to the appointment of Catholic bishops in China and gives the CCP a say in picking them. Yet so far only six new bishops have been appointed, according to the Vatican's Secretary of State Cardinal Pietro Parolin, leaving at least 40 vacancies to fill. Many underground bishops and priests remain in prison or under house arrest." 
    Rogers, while at times critical of the Vatican's political moves, is himself a faithful Catholic — a convert to the Faith from Anglicanism, who was brought into the Church by Cardinal Charles Maung Bo of Myanmar in 2013. Over the years of mission in Asia, he met and befriended prominent Catholics, including Shahbaz Bhatti, Minister for Religious Minorities in Pakistan, murdered by Islamic fundamentalists in 2011 for his firm opposition to the notorious blasphemy laws; Bishop Carlos Belo and the fearless nun, Sister Lourdes, in East Timor; and Cardinal Joseph Zen in Hong Kong. Rogers also studied various Catholic authors, including Von Balthasar, de Lubac, Chesterton, Merton and the encyclicals of Pope Benedict XVI, especially Caritas in Veritate. 
    In fact, Rogers remarked, he rediscovered in the mission fields of Asia a Catholic faith that Europe and the West seem to have abandoned. 
    In a July article about the 2022 International Ministerial Conference on Freedom of Religion or Belief, held in London, he outlined a series of recommendations based on encouraging developments as civil coalitions have been formed to promote and protect religious freedom. 
    Most pointedly, however, he continued, "The central message of all these initiatives is that there can be few things more important than a human being's freedom of conscience. At heart, this work is about the soul — and the freedom of every human being to decide according to their own conscience what they do with it. That is a freedom no government, no other religion, no armed group and no terrorist should ever take away from anyone. We must step up efforts to defend freedom of religion or belief for everyone, everywhere, all the time."
Facebook Comments