"I am deeply convinced that they can become examples and patrons of modern families."
— St. John Paul II's personal secretary, Cardinal Stanislaw Dziwisz
By Anna Artymiak, special Inside the Vatican correspondent
Wadowice is a tiny town 31 miles southwest of Krakow, Poland. Here on May 18, 100 years ago, the future Pope John Paul II, Karol Jozef Wojtyła, was born; here he was baptized, served as an altar boy, and was confirmed. As St. John Paul II said himself during his visit to Wadowice in 1999: "…here in this town, Wadowice, everything started."
Once again this place drew international attention on May 7, the vigil of St. Stanislaus' feast and just 11 days before the late Pope's 100th birthday, when the beatification process of Emilia and Karol Wojtyła, St.John Paul II's parents, was officially inaugurated in the Papal Basilica of the Presentation of the Blessed Virgin Mary.
As Cardinal Stanisław Dziwisz, Archbishop Emeritus of Krakow and even more well known as Karol Wojtyla's personal secretary for more than 40 years, in his request to the present archbishop, Marek Jędraszewski, to open the Wojtylas' cause, said: "I would like here in this place to testify, in the presence of the Archbishop and gathered priests, that in my many years as standing secretary to Cardinal Karol Wojtyła and Pope John Paul II, I heard many times from him that he had saintly, holy parents."
First announced publicly in 2018, the initiative to start the Wojtyłas' beatification process came from the faithful not only in Poland but worldwide.
Now a long study of their lives, any writings, and the testimony of witnesses has begun. A significant and unique witness will be John Paul II himself; he left a record of several memories, especially of his father. The cause will confirm not only his huge respect for his parents but also that they lived their Christian lives in a heroic way—which helped form the young future Pope in the Christian faith.
"St. John Paul II was a man of a deep interior life," said Cardinal Dziwisz. "What was dearest he kept in his heart and presented it to God. His relationship with his parents he didn't display, but he always had with him small portraits of his father and mother. He did so also in the Vatican, where he placed their portraits on his desk. It was so until the very end. He was hearkening back to his experience of home when he spoke about the importance of our parents in our lives…"
A second step in the process will be to obtain a miracle due to their intercession. In his address, Cardinal Dziwisz related that the day before, one parish priest told him that already in his parish one girl was healed in an inexplicable way, thanks to prayers to the Polish Pope's parents. Maybe this miracle will be the one which opens a path to their beatification soon.
The public session began with the hymn to the Holy Spirit, Veni Creator, and the prayer to the Holy Spirit which Karol Wojtyła, Sr., taught his sons when he noticed young Karol's attention waning at Mass. Later, John Paul II confessed that he remained faithful to this prayer his whole life. Msgr. Sławomir Oder, the postulator of St. John Paul II's canonization cause, and president of the Court of Appeal of the Vicariate of Rome was chosen as a postulator of the Wojtylas'cause; he could not be present inWadowice, however, because of the epidemic. Cardinal Dziwisz asked the members to "work fast, but not half-heartedly."
The Pope's secretary wished that John Paul II's parents might become in the future patrons of the family. "In today's reality, dominated by loneliness, the uncertainty of tomorrow, but also by the seeking of the meaning of life, Karol and Emilia Wojtyła become witnesses of everlasting values, among which, in the first place, there is the family. I am deeply convinced that they can become an example and patrons of modern families, especially now when families need—in the context of ideologies rebelling against the need for and appreciation of marriage and family—an authentic example of marriage and family life. "
---
"The Saints Next Door"
An interview with

Msgr. Slawomir Oder

, postulator for the cause of Emilia and Karol Wojtyla, Sr.
By Anna Artymiak, special Inside the Vatican correspondent
Anna Artymiak: What type of beatification cause is the cause of John Paul II's parents?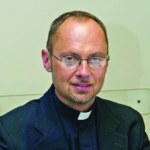 MSGR. SLAWOMIR ODER: It is not quite a historical cause. When it comes to a historical cause, as it was defined in 1930 by Pius XI, it is a process in which there are no contemporary eyewitnesses of the candidate, but only written depositions. In this case, there are still a few eyewitnesses alive who personally met at least John Paul II's father, Karol Wojtyla, Sr.; his mother Emilia died in 1929. It will be necessary, if possible, to prove heroicity of virtues based on the facts present in people's memories and of course also on the documentation we have.
Is it your goal now to shine light on the Wojtylas'sanctity, to bring their own holiness into view, out from the shadow of their canonized son, St. John Paul II?
As Pope Francis has said about "the saints next door," the holiness of John Paul's parents was a kind of holiness that is realized in ordinary life. Pope John Paul II used to say that holiness is a high standard but it is also the remarkable characteristic of an ordinary Christian life. When we speak about saints, we don't say that they did something extraordinary, moved mountains, saved the world from disaster. The Catechism of the Catholic Church published by John Paul II indicates love as the soul of holiness.
So, if we think about holiness, we think about the spirit, the measure of one's love of God and of others, fulfilled in daily, ordinary life… We know that John Paul's parents faced challenges that were not easy, both economic and concerning their health. It wasn't a wealthy family. There were serious health problems. His mother, Emilia, died young after years of sickness…
Are the Wojtylas the first Polish married couple whose causes of beatification were started together? Are their causes the first causes of parents of a successor of Peter?
As far as I know, yes on both counts. In practice, it is not actually one common cause, but two separate causes, one for Emilia, the other for Karol; there are two tribunals.
Coming back to John Paul II, it was his inspiration. From the very beginning of his priestly life, he, who had been able only briefly to savor the joy of his own family of origin because he lost his mother early, then soon after his brother and father, sought to create the atmosphere of a family around himself. As a young priest, he took care of young people. He guided many in their engagements, he accompanied them in their marriages and he was bound to them throughout his whole life… 
Under John Paul II's pontificate, he stressed the universal call to holiness. Just to remind you, he beatified and canonized more people than all his predecessors since St. Peter. It is what the Church is about. The Church must sanctify her members.
So John Paul II himself will play a special role in their causes, as a witness to the holiness of his own parents?
Yes. The Holy Father of course alluded to his family, the atmosphere in his family home, when he spoke about the roots of his own religious devotion, his vocation, the examples of Christian life or prayer that moved him… The Holy Father did say that he hardly remembered his mother. He had only dim memories of her. Nevertheless, he recalled that his mother's desire was that one of her two sons would be a doctor, and the other, a priest. This wish came true.
Do you still receive testimonies concerning St. John Paul II himself?
Yes, I do. I must say that the correspondence is still very lively, even 15 years after his death. Still, now there come to my office testimonies of received graces, or letters addressed directly to John Paul II. We don't open those; we lay them on John Paul II's tomb…
Facebook Comments