The clergyman had been administering the diocese since December 2012, as well as acting as deputy secretary of the Beijing-controlled Bishops' Conference. The Holy See spokesman confirms that the ceremony took place within the framework of the Sino-Vatican agreement. Pope Francis approved the appointment on 23 June 2021. Cui will be bishop of Hankou/Wuhan, based on the name recognised by Rome.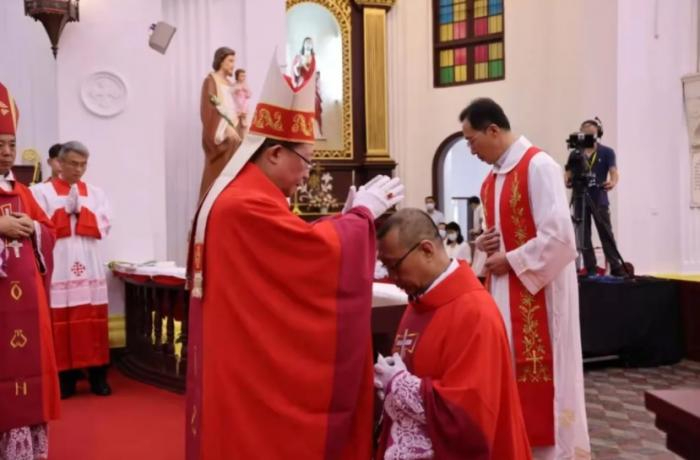 September 8, 2021
Wuhan (AsiaNews) – Franciscan Fr Francis Cui Qingqi was ordained this morning as the bishop of Wuhan, capital of Hubei province.
As AsiaNews previously noted, the ordination took place in the city that saw the first COVID-19 outbreak. It is the fourth following the renewal in October 2020 of the provisional Sino-Vatican agreement on episcopal appointments, the sixth since the original accord was signed in 2018.
The new prelate, approved by the Holy See, is 57 years old and was elected "democratically" on 27 September 2020 by Church bodies linked to the Chinese Communist Party.
A native of Shanxi province, but ordained a priest in Hubei, Fr Cui Qingpi was de facto in charge of the Wuhan diocese since December 2012, when the previous administrator Fr Shen Guoan was forced to resign because he was not loyal enough for Beijing.
Since 2016, Fr Cui held the position of deputy secretary of the Bishops' Conference of the Catholic Church in China, an organisation also controlled by the Party.
This morning's ordination was led by Bishop Ma Yinglin of Kunming, who is vice president of the Chinese Patriotic Catholic Association (CPCA); Bishop Shen Bin of Haimen, also CPCA vice president; and H. Em. Archbishop Li Shan of Beijing, vice president of the Bishops' Conference.
Bishop Li Suguang of Jiangxi, who is CPCA president in Jiangxi, and Bishop Ding Lingbin of Changzhi, CPCA vice president and general secretary in Shanxi Province, also attended the service.
Fr Yang Yu, deputy secretary of the Bishops' Conference, read out the bull (decree) nominating the new bishop.
Speaking to journalists, Vatican Press Office director Matteo Bruni confirmed that the ordination took place as part of the agreement with Beijing on episcopal appointments.
Bruni said that Fr Francis Cui Qingqi was "appointed bishop of Hankou/Wuhan by the Holy Father on 23 June 2021. He is the sixth Chinese bishop appointed and ordained within the framework of the provisional agreement on the appointment of bishops in China."
The name of the diocese is important. St Joseph Cathedral is in fact the see of what for the Vatican was the Diocese of Hankou, as the city on the Yangtze River was formerly called, and is now is the central part of Hubei's metropolis.
The city of Wuhan today also includes the territories of what for the Holy See were the dioceses of Hanyang and Wuchang.
The Bishops' Conference, controlled by Communist authorities, independently established the Diocese of Wuhan by merging the three historic sees.
Facebook Comments