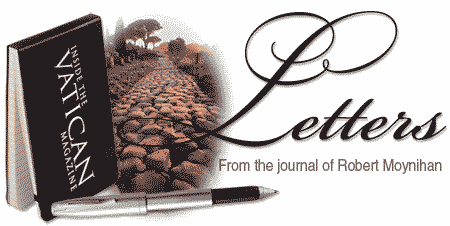 November 13, 2017, Monday
"He taught me to open up to a different liturgy, which I always keep in my heart because of its beauty."
—Pope Francis, in a November 9 talk (four days ago) to Ukrainian seminarians in Rome, four days ago.
Francis recounted that, as a youngster of 12 and 13 years old in Buenos Aires, it had been his duty to serve as an altarboy twice a week for the Byzantine-rite Masses celebrated by a Ukrainian Eastern-rite Catholic priest named Father Stephan Chmil, who had fled Ukraine and found refuge in Argentina. (Fr. Chmil's cause of canonization has been opened.)
Francis said that the experience of getting to know Father Chmil, and of serving at his Eastern-rite Masses, had profoundly and permanently affected him, "because of the beauty" of the Eastern-rite liturgy of St. John Chrysostom
===============
Pope Francis and the Liturgy
I left off my last letter (Letter #62, Millstone, October 3) saying that there may be, in our "information age," a real need now for silence.
Since then, I have been silent. I have taken 40 days, from October 3 to November 13 (and yesterday passed a birthday, on the Feast of St. Josaphat), to try to reflect on what words may be useful, amid the floods of words — "the Media! the Blogosphere!" — which inundate us.
My goal: if possible, not to add to the general confusion and chatter.
Not to add to the advancing spiritual-cultural "whateverness" (in Italy it is called "qualunquismo," a general attitude of indifference toward political parties).
A type of "whateverness" that seems to nourish many evils.
The great Jewish scholar Hanna Arendt (1906-1975) spoke of the "banality" of evil of this type, writing that "the sad truth is that most evil is done by people who never make up their minds to be good or evil."
Her words echo those of Christ in the Book of Revelation (Rev 3:16), where he faults the Laodiceans for being "neither cold nor hot" — morally ambiguous, lukewarm — for which reason he will "vomit them out of his mouth." Harsh words…
"I know thy works, that thou art neither cold nor hot: I would thou wert cold or hot.

"So then because thou art lukewarm, and neither cold nor hot, I will spue thee out of my mouth.

"Because thou sayest, I am rich, and increased with goods, and have need of nothing; and knowest not that thou art wretched, and miserable, and poor, and blind, and naked:

"I counsel thee to buy of me gold tried in the fire, that thou mayest be rich; and white raiment, that thou mayest be clothed, and that the shame of thy nakedness do not appear; and anoint thine eyes with eyesalve, that thou mayest see.

"As many as I love, I rebuke and chasten: be zealous therefore, and repent."
What is the specific thing Christ asks these people to repent of?
Of saying, of believing, that they "have need of nothing."
These people think they have organized their lives so as to have everything necessary, but, in fact, they lack everything. They are blind, naked, impoverished.
Mother Theresa used to speak in such terms about many of those she met in the affluent West. She said she had not met such poor souls even in the slums of the penniless in Calcutta.
But what is the "something" that is needed?
The Word.
"Man does not live by bread alone, but by every Word…"
Man does not live by money, thrills, power, knowledge (science)… but "by every word which proceeds from the mouth of God."
Because our life is hidden in the Word, in the Logos, in Reason, in Meaning — the Logos of God…
This is our secret nature and destiny, and the message the Church bears and shares is this message.
There is more.
This "Word" is more than "a word" (though not without relations to words).
This "Word" goes beyond mind and meaning, to become reality itself, nourishment, food, divine presence, bread of angels.
That is, Eucharist.
And where may we encounter this "Word," font of life and reality?
In the Eucharist.
So what needs to be said in this time, when silence seems required, is that we must return to the liturgy, to the Eucharist, to encounter… the Logos, granting an immortality that no genetic manipulation can ever accomplish (because such manipulation will always remain within the fallen fabric of this space and time).
So the thought process is this:
—inundated with words, we nevertheless are starved for the true Word (the true, the good, the beautiful, the meaningful, the holy, the Logos);
—but if we seek Him with our reason, our minds, if we pursue him with our thought, we cannot arrive, our equipment is inadequate, we are inadequate;
—and yet we hunger for the Word, it is what we long to obtain, to reach, to encounter, to embrace, to be embraced by;
—so we choose the path of silence; better silence than the endless, silly chatter;
—but the quest is not finished; we can enter into the holy space, the sanctified, consecrated space, and there, in the liturgy, encounter the Logos we long for and be nourished in that part of our being which transcends both body and mind: the soul;
—and in that encounter, and communion, we can enter into the peace beyond telling, even in this fallen space and time.
Now, does this have anything to do with Pope Francis? With the debate over Amoris Laetitia and over whether the divorced and remarried should be admitted to communion? And the debate over the reform of the liturgy? And the debate over the relationship of Christians to one another and to the world?
Yes.
Two examples.
The first: last Wednesday, November 8, Pope Francis began a new series of Wednesday catecheses.
His new topic: the Eucharist.
"Today," Francis said, "we begin a new series of catecheses, which will direct our gaze toward the 'heart' of the Church, namely, the Eucharist. It is fundamental that we Christians clearly understand the value and significance of the Holy Mass, in order to live ever more fully our relationship with God."
Clearly, the Liturgy at this moment is a subject of central importance to Francis.
How this came to pass is of a certain interest.
This summer, in a private meeting with Cardinal Robert Sarah (whose photo I have placed on the cover of the November issue of Inside the Vatican, just off the press), Cardinal Sarah — among other things — mentioned to me that, in a meeting with Pope Francis in late June 2017, he had suggested to the Pope that the Church today is in great need of a series of thoughtful, clear catecheses (teachings) on… the Eucharist.
So let's see: July, August September, October, half of November — four and a half months later — and Francis has announced a series of catecheses on the Eucharist and the Liturgy, precisely what Cardinal Sarah asked Pope Francis to consider in June.
The second: the Pope's deep appreciation of the Eastern-rite liturgy.
A liturgy which is far longer, far more intricate, uses far more incense, and often has far more participation of the people, in their singing and responses, than the new liturgy that was produced in the years following the Second Vatican Council (1962-65).
The Pope tells us of this appreciation himself in a talk he delivered in Rome on November 9 in the Vatican's Sala Clementina.
He was addressing the Ukrainian seminarians in the city, encouraging them, greeting them.
They reside in the College of St. Josaphat, whose feast day was yesterday, November 12. Josaphat labored mightily to overcome the divisions between the East and West in the Christian world, and died a martyr.
(Here is a link to the Vatican website which contains the complete text of the Holy Father's talk to the Ukrainian seminarians: link).
This is what Francis said:
"I keep and venerate a small Ukrainian icon of Our Lady of Tenderness, a gift from your Archbishop Major when we were together in Buenos Aires. And when I remained here [after the papal election in 2013], I asked that it be brought to me. I pray before it every day…
"And I would not end without recalling a person who was good to me when I was in the last year of elementary school in 1949 [when Jorge Bergoglio was 12 and 13 years old; he was born on December 17, 1936].
"Most of you were not born! It is Father Stefano Chmil, then consecrated bishop secretly here in Rome by then Archbishop Major.
"He celebrated Mass there, there was no nearby Ukrainian community, and he had some who helped him.
"I learned to serve the Ukrainian Mass from him. He taught me everything. Twice a week it fell to me to help him.
"This was good for me, because that man talked to me about persecutions, sufferings, and ideologies that persecuted Christians.
"Then he taught me to open up to a different liturgy, which I always keep in my heart because of its beauty.
"Shevchuk [the head of the Ukrainian Greek Catholic Church Archbishop Sviatoslav Shevchuk], when I was in Buenos Aires, asked me for my witness to open the canonization process of this hidden bishop.
"I wanted to remember him here today because it is right to thank him in front of you for the good that he did to me."
=============================
What does this tell us about Pope Francis?
Something important. (See also the interesting article from four years ago by a First Things editor, Tim Kelleher at this link.)
Francis as a boy served many Masses of the Byzantine liturgy, perhaps a hundred (twice a week for 50 weeks). He found it beautiful, so much so that he has never forgotten being an altar boy for that year for that Ukrainian priest he still remembers with great respect.
Given the Pope's new series of catecheses on the Eucharist, given his great esthetic appreciation for the beauty of the Byzantine liturgy, and given his great interest in peace in Ukraine, as well as in the entire East, it would not be surprising if Pope Francis were to have significant initiatives in mind with regard to these matters that he will launch during the coming months and years of his pontificate.
Facebook Comments