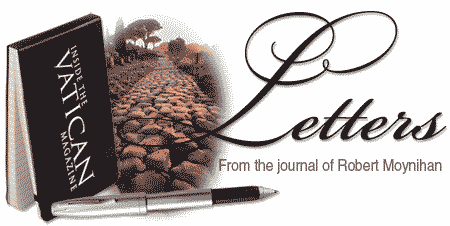 June 27, 2017, Tuesday
In the Gardens
Many years had passed since the last time I met with Emeritus Pope Benedict.
At 7 p.m. yesterday evening, June 26, I met him privately in the Vatican Gardens.
I had asked if I might see Benedict for a moment a year or two ago, because I had interviewed him many times in the 1990s, and walked with him often in the Borgo, and he had read my dissertation.
His personal secretary, Archbishop Georg Gaenswein, had told me in April, at Eastertime, that Benedict then had a slight cold, so it would not be possible, but that he would fix a date for June. That date came yesterday.
We met next to the Grotta di Lourdes, also known as the Grotta della Madonna di Lourdes, located at the very top of the Vatican. (Here is a link to an article about the Grotta and its history.)
Benedict and his secretary go every evening to the Grotta to pray the Rosary together. They sit on a bench together, side by side, praying and responding.
Friends of the 90-year-old Emeritus Pope are occasionally invited to greet Benedict at the end of the Rosary, sometimes for just a few seconds, sometimes for longer.
My meeting with Benedict and Archbishop Gaenswein lasted about 12 minutes.
"When was the last time we met?" Benedict asked me, first of all, as I walked toward him.
"Many years ago now," I said. "At the time of the concert of Russian music in the Paul VI Audience Hall in May of 2010 — more than seven years ago." (The concert was on May 20, 2010; here is a link to a report on that event.)
"Yes, I remember," he said, speaking in Italian.
I saw immediately how much of a toll time has taken. He was smaller than before, thinner. But still, his eyes sparkled with recognition and intelligence.
I understood immediately that it was not the occasion to speak of anything other than personal matters.
I was there to bring gifts, and to receive a blessing in return, and nothing more.
His eyes were clear, and he recognized me.
"I bring greetings from my own father, who has just turned 91," I said.
"Ah!" he said. "How is he doing? Is he well?"
"Well," I said. "Very well. And I have a special project I am working on now, that involves both you and him."
I brought out from my computer bag my father's copy of The Spirit of the Liturgy, completed by then-Cardinal Joseph Ratzinger in the year 2000, and showed him all of the marginal notes.
"He has read and re-read this work of yours, and now I am reading and re-reading it, and hope to produce a commentary myself."
He nodded, turned several pages, then placed his hand on the book, as if in blessing. "Thank you," he said.
"I also have here a special edition of our magazine, Inside the Vatican, commemorating your 90th birthday in April."
I reached into my briefcase and handed a copy of the special issue to him.
He opened it and thumbed through it. He stopped to look at photographs of four theologians on page 45. The caption said: "Some of the thinkers who influenced Ratzinger's thought (from upper left clockwise): Romano Guardini, John Henry Newman, Henri de Lubac, Hans Urs Von Balthasar."
He pointed at the first photo and said to Archbishop Gaenswein, "Guardini…"
He spent several seconds contemplating the photos.
"I am just coming from England," I said. "We visited Littlemore, where Newman was received into the Church, and the cell where St. Thomas More was imprisoned. And I will be going to Ukraine and Russia next week…"
He raised his eyebrows.
"We are trying to build friendships with our brother Orthodox," I said. And I reached in my briefcase again.
"Here," I said, "here is a small Russian Orthodox icon of John the Baptist that I got on our last trip to Russia. I know you may not have any place for it, but I wanted to give it to you…"
"Whom will you have meetings with on this trip?" he asked.
"With Metropolitan Hilarion, possibly a brief meeting with Patriarch Kirill, and then with many others, many ordinary believers," I said.
"Ah," he said. "You know Kirill?"
"We spent a week together at a conference in Vienna in 2006," I said. "I do not know him well, but we spent those days working together, at a conference entitled 'To Give a Soul to Europe,' hosted by Cardinal Schoenborn."
He nodded.
"And," I said, "last summer we traveled to Bavaria, to the places of your childhood, Marktl-am-Inn, Traunstein, Tittmoning, Altoetting, Freising. And in Regensburg we had brief meetings also with your brother, Georg, and with Rupert Berger. Many pilgrims want to follow in your footsteps, to visit the places of your life…"
He nodded.
"What I really mean to say," I said, "is that I come bearing the greetings and best wishes and prayers of everyone who works with me, and of all those who have traveled with us on pilgrimage, from the Philippines, from Argentina, from the United States and Canada. So many of them have told me they learned from your writings and talks, loved your writings, and pray for you and want you to know that they send their love."
"Thank you so much, to all of them," he said. He smiled.
"And could we have a blessing for our work? And also for my sons, Christopher and Luke?"
"Yes," he said. "I remember Christopher when he was just a little boy."
And he raised his hand, and pronounced the blessing, in the name of the Father, and of the Son, and of the Holy Spirit.
I left the meeting with the sense that another part of my life has reached its completion.
Although the Emeritus Pope is old, and his strength passing, we still have from him what is most important, and that is his continual prayer for the Church and for us. Each day he prays the Rosary from about 6:30 to 7 p.m., which would be from about 12:30 to 1 p.m. Eastern Standard Time. You may join your prayer to his by praying at that time.
In this way, what needs now to be done in our Church, and in our world, will be our task as well as his, united in prayer.
(Archbishop Gaenswein and Emeritus Pope Benedict on June 26, 2017, in the Vatican Gardens, after praying their evening Rosary)
(Emeritus Pope Benedict and myself in the Vatican Gardens, June 26, 2017)
Facebook Comments