"But what we see taking place before our eyes today… is the end of an age that has rebelled against the first principle of the universe, against the nature of things, against the ultimate goal of man. An age that has rebelled against God, that has presumed to be able to overrule and overthrow Him, which has claimed and still demands today to be able to blaspheme Him, to eliminate Him, not only from the present and the future, but also from the past." —Archbishop Carlo Maria Viganò, July 17, 2021
Letter #112, 2021, Friday, September 17: Sennacherib
    We have now posted Tape #7 of the 18 Viganò Tapes.
    Question #7: But shouldn't we still defend and respect authority, following the admonitions of St. Paul, who asks Christians in Romans 13 to "obey the governing authorities"?
    Archbishop Carlo Maria Viganò: Saint Paul was a Roman citizen, and as such he had before him the example of a power regulated by laws that later formed the basis for the law of Western nations and which were also adopted by the Church.
    The authority that governs us today, instead, has cancelled millennia of Greco-Roman and Christian civilization, bringing us back to the barbarism of the Assyrians, to the absence of laws and absolute principles to which even authority itself is bound to conform…
    (to listen to the rest of the answer, go to this link)
    Note: Please subscribe to our YouTube channel so that you will be notified immediately as we post the rest of the Viganò Tapes, and all future YouTube content. It may be useful to be a subscriber in the event of important development in the months ahead.
    September 17, 2021
    Feast of St. Hildegard of Bingen and St. Robert Bellarmine
    Dear Friends,
    I write to you today for help.
    This summer, the news arrived that the venerable daily Vatican newspaper L'Osservatore Romano may be ceasing its print edition after 160 years.
    This is the newspaper that has published every papal encyclical, every major Vatican pronouncement, together with news and commentary, for Catholics everywhere—indeed, for all the world—to learn of.
    If it does happen—and it seems very plausible, seeing how things are going with print media in general—some may take it to be yet another sign of the shambles that difficult situation of the Catholic Church right now; it seems that all vestiges of the Church's traditions, some originating not decades but centuries, even millennia ago, are being wiped out.
    Progress marches on, we are told; modern man no longer needs these things, whether they be 1,000-year liturgical traditions or simply a newspaper that tells the world each day what is happening at the Vatican.
    Here, Grzegorz Galazka and I discuss our new magazine, Inside the Vatican, with St. John Paul II, in August, 1993, in the courtyard of the Pope's summer residence at Castel Gandolfo a few miles outside of Rome
Man no longer needs God
    Pope John Paul II, in his 1990 encyclical Redemptoris Missio, calls the modern world "a world which has experienced marvelous achievements but which seems to have lost its sense of ultimate realities and of existence itself."
    In fact, says that world, modern man does not really need religion at all; certainly he does not need the Catholic Church, another relic of a fading past.
    But, is this true?
    And to answer this question, we must ask another, central one, the anthropological one: What is man?
    Is man a being in time without an eternal horizon?
    Are human persons "in the image and likeness of God," or casual, inconsequential, meaningless beings?
    And the central answer Christianity proposes is that man—every man, each man and each woman, each human person—is in the image and likeness of God, and in existing is meant, as St. Irenaeus tells us, to give glory to God—the ultimate reality—by becoming fully alive through the vision of Him, through seeking after and finally seeing Him, through the vision of the ultimate, "than which there is nothing greater."
    What does this mean? It means that any humanism, any de facto deification of man… any worship of man, not God… will not lead the human person to true happiness or true life but, on the contrary, will lead to a dead end and misery.
    That is the essence of the matter for the Christian faith, for the Catholic faith.
We become ourselves by becoming more like Him
    We have a calling, a vocation, each one of us, every one of us.
    We are called to undertake a pilgrimage in this life, to set our sights on our true destiny, our true home, and journey toward that destiny, that home, in the face of every temptation, every proposed alternative destiny, focusing on that final goal alone.
    The goal is to encounter the Logos, Christ, our brother, first-born of many, and by meeting Him, knowing Him, following Him, to journey home.
    And by making this journey, to fulfill ourselves.
    To fulfill the deepest longings of our hearts, to become ourselves, by becoming like Him.
"Man bears within him a thirst for the infinite, a longing for eternity, a quest for beauty, a desire for love…man bears within him the desire for God." —Pope Benedict XVI, General Audience, May 11, 2011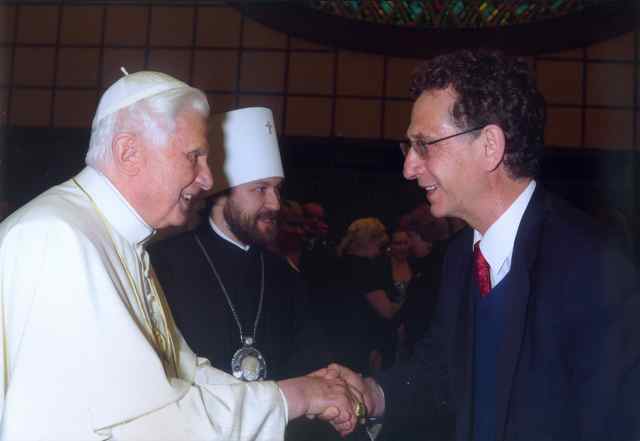 Here, I greet Pope Benedict, with Russian Orthodox Archbishop Hilarion Alfeyev in the background, in May 2010 in the Vatican
    This is the essential message of Christianity, and it is the message that is behind all of the Church's elaborate structures: all of the teachings, doctrines, commandments, counsels, laws, sacraments, rituals and charitable initiatives.
    This is the true heart of the Church, and the true purpose of the Holy See, the true center of the Vatican—Inside the Vatican, to use the title of the magazine we have published for almost 30 years—even if all the insufficiencies and failings of men have made it difficult to see that true center.
    And now, more than ever, it appears, Inside the Vatican fulfills a role that nobody else is filling—to help people to see that true center.
Calmness, reason and balance 
    Frankly, it was a bit of a shock to hear that L'Osservatore Romano may be folding up its tent (it would apparently continue to have some sort of internet presence, behind a paywall). After 160 years of publishing, it is regarded as an "institution," almost as solid and venerable as the Vatican itself.
    But these are strange times, times in which print media are struggling to survive.
    With our printed Inside the Vatican magazine, we are trying to answer a call for the truth, a call that seems to grow louder with each passing day… but keeping the magazine afloat means we need to ask for financial support from our friends.
    And so we are asking you, today, to send us as large a sacrificial gift as you can, to help us carry on, to bring the Truth that was bequeathed to Peter and his successors, to the Church that Jesus Christ gave us, the Church of which He said, "The gates of Hell shall never prevail against her."
    We would be grateful if you can send us $15 or $25; $50 or $100 would be even more effective; $250 or $500, or even $1,000, would help ensure that Inside the Vatican does not go the way of L'Osservatore Romano — out of print….
    In fact, now it is more important than ever that somebody is reporting on what happens in Rome—and around the universal Church—with faithfulness to Christ and His Church, always, but also calmness, reason and balance. It is, we believe, a rare combination, and why we are convinced that we are needed now more than ever.
    So, if you agree, please help us now.
    We have made it easy for you to donate; just call our subscription office at 1-800-789-9494.
    Easier yet, you can donate online by clicking the Donate Now button.
    I thank you with deep sincerity for your donation, large or small. Each one will help us to continue bringing you the truth in a time when many others are falling silent.
    Thank you and God bless you!
    Robert Moynihan
    PS I am committed to fighting the good fight by bringing you truthful news, in print, from the Church in Rome and around the world. Won't you join me today by sending me a generous donation?
Facebook Comments