Saturday, April 28, 2018
"And though the last lights off the black West went
Oh, morning, at the brown brink eastward, springs —
Because the Holy Ghost over the bent
World broods with warm breast and with ah! bright wings."

—Lines by British poet Father Gerard Manley Hopkins, S.J., from his poem God's Grandeur
An end and a beginning
Little Alfie passed away during the night.
His death came at about 2:30 in the morning, Liverpool time — the darkest hour of the night, the hour that comes just before the dawn…
His frail lungs breathed a final breath, and then ceased breathing…
He had kept breathing for almost exactly 100 hours from the time his breathing support machinery was removed on Monday night at 10:17 by the hospital authorities where he was staying.
He slipped away from this world silently, without a word…
He was not yet two years old…
His father, Tom Evans, 21, in a Facebook post, gave us the words which will now be an epitaph: "My gladiator lay down his shield and gained his wings. Absolutely heartbroken. I LOVE YOU MY GUY."
His mother, Kate James, 20, posted on Facebook: "Our baby boy grew his wings tonight at 2:30 am. We are heart broken. Thankyou everyone for all your support."
Here is an image of Tom and Alfie from two days ago, after Alfie's breathing machinery, which mechanically pushed air into his lungs, was removed…
Here is Tom's Facebook post from last night: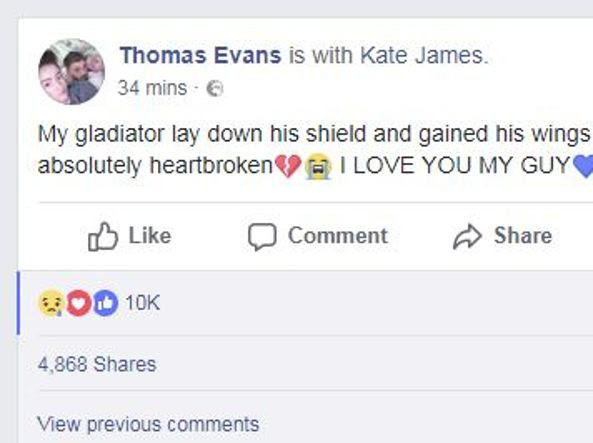 In the press in Italy this morning, the first reports led with these words: "Alfie did not make it home."
But that is not true.
Alfie did make it home.
And before he left us, and ended his exile here, he taught us all to commit ourselves to life.
May Alfie rest now forever in peace.
May eternal light shine upon him.
Last night, at 10:17 p.m., about 300 people, many holding candles, gathered in St. Peter's Square to pray for Alfie, and all children, and for interior conversion. Here is a picture of that prayer…
(Rome, in St Peter's Square last night, a rosary for Alfie Evans and candlelit procession in the square, with thousands via global live streaming on Facebook)
The five days without a respirator
The parents had already given up hope of bringing Alfie to Italy, where the Vatican Hospital of the Baby Jesus had said it was ready to welcome him, and they were negotiating with the doctors the possibility of bringing the child home, knowing that there is no longer there was nothing more to do: on Monday at Alfie the artificial fan was detached, after the last "go-ahead" by the judges.
The child had continued to breathe alone, but on Thursday, after losing the last appeal, the father had invited the supporters to cease their mobilization and to let the young family spend their last moments in peace.
The Battle of Alfie and His Parents Ends
Here is an article about Alfie and his death from The Mirror of London, this morning. (link)
"My gladiator lay down his shield": Alfie Evans' parents pay heartbreaking tributes to their little boy.
Little Alfie suffered from an incurable brain condition and experts at Alder Hey Children's Hospital, in Liverpool, said switching off life support would be in his best interests
By Lucy Clarke and Sophie Evans
07:40, 28 APR 2018
Alfie Evans' parents have paid heartbreaking tributes to their little boy after he passed away this morning — five days after his life support was switched off against their wishes following a legal battle.
The 23-month-old, who was being treated at Alder Hey Children's Hospital in Liverpool died at 2.30 am, Kate James and Thomas Evans said on Facebook.
The youngster was at the centre of a legal battle over his treatment that touched hearts around the world.
Mum Kate James posted on Facebook: "Our baby boy grew his wings tonight at 2:30 am. We are heart broken. Thankyou everyone for all your support."
Dad Tom wrote: "My gladiator lay down his shield and gained his wings at 02:30. Absolutely heartbroken. I LOVE YOU MY GUY."
He posted crying emojis and a broken heart next to the message.
The sick tot had left doctors "gobsmacked" by breathing for himself before he passed away, according to his doting dad, Tom.
Speaking to reporters this week, Tom, 21, had said his son was "content", with "no deterioration" since he was taken off life support on Monday.
He said sitting beside Alfie "every second of every day" was encouraging him more and more that he would 'live for months, possibly years'.
His death comes just days after his dad and mum, Kate James, failed in a last-ditch attempt to persuade judges to let him fly to Italy for treatment.
Alfie's life support was withdrawn on Monday night.
And speaking the following day, Tom said his son, who had a mystery brain condition, had been breathing unassisted for nine hours.
"For nine hours Alfie's been breathing for now," the father said on Tuesday.
"He's still breathing now. It's come to a point when his mum's actually asleep next to him so she can go to sleep, she feels comfortable with him."
Shortly after, he took to social media to say the youngster was "still alive" following more than 10 "horrendous", "scary" and "heartbreaking" hours.
Kate then wrote on the dedicated Alfies Army Official Facebook page that the toddler had been "allowed oxygen and water."
Sharing a picture of him being cuddled earlier this week, she remarked: "How amazing is he… no matter what happens he has already proved these doctors wrong. How beautiful does he look."
Tom and and Kate, 20, have lost two rounds of fights in the High Court, Court of Appeal, Supreme Court and European Court of Human Rights.
Their son's case has touched hearts around the world, with Pope Francis among those who voiced support for the seriously ill youngster.
On Wednesday, the parents, who wanted Alfie to be flown to a Rome hospital, mounted a "one last chance" challenge at the Court of Appeal.
They said their son had defied doctors' expectations and his continued survival amounted to a significant change of circumstances which merited a review.
However three Court of Appeal judges dismissed a challenge to a High Court decision made on Tuesday that he should not be taken abroad.
Lawyers representing Alder Hey bosses said Alfie's condition was irreversible and there was no evidence that it had changed.
They said the fact that he had continued to breathe unaided might have surprised members of the public but had not surprised specialists.
Barrister Michael Mylonas QC, who led Alder Hey's legal team, said it had never been suggested that Alfie would die as soon as life-support treatment stopped.
Barrister Sophia Roper, who represents Alfie and takes instructions from a court-appointed guardian, agreed.
Lord Justice McFarlane, who headed the appeal court panel of judges, said Alfie's parents were trying to take "one last chance."
But he said there was no prospect of the couple's challenge succeeding and Alfie was in "the middle" of a palliative care plan.
Alfie was at the centre of a life or death treatment battle for months, with his parents repeatedly trying to block doctors from withdrawing his life support.
The little boy suffered from an incurable brain condition and experts at Alder Hey said switching off life support would be in his best interests.
But his furious mum and dad fought to keep him breathing in the hope a diagnosis — and successful treatment — could be found.
A "last-ditch appeal" in which the Italian ambassador granted Alfie citizenship of Italy in order to take him to Rome for treatment failed on Monday.
And a late night court hearing heard by telephone by Mr Justice Hayden and lawyers for both sides confirmed his earlier decision permitting life support, helping Alfie to breathe, to be withdrawn.
During another three-hour hearing on Tuesday at the Family Division of the High Court sitting in Manchester, Paul Diamond, from the Christian Legal Centre, suggested the alleged change in the position meant the court should reconsider its decision on allowing Alfie to travel abroad.
He handed the court a witness statement from Tom in which he suggested his son's health was "significantly better" than first thought since life support was withdrawn on Monday, as he was continuing to live and breathe.
But Mr Justice Hayden said in his ruling: "The sad truth is that it is not.
"With little, indeed no hesitation, I reject that."
But experts at Alder Hey said switching off the little boy's life support would be in his best interests
Human rights judges had earlier rejected a plea from the little boy's family to consider their case.
Tom and Kate had asked judges at the European Court of Human Rights (ECHR) in Strasbourg, France, to intervene but their appeal was dismissed.
Last weekend, supporters of Alfie's family attempted to storm the hospital.
After blocking the road for around 15 minutes, around 200 demonstrators moved to line both sides, cheering as motorists passing by blared their horns in support.
Dozens then ran towards the main doors before police officers blocked the entrance.
After a short stand off the crowd retreated to gather around 100 yards away on the road outside, chanting: "Save Alfie Evans."
In February, Mr Justice Hayden had ruled that doctors at Alder Hey could stop treating Alfie against the wishes of his parents following hearings in the Family Division of the High Court in London and Liverpool.
Specialists at Alder Hey said life support treatment should stop and Mr Justice Hayden said he accepted medical evidence which showed that further treatment was futile.
But Alfie's parents desperately wanted to move their son to a hospital in Rome.
The couple said Italian doctors were willing to treat the little boy and an air ambulance was available.
But Mr Justice Hayden said flying Alfie to a foreign hospital would be wrong and pointless.
Court of Appeal judges upheld his decisions and Supreme Court justices refused to intervene.
The couple argued that Alfie was wrongly "detained" at Alder Hey and made a habeas corpus application.
A writ of habeas corpus — Latin for "you may have the body" — is a legal manoeuvre which requires a court to examine the legality of a detention.
It is a piece of common law which probably dates back to Anglo-Saxon times.
Mr Justice Hayden dismissed that habeas corpus claim.
Appeal judges upheld Mr Justice Hayden's decision and last Friday Supreme Court justices said they would not intervene.
Judges approved plans for withdrawing treatment and bringing Alfie's life to an end.
[End of Mirror article]
God's Grandeur
Gerard Manley Hopkins, author of the poems God's Grandeur, Pied Beauty, and The Windhover, among others, was one of the greatest poets of late 19th-century England.
Hopkins's father worked in the marine insurance business and wrote poetry; his mother was a well-read, devout Anglican.
Hopkins attended Balliol College, Oxford; he was drawn to Catholicism and joined the Catholic Church in 1866. In 1877 he was ordained, and in 1884 he became a professor of classics at University College, Dublin.
Hopkins burned his early poems when he became a Jesuit. Around 1875 he began to write poetry again.
Hopkins died of typhoid in 1889. Most of his poems were first published in 1918, in a collection edited by Robert Bridges.
God's Grandeur

By Gerard Manley Hopkins

The world is charged with the grandeur of God.
It will flame out, like shining from shook foil;
It gathers to a greatness, like the ooze of oil
Crushed. Why do men then now not reck his rod?

Generations have trod, have trod, have trod;
And all is seared with trade; bleared, smeared with toil;
And wears man's smudge and shares man's smell: the soil
Is bare now, nor can foot feel, being shod.

And for all this, nature is never spent;
There lives the dearest freshness deep down things;
And though the last lights off the black West went
Oh, morning, at the brown brink eastward, springs —

Because the Holy Ghost over the bent
World broods with warm breast and with ah! bright wings.
Facebook Comments