October 6, 2012, Thursday — Guilty
The Pope's butler has been found guilty and sentenced to 18 months in jail
==============
Guilty, but a reduced sentence
The trial of the Pope's butler, Paolo Gabriele, 46, is over, and the sentence has been handed down by a Vatican court: "Guilty" of stealing confidential papers from the Pope and his closest advisors, Gabriele was sentenced to 18 months in jail.
(Here, Paolo Gabriele in the Vatican court. He was found guilty and sentenced to 18 months in prison by a Vatican court after a trial that opened one week ago)
This is a lighter sentence than the 3 years that prosecutors had asked for, and lighter than the 6 years that had been reported as the possible maximum sentence for this crime.
The Italian press reported this as a "compromise" decision.
The defense had asked the court to reduce the charges from "aggravated theft" to "misappropriation," and for him to be freed.
In his final statement before sentencing, Gabriele said he did not see himself as a thief, and that he had acted out of "love for the Church," a "visceral love."
During the trial, he testified that he loved his employer, Pope Benendict XVI, "like a son," and that he took the documents in an attempt to do something to help the Pope in his efforts to "clean up" corruption in the Church.
"What I feel most strongly inside myself is the conviction that I acted exclusively out of love, I would say a visceral love, for the Church of Christ and its visible representative," Gabriele said this morning in a flat voice betraying no emotion. "If I have to repeat it, I am not a thief," he added.
The Pope could still pardon Gabriele, Father Federico Lomnbardi, the Pope's press spokesman, said today. Lombardi said the trial transcript is now part of the public record, and will be available to the Pope to evaluate as he makes his decision.
Until such time, Gabriele will serve his sentence under house arrest in his Vatican apartment, with his wife and three children, and even be allowed to walk in the Vatican Gardens (photo) under escort, and not go to an Italian jail. If he is not pardoned, he will be taken to an Italian jail, is foreseen by bilateral agreements due to the Vatican's lack of any such facility, his lawyer Cristiana Arru told journalists.
(Here, Pope Benedict XVI, 85, who is said to be deeply saddened by his butler's betrayal of his trust; he could still pardon the butler)
The sentence was reduced, the judges said, due to "mitigating circumstances": because he had no previous criminal record and because he had "acknowledged that he betrayed the trust of the Holy Father."
Gabriele, who served the Pope his meals and helped him dress, admitted in court that he had photocopied sensitive documents in the presence of his immediate superiors, the Pope's two personal secretaries — Monsignor Georg Gaenswein (who also testified at the trial) and Monsigner Alfred Xuereb — in a small office adjacent to the papal living quarters in the Apostolic Palace.
Vatican police testified that they discovered more than 1,000 photocopies and also many original documents, including some the Pope had marked "to be destroyed," interspersed among many "hundreds of thousands" of other papers and newspaper clippings in a huge armoire in the family apartment inside Vatican City walls.
One issue that was not settled by this trial was whether Gabriele had accomplices.
This summer, in mid-July, the German journalist Paul Badde (photo, with Pope Benedict), writing in Die Welt, suggested that Gabriele had been in communicatiion with, and supported by, others in the Vatican, and he named three people in particular as "supporters" if not accomplices of Gabriele: Cardinal Paolo Sardi, 78, currently Patron of the Soveriegn Military Order of Malta and formerly Vice Camerlengo of the Roman Catholic Church and the head official in the Vatican Secretariat of State in charge of preparing the final texts of the Popes speeches and addresses; Archbishop Joseph Clemens, 65, currently the Secretary (the #2 post) in the Vatican's Council for the Laity, and formerly, for almost 20 years, from 1984 until 2003, Cardinal Joseph Ratzinger's personal secretary, being succeeded by Monsignor Gaenswein; and Ingrid Stampa, 62, a German laywoman trained as a musicologist, who took the place of Joseph Ratzinger sister, Maria, who had been Ratzinger's housekeeper in Rome until her death in 1991, and who is regarded as one of the Pope's closest confidants.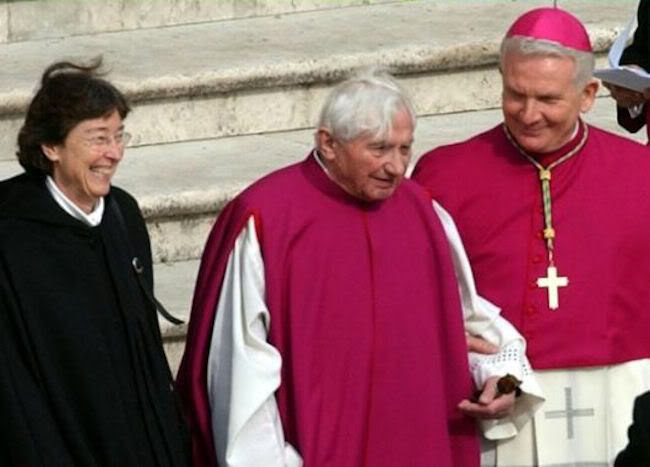 (Here is a photo of Ingrid Stampa and Archbishop Joseph Clemens with the Pope's older brother, Monsignor Georg Ratzinger)
Father Lombardi issued a public statement after it was picked up in the Italian press a week later., saying the article was false.
But Badde, who is beleived to be close to the Pope's present secretary, Monsignor Gaenswein, has told Inside the Vatican that he stands by his story, and he maintains that the trial and sentencing of Gabriele is the end of only the first phase of a larger story that will continue for some time.
During the trial, Gabriele said that, from his post at the Pope's side day after day as papal butler, he was able to see how easily a powerful man could be manipulated by aides and kept in the dark about things he should have known.
Gabriele told investigators before the trial began that he leaked the documents because he saw "evil and corruption everywhere in the Church" and that information was being hidden from the Pope.
====================
Puzzles remain
There are many puzzles about this case even now, after the verdict.
For example, Gabriele testified that he was "sparked into action" in the year 2010, when he saw a particular need to begin to collect documents in his private home.
But, as Gaenswein testified, the documents in Gabriele's home go back to the year 2006, to the very beginning of his service.
This seems a serious contradiction: that fact that Gabriele was collecting documents from the first moment he became the Pope's butler seems to contradict the story that he "sprang into action" only in 2010.
And this opens onto another question: How did Gabriele get the job of papal butler? Who suggested him? Despite the long investigation this summer and now the week-long trial, this popint has never been fully clarified.
Third, it has never been made clear how Gabriele got into touch with Gianluigi Nuzzi, the Italian journalist who then took the document Gabriele brought to him and published them in his book, His Holiness: The Secret Papers of Pope Benedict XVI, which appeared just five months ago, in May 2012, touching off the "Vatileaks" scandal. Gabriele said he contacted Nuzzi by mail, but Nuzzi writes in his book on p. 17 that a fellow journalist, not named, was the intermediary. Which version is the truth.
Fourth, regarding the qustion of accomplices.
During the winter, on an Italian television program, Gabriele, speaking anonymously, with his face covered and his voice muffled — but it is now known that it was indeed Gabriele — said "about 20" others in the Vatican had helped him to furnish documents to Nuzzi. During this trial, Gabriele referred to seven people in the Vatican as people who had "suggested" to him that he work to shine light on Vatican corruption, but denied that any had actually been his accomplices.
Now, perhaps these remarks were "red herrings," that is, lies.
Certainly Gabriele has now been tried and condemned as, evidenrtly, the sole sources of the "Vatileaks."
Still, in Italy, in addition to Badde, others have written that "Gabriele did not act alone, he was simply a pawn in a larger Curial struggle."
So the case of the Pope's butler was closed this morning.
But there may be more to come on the general matter of who is helping and who is hindering Pope Benedict as he attempts to lead the Church in our time in keeping with the message of Christ and the tradition of the Apostles, preaching ceaselessly the "Good News" of Christ in a world that often seems to desire that he keep silent.
Facebook Comments