The late Marie Czernin with Pope John Paul II after the Good Friday via Crucis (Way of the Cross) on March 29, 2002 in the Colosseum in Rome. Marie had written the meditation for the 14th Station of the Cross on that occasion (link, text of that meditation also below)
    A depiction of the 14th station in the Stations of the Cross: Jesus is laid in the tomb. This was the station that Marie Czernin wrote a meditation on in 2002 for Pope John Paul II (link to the image)
    

Letter #35, 2023 Friday, January 27: Top Ten 2022, #3: Marie Czernin
    Marie prayed.
    In the end, Marie made her entire life a prayer.
    Marie sought to orient her life (her being and her becoming) toward the highest, the best, the most beautiful — toward the deepest, the most profound, the most holy…
    …and so Marie lived her life as a gift…
    …for which she felt endless gratitude, sunrise to sunset, in every season of life, until the end.
    We all know people like that — a super-kind grandmother, or mother, or father, a super-loyal and supportive brother or sister whose love never fails, a smiling, innocent infant child, perhaps a son or daughter or nephew or niece, enchanted by the joy of everything, a life-long, rock-solid friend through thick and thin— all souls filled to overflowing with kindness, compassion, gentleness… all filled with a special light.    
    Marie was like that.
    She brought hope and good will with her wherever she went, including during many difficult mission travels to bring help to the poor and sick in Africa and India and the Middle East.
    Marie's face shone with a supernal light that came from within — as you may see in the photo above, of Marie with Pope John Paul II in 2002, 21 years ago, when she 30.
    Our staff chose to put that photo on the cover in Inside the Vatican in May of 2002; a time when all of us were younger.
    ***
    Marie died peacefully in Vienna, Austria, on October 28, 2022, after a multi-year struggle with cancer, at the age of 51.
    ***
    In the last weeks of her life, as Marie lay confined to a hospital bed, a daily rosary prayer group sometimes numbering 300 people sprang up around her, and still continues.
    Some who participated in the group said they had never participated in anything similar in their lives.
    During those last days, Marie displayed such grace and courage — thinking always of others, not of herself — that many marveled, and spoke of her as of… a saint.
    ***
    "The radiant body"
    Marie was also a writer.
    She knew well the difficulty of choosing words.
    She wrote beautifully.
     In 2002, Marie's meditation on the 14th station of the Via Crucis — the placing of the body of Jesus in the tomb — was used for the Good Friday Rosary of Pope John Paul II (March 29, 2002).
    This is the meditation that she wrote (link):
    "After the terrible thunder at the moment of death, the great silence.
    "His night-time disciples, who out of fear followed him in secret, are no longer afraid.
    "In the light of day they ask Pilate for the body of Jesus for the burial.
    "The Virgin of the great silence whose womb bore the blessed Fruit — the One that the universe could not contain — receives once more in her lap the body of Jesus taken down from the Cross: in adoration she contemplates him, in her immense sorrow she venerates him.
    "The King sleeps, but his Bride watches: it is the day of God's rest.
    "Together with the King, creation too sleeps in anticipation of its reawakening.
    "The Son of God descends to the dead in order to rescue those detained by death.
    "His light overthrows the darkness of Hades.
    "The earth shakes and the tombs open.
    "Jesus comes to free the just and restore them to the light of the resurrection.
    "He has been swallowed up by the darkness of death, but only to be brought back to the fulness of light and life: as the whale keeps Jonah in its belly, only to give him back after three days, so the earth will open its jaws to release the radiant body of the One who lives."
    —Marie Czernin, March 29, 2002
    ***
    "Marie's Rosary"
    Before Marie died, she expressed the hope that her "Marie's Rosary" —in which daily prayers were offered for her recovery — would continue on even after her death.
    Because, toward the end, she understood that her own death was near.
    "I now see clearly the path I must follow," Marie said shortly before her death. "I see that maybe the great miracle will not be for me, but for another."    
    So she asked that those praying for her might continue to pray for her intentions:
    —for the unity of all Christians
    —for peace in our world and
    —peace in all hearts
    —for the Pope
    —for Missio (the Austrian Catholic Church aid agency)
    —for all who are sick and lonely
    During the three months that the daily Rosary has continued, there have been several instances of what appear to be special healings.
    Here are three:
    (1) A little Austrian boy, age 4, suffered a severe head injury at Christmastime when he fell off a wall and hit his head against a rock. He suffered swelling of the brain and blindness due to pressure on his optical nerve. Doctors feared Anton might die. "Marie's Rosary" prayed daily for his safe healing. Days later, Anton was released from hospital with an "all clear." His parents wrote: "It's a miracle… A real miracle, as he was near death."
    (2) A young Austrian woman, part of the group, in early January went to a clinic for therapy against an illness. "Marie's Rosary" prayed for her health. Within days, word came that she was "all clear." She wrote: "Dear sisters and brothers in prayer: I will be able to leave the clinic and feel fully recovered and ready for joyful encounters with the world again. Your prayers were and are a precious support to me and I can feel Marie's presence when we pray together for the intentions we are entrusted with, for Marie's projects and for each other 🌹."
    (3) A man living alone (he had lost all contact with his family due to various problems) was admitted to a Vienna hospital and diagnosed with grave cancer and severe infection (sepsis). "Marie's Rosary" prayed for him. Within days, his cancer was in remission and the infection was gone. A friend wrote: "Good news! (Name) who was in hospital and close to death, is much better. His cancer is in remission and doctors don't know why." Perhaps even more important: "His family opened their eyes, and an uncle will take care of him from now on." The friend concluded: "I am close to tears… Thank you to all of you for your prayers."
    ***
    Tomorrow, January 28, will be the three-month anniversary of Marie's death on October 28.
    If anyone would like to join "Marie's Rosary," or would like to request a special intention be added to the "Marie's Rosary" prayer list, please write to me by return email. —RM
    ***
    

Inside the Vatican: Untold Stories
    Starting in one week — actually, in six days, on this coming Thursday, February 2 — a new program will be live-streamed on various platforms (so that you may join in and watch live) called "Inside the Vatican: The Untold Stories."
    The first one will feature a conversation with Father Charles Murr, author of Murder in the 33rd Degree: The Gagnon Investigation into Vatican Freemasonry, published on March 21, 2022 (link).
    Here is an introduction to the content of this book:
    "Was Pope John Paul I murdered? If so, by whom, and to what end?
    "Was the Catholic liturgy sabotaged to strip it of truth, power and beauty? If so, by whom, and to what end?
    "Was an international plot underfoot to destroy the Vatican's financial stability? If so, by whom, and to what end?
    "There was one man who knew the answers to these and many other questions plaguing the post Conciliar Church. In 1975, then Archbishop Edouard Gagnon was personally commissioned by Pope Paul VI to investigate the Vatican's Roman Curia. This thorough investigation concluded in 1978, the "year of the three Popes."
    "In Murder In The 33rd Degree, author Charles T. Murr, a close and lifelong friend of Cardinal Gagnon, gives his firsthand account of what transpired during that papal investigation.
    "Murder In The 33rd Degree answers many questions that many people have been asking for half a century. (link)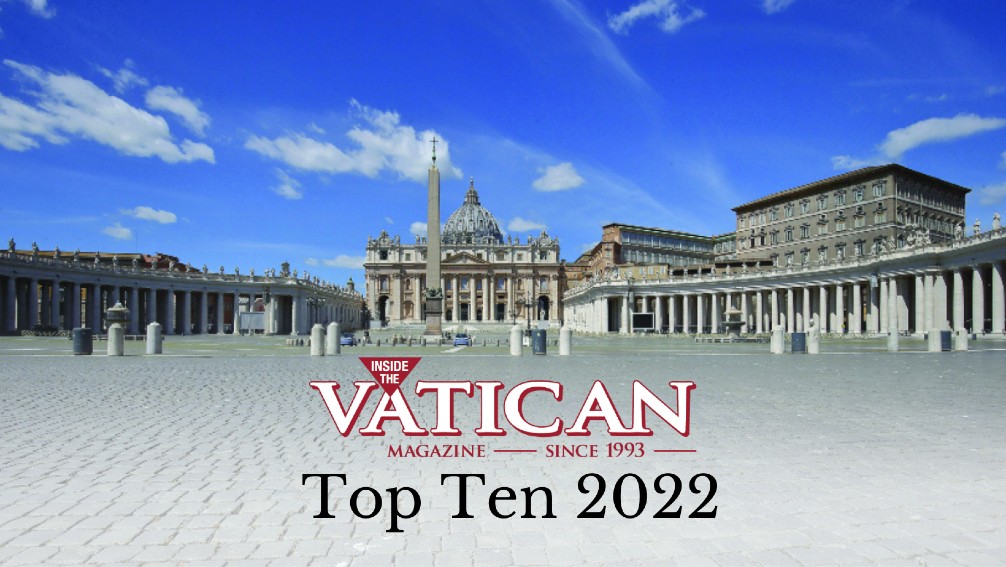 Ten Who Shine
Catholics who showed us the good and beautiful in 2022
    In this issue, we spotlight 10 Catholic individuals who "made a difference" in 2022 –– and beyond. Five of them are members of the Catholic clergy, men whose ordination has deepened and broadened a life-long desire to serve Christ and their fellow men by offering their entire lives to Him. Their life's work has been infused with the grace of the Gospel, transforming them to love and serve others because they were first "captured," falling in love with Jesus Christ, the Son of God.
    Five of them are lay people who, like most of us, must struggle every day in between "the world" and "the Church," to keep that love burning. Each of us desires to shine a light on something good and beautiful that God has given us in this time, and that modern man in all his troubles and sorrows and confusion needs. The lay people we have chosen have done that. Join us in saluting our "Top Ten" of 2022.
    

Marie Czernin
    

Breathless: Memories of Marie Czernin
    A German editor recalls an Austrian woman who first welcomed him to Rome
    By Paul Badde
    Editor, Vatikan magazine (the German edition of Inside the Vatican magazine)
    I can't remember when and where I first met Marie, but I know that when we came to Rome from Jerusalem 20 years ago, she was suddenly everywhere, helping everywhere.
    And everywhere she was breathless — in four languages, all of which she spoke fluently — falling like a waterfall.
    "She talked like an express train," says an old American friend, "nobody could stop her."
    Above all, she was out of breath… and always focused on God.
    She introduced us to many hearts and opened countless doors, because all doors were open to her.
    Perhaps her "master key" in Rome was Pope John Paul II, who knew and respected her for her utter simplicity and faith, and chose her in 2002 to prepare one of the meditations for the Good Friday Via Crucis at the Colosseum.
    The Polish Pope "from the East" was familiar with her family name — the Czernins were a prominent family of the Austro-Hungarian nobility.
    But it was probably also something like a personal love of the Pope, which connected the two from heart to heart, as a photo reveals in which the aged saint caresses Marie's cheek like a daughter.
    And Marie, beaming with 1000 watts in front of him.
    "Cor ad cor loquitur!" "Heart speaks to heart."
    That was her second trademark, her gift for dialogue in an almost cosmic network that she was constantly weaving — and her radiance and laughter.
    She laughed and beamed everywhere.
    And now she'll probably drive heaven itself mad with her breathlessness, and keep spinning her celestial webs!
    Of course, that's why I think of Marie C. as I re-read the end of Bertold Brecht's most beautiful love poem, who ended his "Memories of Maria A." in September 1920, a good hundred years ago, with these words:
    "Und über uns im schönen Sommerhimmel
    War eine Wolke, die ich lange sah
    Sie war sehr weiß und ungeheuer oben
    Und als ich aufsah, war sie nimmer da."
    "And above us in the beautiful summer sky
    Was a cloud, upon which I long gazed.
    A very white cloud, and immensely above,
    And as I looked up, it was there no more."
    Marie is certainly "immensely above" now — not as a cloud, but with her unforgettable smile and her breathlessness towards her dear Savior.
    Her own secret role model was the Russian Grand Duchess Elisaveta Feodorovna, who, after the assassination of her husband Sergei Aleksandrovic, of the Romanov tsar's family, first became the prioress of a convent and then, on July 17, 1918, was shipped, with her faithful nun Sister Barbara, on a truck to an abandoned mine shaft outside of Ekaterinburg, where Bolshevik soldiers threw her down, then tossed in a hand grenade after her.
    Of Marie, as of that young widow herself, who, born in Germany, became a great saint of Russia, Elisaveta's words will surely live forever:
    "Es ist leichter für einen dürren Strauch,
    einem mächtigen Feuer zu widerstehen,
    als für die Natur der Sünde
    der Macht der Liebe." 
    "It is easier for a dry bush
    to withstand a mighty fire,
    than for the nature of sin to withstand
    the power of love."
    —Paul Badde 
    Editor, Vatikan magazine, the German edition of Inside the Vatican
Facebook Comments