Friday, July 19, 2019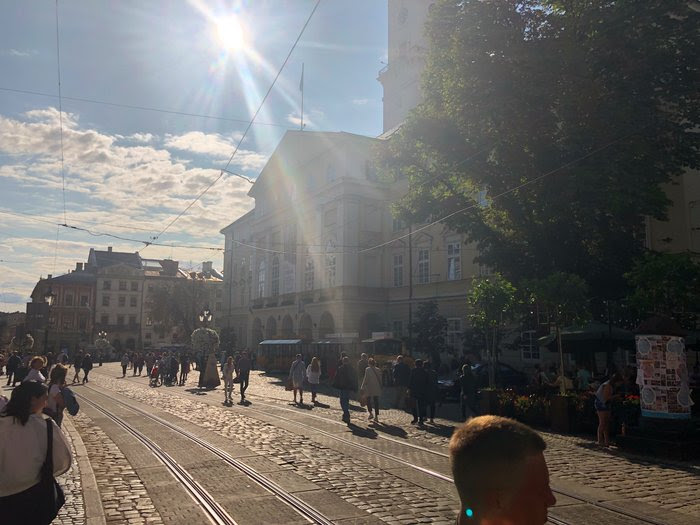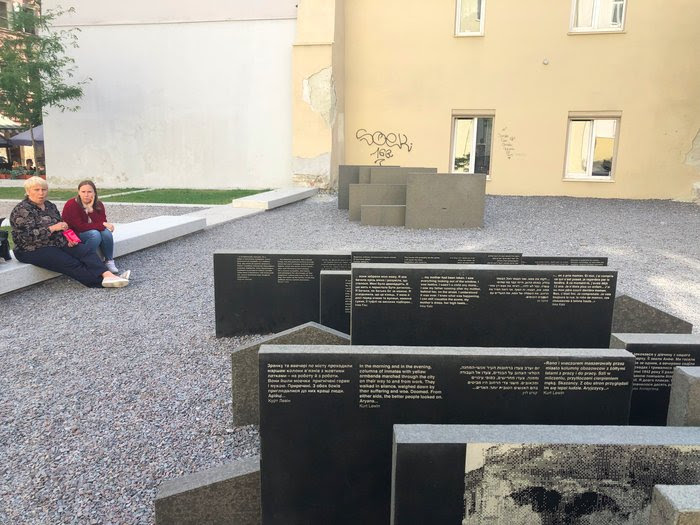 "In the morning and in the evening, columns of inmates…"
Greetings.
A sunny but still cool mid-summer day in Lviv — a beautiful, peaceful, youth-filled city in western Ukraine, not far from Poland, Slovakia and Hungary.
Here we are quite safe — many hundreds of miles from the violence that continues to simmer on the eastern border of the country.
That violence continues to take an average (it seems, though figures appear to be hard to access) of three or four deaths per week, or an average of 1,000-1,500 per year over the last five years, since 2014.
The conflict in that region has taken an estimated 5,000 to 13,000 lives (the smaller number refers to those killed in actual combat, the larger number to those killed of wounds and other consequences of the war, including suicide after leaving military service)…
…and tens of thousands, perhaps hundreds of thousands, who have fled the region to seek safety in western Ukraine, or in Russia, or outside of both countries. (It is these hundreds of thousands whom Pope Francis has tried to help with funds contributed by western Catholics.)
Fighting has sporadically continued for more than five years now, since the spring of 2014, in the two Ukrainian provinces of Donetsk and Lugansk, historically closely connected with Russia and inhabited by many Russian-speaking Ukrainians.

These two provinces, after five-plus years, are still being contested between Russia and and Ukraine, in a conflict Russia calls a Ukrainian civil war, but which Ukrainian leaders insist is a bloody Russian invasion of their territory.
This conflict has the potential to deepen and widen, as wars often do, so it has been my hope for these 5+ years, as our Urbi et Orbi Foundation attempt to "build bridges" by small projects and personal encounters to improve relations between the Catholic and Orthodox Churches, that something I might write, or say, or do, might contribute to the ending of the conflict.
(And likewise it has been my fear that something I might write, or say, or do, due to my lack of understanding or knowledge, might in some way cause harm — as some critics have suggested is the case.)
In recent days, speaking with Russians in Moscow, including Metropolitan Hilarion (the "foreign minister" of the Russian Orthodox Church), and now with Ukrainian Greek Catholics here in Lviv, it has slowly begun to dawn on me that there is no ordinary solution to this conflict that is possible.
The effort to bring peace will require some sacrifice, some act of repentance genuine enough to spark a new paradigm, a renewal of charity between peoples — Ukrainians and Russians — so close to one another in so many ways, and yet so divided by deep wounds and deep suffering in the various wars, revolutions, famines and social engineering experiments of the past 100+ years.
Yet in this time of continuing suspicion and mistrust, the need to redouble efforts to find a peace that is just and lasting is more important, not less important.
"One fateful day in 1945"
Last night we met two women from Canada. Both were born in or near Lviv, Ukraine, both left here 15 or so years ago, and both made a new life in Toronto.
One began to tell the story of her grandparents, born here in Lviv about 20 years before the Second World War.
Her grandfather and grandmother met, fell in love, married.
He was then ordained a priest, becoming a married Byzantine-rite Ukrainian Catholic priest (their Church would not be dissolved by the Soviets until 1946.)
They were blessed with children.
At the end of the Second World War, in 1945, as the German army withdrew and Soviet troops occupied Ukraine, on one fateful day, at one particular moment, the two were separated.
As the grand-daughter told it, one went down one side of the street, the other went down the other side.
They fully expected to meet again in just a few seconds, or minutes, or hours… certainly before nightfall.
But the line of soldiers separated them, and one thing led to another, and they were pushed apart, and did not see each other again that day, or the next, or the next…
And so the days sped by, and the weeks, and the months, and the years, and the husband was pushed or fled westward, and the wife eastward, and they were lost to one another.
And 27 years passed by, until the early 1970s.
Then somehow, by letter writing, in 1972 they found each other again.
And he returned from the west, and they met again.
The priest had not remarried (that is not permitted to a married eastern-rite Catholic priest, even if he loses his wife; only one marriage for life) and the wife also had not remarried.
And after some years, the two were buried together in Lviv, and the grand-daughter told us she was here to visit their tomb.
And the grand-daughter opened her cell-phone, and pulled up a picture of the young couple at the time of their marriage, some 80 years ago, in about 1940 — he had clear, determined eyes, a head of bushy black hair; she had the eyes of a very sensitive, intelligent young girl.
Their story of suffering and loss was not unique.
It was repeated in various permutations in dozens and hundreds and thousands and perhaps millions of cases, in these 100 years of wars and of social engineering and of the building of Iron Curtains and of the tearing down of Iron Curtains…
Will it be possible for the peoples of these regions to find a away to build a just society which does not require such sorrow and sacrifices?
Can the leaders of the Churches not find a way to propose that, for the love of God, seemingly endless cycles of violence, recrimination, vengeance, may be brought to an end?
The Photographs
Above, images of our pilgrimage today in Lviv (top to bottom):
(1) The main square of Lviv, a city in western Ukraine deeply influenced by neighboring Poland and the German and Hungarian culture of the Austro-Hungarian Empire. About 1 million people reside here, with about 100,000 students and about 20,000 young people working in information technology (computer programming, etc.). In this sense, Lviv has a bit of the character of Ukraine's version of California's "Silicon Valley"
(2) The site of an ancient synagogue in Lviv, now destroyed. Here there is now a memorial to the thousands of Jews who lost their lives to persecution during the Second World War. There were before the 1939-1945 war as many as 200,000 Jewish residents in Lviv. There are now less than 1,000 Jewish residents of Lviv.
(3) the stones of the memorial, which contain various phrases and quotations.
The first one says:
"In the morning and in the evening, columns of inmates with yellow armbands marched through the city on their way to and from work. They walked in silence, weighed down by their suffering and woe. Doomed. From either side, the better people looked on. Aryans… —Kurt Lewin
The second one says:
"…my mother had been taken. I saw everything looking out of the window. I was twelve. I wasn't a child any more… I saw my father running after my mother, behind her, on the street. I understood it was over. I knew what was happening. I can still visualize the scene, my mothers dress, her high heels…" —Inka Katz
The third one says:
"The historic process, like a boreal forest, has the political surface through which the storm sweeps, and the forest depths, which the storm cannot touch… Jews and Ukrainians have always felt a mutual sympathy, and clearly acknowledged the advantages of their neighbors' culture and way of life. It is they that make up the human forest that political storms cannot overcome…" —Martin Feller
(4) A poster in the Jesuit Catholic church in Lviv, a Baroque structure dating to the 1600s.
The poster shows Ukrainians who have died during the conflict in eastern Ukraine near the country's border with Russia, which has pitted the Ukrainian army against separatist Russian-speaking rebels in two Ukrainian provinces, Donetsk and Lugansk, with support from Russia, since 2014.
My friend Natalia points at one particular photo, that of Vasyl (Basil) Yaroslavovych Slipak, who was on the music faculty as an adjunct professor at the Catholic University of Ukraine, based in Lviv, which we are also visiting.
Slipak died in 2016 at the age of 41.
Here is Slipak's brief biography:
Vasyl Yaroslavovych Slipak (Ukrainian: Василь Ярославович Сліпак, 20 December 1974 – 29 June 2016) was a Ukrainian baritone opera singer.
From 1994 he frequently performed in France at such venues as Paris Opera and Opéra Bastille.
For his opera performance, Slipak received several awards, including "Best Male Performance" for the Toreador Song.
Apart from opera, he was posthumously awarded the title of Hero of Ukraine for his work as a volunteer soldier.
Opera career
Born in 1974 in Lviv, Slipak liked to sing since his childhood. At the age of 11, Slipak joined the Lviv children's choir group Dudarik.
After that, he continued his education at the Lviv Conservatory.
During his education, Slipak participated in a vocal contest in the French city of Clermont, winning the contest.
In 1996, Slipak received an invitation to perform at Opéra Bastille in Paris.
In 1997 Slipak graduated from the Lysenko Music Academy in Lviv and then was invited to the Paris Opera where he became an opera singer.
By 2011, he was at the top of his field, winning the prize for best male performer at the Armel Opera Competition and Festival in Szeged, Hungary, for his rendering of the Toreador Song from the opera Carmen.
Death
Slipak returned to Ukraine and participated in the Euromaidan in 2014.
In 2015, Slipak joined the fights against pro-Russian separatists as a member of the 7th Battalion of the Volunteer Ukrainian Corps of the Right Sector.
He took the military call sign Mif, a reference to his favorite aria of Mephistopheles from the opera Faust (his informal call sign was Myth).
After the war in Donbass, Slipak planned to continue his career in Paris.
On 29 June 2016, at approximately 6 a.m., Slipak was killed by a sniper shot near Luhanske. Slipak's life was the subject of the 2018 documentary film Myth.
Ukrainian President Petro Poroshenko awarded posthumously the title of Hero of Ukraine to Slipak.
(5) A Ukrainian girl plays the violin in the streets of Lviv today…
(end, Letter #42: Music in Lviv)
Guarding the Flame: A Conversation with Cardinal Peter Erdo
A book containing several days of interviews I conducted with Cardinal Peter Erdo of Hungary has just been published by TAN (Thomas A. Nelson) Books, which specializes in the important work of reprinting traditional Catholic works now out of print. To purchase a copy of my new book with Cardinal Erdo, you may do one of three things:
(1) Go to the publisher's website (link)
(2) Go to the Amazon website and order the book there: (link)
(3) Write back to me by return email, including a complete mailing address and phone number, tell me how many copies you would like, and I will send you one or more signed copies at the cover price of $27.95, plus shipping and handling (about $5 inside the US, but considerably more, up to $26 or more, outside of the US).—R

Where is the Catholic Church going?
Guarding the Flame: The Challenges Facing the Church in the Twenty-First Century: A Conversation With Cardinal Peter Erdő
By Robert Moynihan and Viktoria Somogyi
How will the Church face the challenges of the 21st century? Do the recent advances in modern technology pose a threat to the human soul?
In this wide-ranging, candid conversation, Cardinal Péter Erdő, Archbishop of Budapest, Hungary, one of the most respected cardinals in the Catholic Church, speaks with Dr. Robert Moynihan, founder and editor of Inside the Vatican magazine, about the Catholic Church's place in an increasingly secularized world.
As the two-time president of the Council of the Episcopal Conferences of Europe, Erdő is the leading bishop of Europe. And as Europe has descended into a deep secularism—more pronounced and rapid even than in the United States—Erdő is uniquely positioned and qualified to identify and tackle the issues that secularism presents.
Here, for the first time in in one place, the cardinal speaks forthrightly about the need to "guard the flame" of the traditional Christian faith in the face of all temptations and obstacles. Guarding the Flame is a courageous call to remain faithful to the faith handed down from the Apostles, whatever the cost.
Cardinal Péter Erdő, Archbishop of Esztergom-Budapest and Primate of Hungary, was born in Budapest on 25 June 1952, the first of six children. He was created Cardinal by Pope John Paul II in 2003. He has published more 250 articles and 25 books on Canon Law, as well as other spiritual works.
Robert Moynihan (Harvard College, B.A.,1977 and Yale University, Ph.D., 1988) founded Inside the Vatican magazine in 1993. He has covered the Vatican and Church affairs for more than 30 years and is the author of books on Pope Benedict XVI and Pope Francis.
Viktoria Somogyi, born in Hungary, has lived and worked in Rome at the Hungarian language desk of Vatican Radio. She studied International Relations at the University of Rome.
Special Note to Readers: Consider sponsoring the Moynihan Letters as the need for an independent view (my view) on events in the Church is becoming increasingly important, as today's news shows (here is a link to the donation page: link). Your support is the only way I can stay independent. A monthly donation of even just $2.50 — a cup of coffee — would be deeply appreciated, and helpful. —RM
JOIN DR. ROBERT MOYNIHAN FOR AN EXTRAORDINARY PILGRIMAGE IN IRELAND IN AUGUST…
An invitation to walk down the Appian Way outside of Rome, where Peter met Christ and said to him, "Quo vadis, Domine?"…
Visit our new pilgrimage website for a complete list of our pilgrimages:
InsideTheVaticanPilgrimages.com
What is the glory of God?
"The glory of God is man alive; but the life of man is the vision of God." —St. Irenaeus of Lyons, in the territory of France, in his great work Against All Heresies, written c. 180 A.D.
Facebook Comments