Below, left to right: Russian opera singer Svetlana Kasyan, her daughter Natalia, her husband, a Russian from Rostov-on-Don, Leonid Sevastianov, 44, and Pope Francis, 86, in the Domus Santa Marta, where Pope Francis lives, in November 2013 (they have met on eight different occasions)
    Below, a hand-written note in Italian, dated May 5, 2022, from Pope Francis to Leonid and Svetlana, where Pope Francis thanks them for their "attitude of peace" adding "we Christians must be ambassadors of peace, carrying out peace, preaching peace, living in peace" and saying "thank you for all that you do in this regard" (link)
    

Letter #52, 2023 Wednesday, February 22: Ceasefire

    
    Pope Francis appealed today, on Ash Wednesday, the start of Lent, for a ceasefire in the war in Ukraine as the 1st anniversary of the war, which began on February 24, 2022, approaches (link; the appeal is in Italian at the bottom of the page).
    The Pope has appealed publicly for peace on more than 100 occasions since the start of the war.
    Below is the full text of what Francis said, followed by a Reuters report on the appeal.
    ***
    Following that, two curious articles which may or may not have something important to do with this terrible war, which now threatens to expand further:
    1) from Tass, the Russian news agency, two days ago, February 20, about the claim that Pope Francis has told a relatively young Russian "Old Russian Orthodox Believer" named Leonid Sevastianov that he would like to visit… the world-famous leopard preserve in Russia's far eastern Siberia(!)
    2) from Il Sismografo, an influential news aggregator in Rome read by nearly all Vatican journalists, this morning, on this same curious story of alleged direct contacts between Francis and Sevastianov   
    ***
    An unusual friendship between a Pope and a Russian
    The Pope first met Sevastianov in November 2013 in the Domus Santa Marta.
    I was present at that meeting.
    Our Urbi et Orbi Foundation had been organizing a concert to honor Pope Francis for his live televised, day-long public "Day of Prayer for Peace in Syria" on September 7, 2013, in St. Peter's Square. (Francis spent hours in prayer in the Square that day.)
    The concert was held two months later, on November 12, 2013, and the lead singer was Sevastianov's wife, Russian opera soprano Svetlana Kasyan.
    We were all invited to stay in the Domus Santa Marta.
    We invited the Pope to attend the concert on the evening of the 12th, but the Pope declined, instead sending his personal secretary, Monsignor Fabian Pedacchio. He did attend the concert.
    Pope Francis the next day expressed the desire to meet the Russian soprano, and greeted Leonid and Svetlana.
    A friendship was born.
    On several occasions in the succeeding years, the two have stayed in the Domus Santa Marta when visiting Rome, sometimes along with their young daughter, Natalia.
    So it is a fact that the Pope knows Sevastianov.
    (Here are three links to articles about Sevastianov, link, link, and link).
    ***
    But many journalists are skeptical about the claim that Pope Francis is actually in regular contact with Sevastianov.
     Sevastianov told me yesterday that a considerable part of the communications are personal in nature, as ordinary messages between friends, but they also contain expressions of the Pope's desire to visit Russia, of his desire for the war to end, of his desire for peace.
    Two days ago in Russia, the Russian news agency Tass reported Sevastianov had said that the Pope wishes to visit Russia later this year (if such a visit could be arranged) to see… a world-famous Siberian leopard preserve.(!)
    Then this morning, in Rome, Luis Badilla, editor of Il Sismografo, wrote a long piece treating the entire matter as some sort of bizarre joke, adding that, if the Vatican is actually resorting to "parallel channels" like Sevastianov to conduct diplomacy, it should be the cause of… weeping.(!)
    I asked Sevastianov if it is true that the Pope would like to see the leopards in Siberia.
    "Yes," he said. "It is also a peace gesture of Pope. While tanks called leopards are on the battle field, the Pope wants to go to real leopards."
    ***
    Sevastianov last year explained what he thinks the Pope could possibly accomplish.
    "I think there is no other alternative (than the Vatican) for peace, not only for Ukraine but for the whole world," Sevastianov said. "Indeed, after the Second World War, we did not create an institution that preserved us from war [Note: in other words, the UN did not accomplish this task]. When we base our relations only on economics, war always breaks out in the end. We must create a new institution based on faith. There is only one institution, one state, that has always been neutral and opposed to war: the Vatican."
    So what Sevastianov is actually proposing is a new faith-based global institution which would play the necessary peace-keeping role in human affairs that the secularized UN has, regrettably, failed to play.
    ***    
    The Vatican has neither confirmed nor denied the contacts between the two, or the content of the messages between them. —RM
    ***
    Special Note: If you wish to support these letters, and such conversations, please click here. Your contribution is essential to support this type of free content. We cannot continue to do it without you!—RM
    Here is what Pope Francis said today, February 22, Ash Wednesday, in Rome:
    Appeal of the Holy Father
    Dear brothers and sisters,
    The day after tomorrow, February 24, it will be one year since the invasion of Ukraine, since the beginning of this absurd and cruel war. A sad anniversary! The balance of dead, wounded, refugees and displaced persons, destruction, economic and social damage speaks for itself. Will the Lord be able to forgive so many crimes and so much violence? He is the God of peace. We remain close to the battered Ukrainian people, who continue to suffer. And ask ourselves: has everything possible been done to stop the war? I appeal to those who have authority over the nations to commit themselves concretely to end the conflict, to reach a cease-fire and start peace negotiations. The one built on rubble will never be a true victory!
    (link; the appeal is in Italian at the bottom of the page)
    ***
    Here is a Reuters report on the Pope's appeal:
    

Pope urges ceasefire in Ukraine ahead of invasion anniversary (link)
    February 22, 2023
    VATICAN CITY, Feb 22 (Reuters) – Pope Francis, speaking two days before the first anniversary of Russia's invasion of Ukraine, on Wednesday called for a ceasefire and peace negotiations, saying no victory could be "built on ruins."
    Francis, who has appealed for an end to violence in Ukraine at nearly every public appearance since Russia's invasion of the country on Feb. 24, 2022, spoke at his weekly general audience at the Vatican.
    "It has been a year since the start of this absurd and cruel war, a sad anniversary," he said.
    "The number of dead, wounded, refugees and displaced people, the (amount of) destruction and economic and social damage speak for themselves," Francis said.
    Ukraine's ambassador to the Vatican, Andrii Yurash, attended the audience along with a delegation of Ukrainian officials.
    "May the Lord forgive so many crimes and so much violence. He is the God of peace. Let us remain close to the martyred Ukrainian people who continue to suffer," Francis said.
    Francis has rejected Russia's assertion that its military presence in Ukraine was part of a "special operation," condemning what he has described as atrocities and the killing of civilians.
    A day after major speeches on Ukraine by U.S. President Joe Biden and Russian President Vladimir Putin, the pope said: "Let us ask ourselves: has everything possible been done to stop the war? I appeal to everyone who has authority over nations to commit themselves in a concrete way to end the conflict, to reach a ceasefire and start peace negotiations."
    He added: "That which is built on ruins can never be a real victory."
    A peace plan proposed by Ukraine's President Volodymyr Zelenskiy last year called for a restoration of territorial integrity and for Russia to reaffirm it according to the U.N. Charter, which Zelenskiy said was "not up to negotiations."
    It also demanded a withdrawal of Russian troops and cessation of hostilities.
    Additional reporting by Francesca Piscioneri; Editing by Bernadette Baum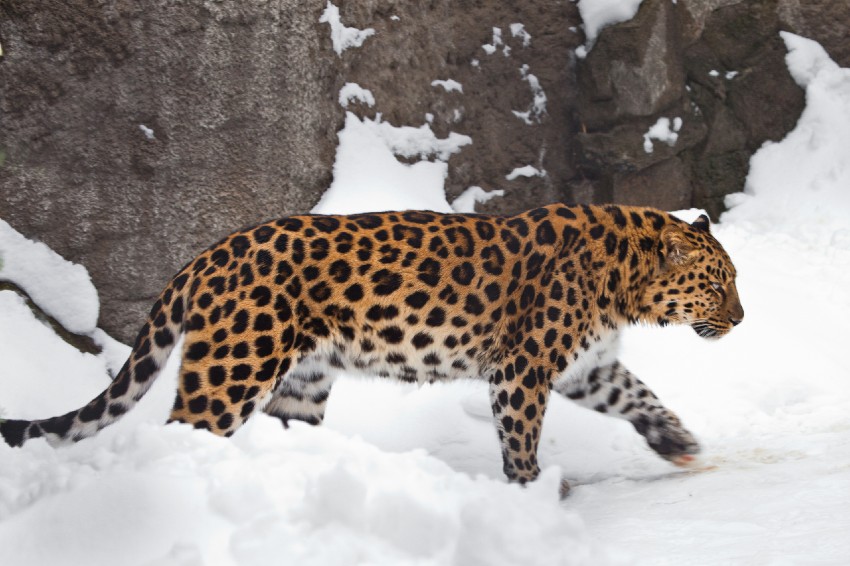 Land of the Leopard National Park (link)
    Here is the Tass story from two days ago, February 20:
    

Pope Francis wants to visit Leopard Park in Russian Far East — Union of Old Believers (link)
    Leonid Sevastianov said the Pope was impressed by the national park's success in restoring the population of the nearly extinct predator
    MOSCOW, February 20. /TASS/
    Pope Francis has expressed a desire to travel to Russia's Far Eastern city of Vladivostok after his trip to Mongolia, to visit the Land of the Leopard National Park, Leonid Sevastianov, chairman of the World Union of Old Believers, told TASS on Monday, referring to a personal conversation with the pope.
    Earlier Sevastianov told TASS that Pope Francis had given a name to a Far Eastern leopard from Russia's national park. He named him Martin Fierro, after the main character of the same name epic poem by Argentine writer Jose Hernandez.
    "The Pope expressed a desire, if possible, to visit this park, to see what the Russian leopard habitat looks like. He said he could do it on his way from Mongolia, where he will be this spring. On his way from Mongolia, he could stop over in Vladivostok to visit the Russian leopard park. He is ready to fly under favorable conditions," he (Sevastianov) said on Monday.
    Sevastianov said the Pope was impressed by the national park's success in restoring the population of the nearly extinct predator. Within 10 years, the number of leopard species has increased from 30 to almost 150, Sevastyanov explained.
    The park was created 10 years ago. Since then, its territory has been constantly expanding to the current area of about 300,000 hectares.
    [End TASS article]
    

The Russian Orthodox Sevastianov in the framework of Vatican "parallel diplomacy" announces a visit by the Pope to Mongolia with a stop in Russia to see "leopards in danger of extinction" (link)
    Wednesday 22 February 2023
    By Luis Badilla
    Putin yesterday struck and sank Pope Francis' "peace proposal for Europe" [Note: that is, Putin's "state of the nation" speech gave little hope that peace is on the horizon]. Without mentioning the Catholic Church, he made false accusations
    (LB – RC – edited by "Il Sismografo") The famous "peace proposal for Europe" the Pope would like to illustrate to Putin, according to the version of his Russian Orthodox friend, head of the Union of Old Believers, Leonid Sevastianov, but which the Holy See has never confirmed or even denied, was struck and sunk yesterday by Vladimir Putin himself in his speech to the Federal Assembly. At the same time, the doors have been closed for any role as mediator of the Pontiff and the Vatican's diplomacy — a mantra repeated without foundation and without the slightest realism — since the beginning of the aggression of Putin's Russia against Ukraine a year ago.
    Yesterday the President of the Russian Federation, telling stories as always and above all lying, came to the point of saying about "the decadent West": "Look what they are doing to their own people. Things that concern the destruction of the family, of cultural identity and nationality, the perversion and abuse of children, including pedophilia, all actions declared normal in their life. They are forcing priests to bless same-sex marriages."
    Bad faith, bad information, fabricated lies?
    No one told Putin that Pope Francis, on March 15, 2021, authorized, with his assent, the publication of a Responsum ad dubium which in one passage says: "It is not licit to impart a blessing to relationships, or even stable partnerships, which imply a sexual practice outside marriage (that is, outside the indissoluble union of a man and a woman open in itself to the transmission of life), as is the case of unions between persons of the same sex [6 – Cf. Catechism of the Catholic Church, n. 2357.]" (Source)
    Leonid Sevastianov, Russian Orthodox, Head of the Union of Old Believers, very present in some Italian media, said in an interview with RIA Novosti that the Pope wants to go to Putin — as if nothing has happened — to illustrate his peace proposal.
    We ask ourselves: But should the Pope pretend that Putin did not say what all the major world media are reporting today? How reliable would a meeting between Francis and Putin be for other governments and diplomacies? Could the Pope himself trust a politician like Putin? And what image could he give to the rest of the world if he offered a pacifist media narrative to support the head of the Kremlin?
    In recent days some Catholic newspapers have stressed, with regard to the perplexities about what the Russian exponent [Sevastianov] says, citing often letters exchanged with the Pope, that this relationship is a "parallel diplomacy of the Vatican." These papers assure us that Sevastianov is acting as a liaison between the Pope and the Russian leaders Putin and Kirill. [Note: This assurance of the newspapers that Sevastianov is a "liaison" between two sides is a speculative construction not based on any evidence that has been presented; Sevastianov has indicated to me, and seems in fact to be, acting entirely on his own, without contact with Russian political (Putin) or religious (Kirill) authorities.]
    That is to say, does the 2,000-year-old Vatican diplomacy need Sevastianov to carry out its projects, ideas and proposals? If it were true – and it certainly isn't – it would be a cause for weeping.
    This exponent, still today seen as a central figure in the Vatican's "parallel diplomacy," has returned to speak in these hours, this time to TASS, citing other letters between him and the Pope. Now Sevastianov has said that "in the spring, Francis, returning from Mongolia, could make a stop in eastern Russia, Vladivostok, to visit the 'Leopard Land National Park' where there are leopards, saved from extinction, that the Pope has said he wants to see." The pontiff is alleged to have given the name (to one of the leopards) 'Martin Fierro,' a famous character in Argentine literature.
    [End Il Sismografo article]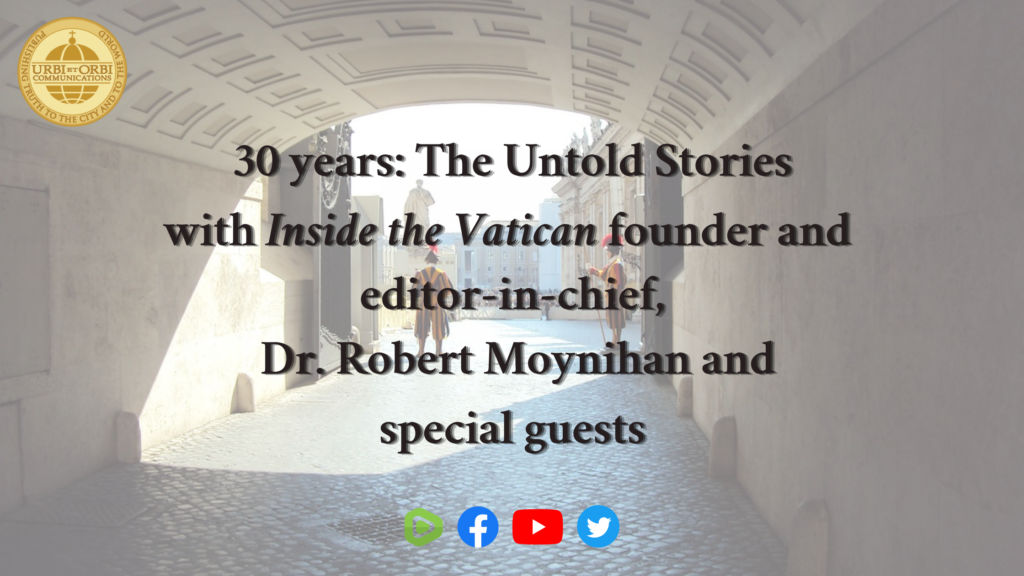 Urbi et Orbi Communications, the publisher of Inside the Vatican magazine, is celebrating 30 years in 2023.
    

Since our founding in 1993, many stories have not been told. 
    Join Dr. Moynihan and special guests in this live video series, streaming on your favorite platform.
    You will hear stories behind the pages of Inside the Vatican magazine, interviews with prominent Catholic figures, and answers to questions that you may not have thought to ask.
    Dr. Moynihan has sat down with Father Charles Murr for several live videos, some of which you can find linked below.
    Be sure to subscribe so you do not miss the next live video.
    You can also submit a question by clicking the button below. Your question may be answered in an upcoming live video.
    Click the buttons below to follow on Social Media to ensure you don't miss another livestream! Videos will be available on the platforms after the live video for later viewing.
Facebook Comments