The Vatican May Seek to Save Aziz
Tariq Aziz, a Chaldean Catholic and the deputy Prime Minister of Iraq under Saddam Hussein, yesterday was condemned to death by Iraq's highest court. The Vatican spokesman says he hopes the sentence will not be carried out
By Robert Moynihan, reporting from Rome
(Note: Inside the Vatican will organize a small pilgrimage to visit the Vatican and attend the November 20 consistory and meet several of the new cardinals. For further details see the end of this newsflash.)
The Catholic at Saddam's Side to Be Executed
Just two days after the close of a Synod on the Middle East, where many Iraqis (but not Patriarch Emmanuel III Delly) lamented the difficult conditions facing Chaldean Catholics in their country, the Iraqi high court has handed down a decision on the most prominent Iraqi Catholic of our time: Tariq Aziz (photo), 74, the former Iraqi Deputy Prime Minister under Saddam Hussein, will be executed by hanging for the alleged crime of "religious persecution." A date for the execution has not been set, but it normally should occur within 30 days.
A Vatican spokesman immediately issued a stated saying the Vatican hopes the execution will not be carried out.
Aziz has been in prison since his arrest in 2003, when Saddam's regime was overthrown.
Before he was imprisoned, Aziz spent the last weeks of his life as Saddam's deputy in a vain search for a negotiated peace in attempt to stave off the imminent invasion of his country.
"

The position of the Catholic Church on the death penalty is known," Father Federico Lombardi, S.J. (photo) head of the Vatican Press Office, said yesterday after hearing of the Iraqi high court decision.
"Therefore, it is truly to be hoped that the sentence against Tariq Aziz will not be carried out, precisely in order to favor reconciliation and the reconstruction of peace and justice in Iraq after the great suffering it has undergone."
Father Lombardi said the Vatican might use diplomatic channels to intervene in the case.
In an interview with the British branch of the Catholic charity Aid to the Church in Need, which is devoted to helping persecuted Christians worldwide, Syrian Catholic Archbishop Georges Casmoussa of Mosul, Iraq, called the decision to execute Aziz wrong.
"We have to ask to save him," he said. "We have to mount an international appeal calling on the Iraqi government to reverse this decision."
Noting that the Iraqi Supreme Court reached its decision based on Aziz's alleged role in "eliminating religious parties," Archbishop Casmoussa said: "Tariq Aziz was not in security, he was a civil minister. Of course he was part of the regime of Saddam, but that does not mean he was responsible for everything that happened."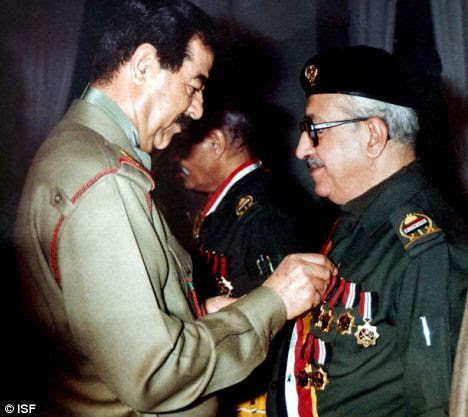 Aziz (photo, with Saddam Hussein) was number 25 on George Bush's "deck of cards" hitlist of regime figures the U.S. military planned to kill or capture.
Aziz was the most senior Christian member of Saddam's inner circle in predominantly Muslim Iraq.
Yesterday he sat alone, head bowed, grasping the handrail as the judge read the verdict.
He had already been sentenced to 15 years for his role in the 1992 execution of 42 merchants charged with profiteering. He received a second seven-year sentence for a case involving the forced displacement of Kurds in northern Iraq.
The daughter of Aziz says an appeal of his death sentence likely won't stop his execution.
"I don't think he has any hope of coming out" of prison, Zainab Aziz told CNN from Amman, Jordan.
His family didn't know he was going to be sentenced on Tuesday, she said in the interview.
"My father served his country for more than 22 years. He delivered himself to the U.S. Army (after Saddam fell from power) because he wasn't afraid. He didn't do anything wrong. He served his country," Aziz said of her father. "He has been wronged."
Attorney Badi Arif, who once represented Aziz, said politics played a role in the former deputy prime minister's death sentence.
"Mr. Aziz used to always tell me, 'They'll find a way to kill me, and there is no way for me to escape this,'" Arif told CNN. "But from a legal perspective, this sentence is wrong; this is illegal and this is unexpected."
Amnesty International urged Iraq not to carry out the death sentences handed down against Aziz and two others.
Aziz's lawyer said the sentence was politically motivated, accusing the Shia-led government of trying to divert attention from recent WikiLeaks revelations of prisoners' abuse by Iraqi security forces and the U.S. military.
Aziz has suffered several strokes while in custody and used a cane in court appearances.
Former intelligence chief Sadoun Shakir, Saddam's former secretary Abed Hamoud, Saddam's half-brother Sabawi Ibrahim al-Hasan and former top Baath party official, Abdul Ghani Abdul Ghafour, were also sentenced to death yesterday.
In 1998, Aziz traveled to the Vatican and met with Pope John Paul II. He told reporters he gave the Pope a letter from Saddam asking the Vatican's help in lifting the U.N.-imposed sanctions on Iraq.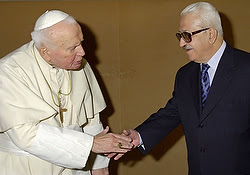 Aziz met with the Pope again in 2003 (photo), as the Vatican engaged in a flurry of diplomatic activity to try to prevent the U.S.-led invasion.
During that same visit to Italy, Catholic News Service reports, Aziz was invited by the Franciscan friars in Assisi, to pray at St. Francis' tomb. Many Italians complained that the Franciscans were being used by a man who since 1979 had been the No. 2 official of a regime guilty of grave human rights abuses.
In June 1992, when Iraqi officials refused to renew an agreement that would allow Mother Teresa's Missionaries of Charity to remain in Baghdad, Chaldean Patriarch Raphael I Bidawid appealed to Aziz, and the nuns were allowed to stay.
A visit to the Consistory

Rome during the time of a Consistory is fascinating. There are the cardinals themselves, of course, but also all of their family members, friends and well-wishers.

On the evening when the cardinals are created, November 20, something special happens. The Vatican opens its doors, and friends and well-wishers of the new cardinals will be able to visit them inside the Vatican, to congratulate them and to assure them of their prayers, and to receive their blessings.

Therefore, we are inviting a few people to join with us during the Consistory days, no more than 12, to attend the Consistory, to go on the courtesy visits inside the Vatican, and to attend the papal Mass the following day on the Feast of Christ the King in St. Peter's Basilica.

If you wish for more information about this Consistory visit, please email us at DTomlinson@InsideTheVatican.com or call 904-699-0960.  We expect to fill these 12 seats very quickly. Therefore, if you would like to join us, call or email as soon as possible.

If you have ever wished to come to Rome and visit the Vatican, consider joining us for the Consistory.

"Fight the good fight of faith, lay hold on eternal life." —St. Paul, First Letter to Timothy 6:12




A Talk by Dr. Robert Moynihan about the "Old Mass"

This talk gives a 2,000-year history of the Mass in 60 minutes which is clear and easy to understand. The talk covers questions like:

— Does the motu proprio overcome some of the liturgical confusion since Vatican II?
— Who was Annibale Bugnini?

— The mind of Pope Benedict: How can the Church restore the sense of the presence of God in the liturgy?

 

To

 subscribe

 to the print edition of 

Inside the Vatican

, 

click here

The newsflash is 

free

, but there are costs associated with producing it. To support this writing, you may call our toll-free number in the USA, 1-800-789-9494,

or click here

"Inside the Vatican is a magazine I read cover to cover. I find it balanced and informative. I especially appreciate its coverage of art and architecture. It is not only an important magazine, it is also a beautiful one." —Prof. Mary Ann Glendon, Harvard University Law School, former United States Ambassador to the Holy See
Facebook Comments