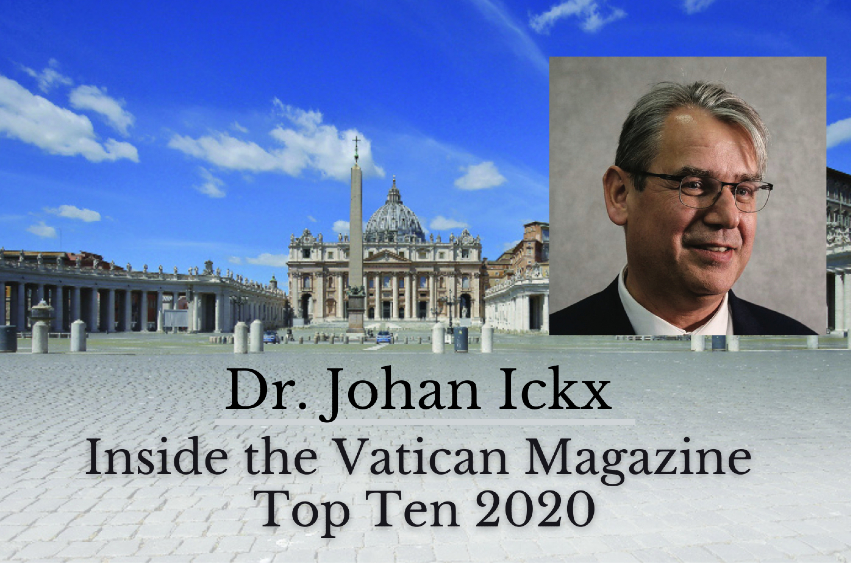 Friday, February 19, 2021
Feast of St. Boniface of Lausanne (1183-1260 AD)
    St. Boniface was born in 1183 (in almost the same year that St. Francis of Assisi was born, 1181) in Brussels, Belgium.
    So it is appropriate to think of St. Boniface on this day, February 19, when we honor our #1 "Top Ten Person of the Year 2020," who, like St. Boniface, is from Belgium, from the Flemish part of the country.
    His name: Dr. Johan Ickx.
    Dr. Ickx is one of the world's top archivists, and has spent his distinguished professional life working inside Vatican City as a top curator in the Vatican secret archives — the official records of the activity of the Holy See.
    In this work, Ickx has come to be engaged on the front lines in one of the most important intellectual battles in the modern history of the Church: the battle to clarify, based on actual documentation, the true relationship between Pope Pius XII and the contending powers during World War II (1939-1945), with particular emphasis on Pius XII's thoughts and actions concerning the persecution of the Jewish people by Germany's Third Reich.
    Did Pius have little or no concern for Europe's Jews? (A certain "black legend" has grown up arguing that this was the case.) Or did Pius care deeply about his Jewish brothers and sisters, and work tirelessly, along with Catholic rescuers across wartime Europe, to save hundreds of thousands of Europe's Jews (scholars estimate the number at 800,000), acting, not with cowardice and indifference, but with great wisdom and profound courage?
    This is the debate.
    This controversy is of key importance because it concerns the reputation not only of one man (Eugenio Pacelli, the given name of Pius XII before he became Pope in 1939) but also that of the Roman Catholic Church herself.
    The attack by many anti-Pius scholars on Pius, allegedly (so the accusers contend) "Hitler's Pope," a man indifferent to the fate of the Jews of Europe, could become only a first step in a larger attack, first on the papacy as an institution, and then, in the end, on the Church herself as a central (but in this case, profoundly flawed) constituent element of Western and world civilization, to be fought against and diminished in influence if possible.
    If Pius would come to be regarded as an evil man, then Popes in general might be tarred with that same brush.
    And if the Popes in general would come to be regarded as evil because one of them was the (allegedly) evil, heartless Pope Pius XII, then the Church herself might come squarely into the crosshairs of those who might wish to "de-Christianize" Western civilization.
    This is the potential danger.
    This is the profound importance of the debate over Pius XII and his wartime role.
    For years now, Dr. Ickx in his work has proven his exemplary, prudent wisdom, his exemplary, profound scholarship, and his exemplary, deep commitment to truth, especially in this matter of enormous delicacy and complexity: the role of Pius XII during World War II.
    In this process, Dr. Ickx's work has become an essential part of all studies on the relationship between the Church's leadership and the European Jewish community in the mid-20th century, and this will have its consequences for decades, and centuries, to come.
    For this reason, we have chosen this man of great honesty, great scholarship, great integrity, great courage, Dr. Johan Ickx, to be our #1 Person of the Year for the year 2020.—RM
    St. Boniface of Brussels (1183-February 19, 1260) served as the Bishop of Lausanne from circa 1231 until 1239 when he resigned after agents of Holy Roman Emperor Frederick II assaulted him.
    Boniface was born in what is today Belgium in 1183 and in 1200 moved from home to go to Paris for his studies at the college there. Boniface taught Catholic dogma and became a popular lecturer.
    He was ordained to the priesthood while in France and, from 1222 until 1229, taught in Paris. But there soon became a bitter dispute between the teachers and students which prompted him to leave and find work elsewhere. He later taught until 1231 in Cologne at the cathedral school.
    He became the Bishop of Lausanne in Switzerland in 1231, and was enthroned in his new see in March of that year after receiving his episcopal consecration. He was enthusiastic about this appointment but was faced with corrupt priests, which he condemned in a pulpit address while also singling out Emperor Frederick II. The emperor sent his agents to attack Boniface, who sustained serious injuries but managed to escape. He traveled to Rome and secured permission from a reluctant Pope Gregory IX (1227-1241) to resign. The Pope wanted to make him the bishop of another see but Boniface refused the offer.
    In 1245 he attended the First Council of Lyon which Pope Innocent IV(1243-1254) had convoked.
    Boniface died in 1260; his coffin is small because it contains assorted vertebrae and pelvic bones rather than an actual skeleton. (link)
Our "Top Ten People of 2020": #1, Dr. Johan Ickx
    The year 2020 was one many people say they would like to erase from memory. Yet, many good people did many good and noble things in the year 2020, and Inside the Vatican, this year as in past years, recognizes here just a few of them.
    Obviously, these people we have chosen to highlight are not the only people worthy of recognition, but we think each is an example, an exemplar, in differing ways. Of course, there are millions of mothers caring for sick children, millions of fathers caring for their families, thousands of legislators attempting to write just laws, countless artists striving to represent the mystery of divine truth to a world of hardened hearts. We honor them all! Still, we offer these 10 men and women as exemplary men and women, who have lived (and some of whom have died), with courage, honor, charity, tenderness, faith, generosity. In this way, these 10 have shown us the way, no matter how troubled our times may be. —RM
Vatican archivist, author, expert on Pope Pius XII and the Jews
"He (Pius XII) sought peace until the end"
    Dr. Johan Ickx, one of the world's leading experts on the Vatican's record during the First and Second World Wars, and among the Holy See's renowned archivists and historians, published in 2020 his highly acclaimed book on Pius XII, Le Bureau — Les Juifs de Pie XII [The Office — The Jews of Pius XII]. It highlights hundreds of new archival documents on Pius XII's support for Jews and his battle with the Nazis, powerfully answering those authors who, after spending only a short time in the Pius XII archives after they were first opened on March 2, 2020, rushed out to write stories or make allegations against the Vatican, based on a tiny fraction of the newly available documents — often misrepresenting them, and omitting crucial evidence along the way.
    Dr. Ickx's position as a longtime Vatican archivist has given him extensive time to gather these new documents, but he was not able to release them until Pope Francis gave the go-ahead to open the new, and properly catalogued, archives. Now that the pontiff has done so — to his great credit — Dr. Ickx's book is available, and is sure to have a salutary effect on Pius XII scholarship.
    Dr. Ickx's new book is in French, and will be translated into Italian and English.
    Johan Ickx studied religious sciences, theology and philosophy at the Catholic University of Leuven and earned his doctorate in Church History at the Pontifical Gregorian University. He worked as academic assistant at the journal Archivum Historiae Pontificiae, as an official of the Congregation for the Doctrine of the Faith, and as archivist of the Tribunal of the Apostolic Penitentiary. He was twice appointed to five-year terms as a consultor to the Congregation for the Causes of Saints.
    

"Pius XII sought peace until the end"
    He is also the author of a study of the Holy See's assessment of Germany's tactics in occupied Belgium during the First World War, La Guerre et le Vatican (2018). He argued that Eugenio Pacelli, the future Pope Pius XII who was then the Vatican's equivalent of a foreign minister, played a key role in bringing the Vatican to discount German propaganda and recognize that Germany was trying "to terrorize the population" of Belgium.
    In April 2018, Dr. Ickx received the Romulus Prize from the Rome Society of Leuven.
    As one of the Vatican's top archivists — he is currently the Director of Historical Archives in the Holy See's Section for Relations with States — Dr. Ickx, a Belgian, has had special access to these archives for the past 10 years, during which he has meticulously collected hundreds of vital documents pertaining to the Vatican and the persecution of the Jewish community for his new work.
    But he had to wait to publish his findings until this year, after all the archives had been properly catalogued, and Pope Francis officially opened them in March, for other qualified historians to study.
    Because Dr. Ickx's book is based on over a decade of evaluating these private archives, his book will be the definitive work on the newly released Pius XII archives — at least until other experts spend years doing the same painstaking research and catch up. Dr. Ickx's book, therefore, decisively replaces the superficial commentaries based on a handful of documents (often misleadingly presented) which certain researchers, eager to create headlines, rushed out after but a few days in the archives in March, only to see their claims sharply refuted in the immediate days to follow.
    "He [Pius XII] sought peace until the end; from the beginning of his pontificate and during the war he sought the friendship of the Americans, and he rejected Pétain's anti-racial laws," said Ickx.
    There was a separate office set up at the Vatican devoted to trying to save endangered people, the researcher says: "I think there are 2,800 cases, there's a list equivalent to Schindler's list, a 'Pacelli's list.' I wonder how it is that the Holy See never publicized it."
    [Two excellent reviews of Dr. Ickx's book have recently appeared: The first, entitled "The List of Pius XII" and written by Matteo Luigi Napolitano (Professor of History of International Relations, Università del Molise), appears on the Vatican's website, and can be read, here. The second, entitled "The Revival of History: the Truth About Pius XII's action to Save the Jews from Hitler" by Italian deacon and scholar Francesco Armenti, can be read, here.]
–By William Doino, Jr.
    William Doino, Jr., is an American Catholic researcher and writer who, along with Dr. Ickx, has himself has offered a major contribution to scholarship on Pope Pius XII. Doino is the author of a widely-cited "Annotated Bibliography of Works on Pius XII, the Second World War, and the Holocaust," published in the anthology, The Pius War: Responses to the Critics of Pius XII, edited by J. Bottum and D. Dalin (Lexington Books); to obtain a copy, click here. Doino is a close friend of the eminent German Jesuit priest and scholar, Fr. Peter Gumpel, S.J., now in his 90s and residing in the Jesuit Curia a few steps from St. Peter's Square. Gumpel is the principal author of the Positio for the Cause of Beatification of Pope Pius XII.
    Also, a special note: these profiles of the "Top Ten" which we have been publishing during the past 10 days were edited and much improved by my assistant editor, Christina Deardurff, a clear writer and thoughtful editor to whom I owe a great debt of gratitude. An alumna of Thomas Aquinas College in California, a mother and a grandmother many times over, she lives in Front Royal, Virginia, and helps to produce Inside the Vatican magazine. Thank you, Christina, for your crucial contribution in preparing these profiles of our "Top Ten People of 2020." —RM
Facebook Comments