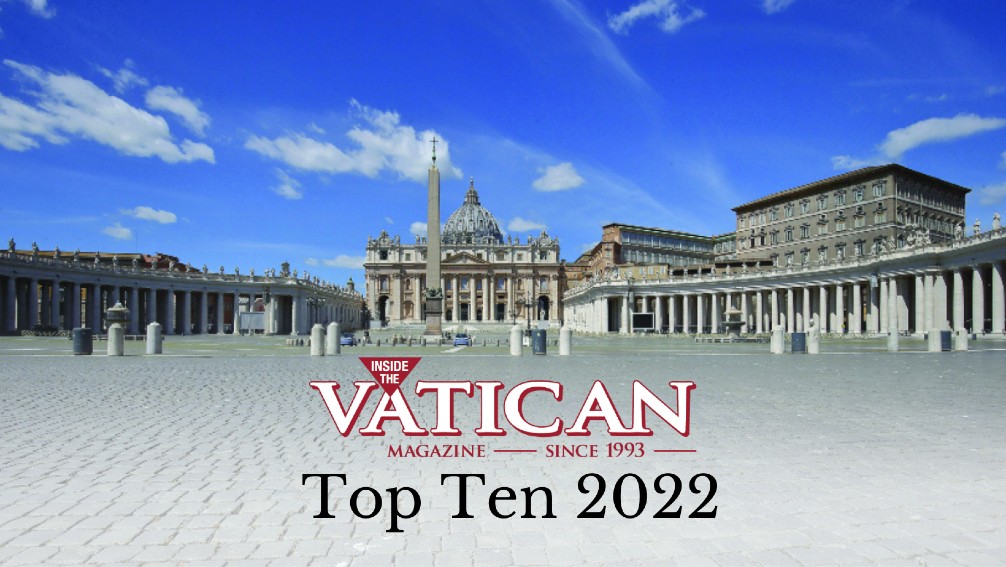 Ten Who Shine
Catholics who showed us the good and beautiful in 2022
In this issue, we spotlight ten Catholic individuals who "made a difference" in 2022 –– and beyond. Five of them are members of the Catholic clergy, men whose ordination has deepened and broadened a life-long desire to serve Christ and their fellow men by offering their entire lives to Him. Their life's work has been infused with the grace of the Gospel, transforming them to love and serve others because they were first "captured," falling in love with Jesus Christ, the Son of God.
Five of them are lay people who, like most of us, must struggle every day in between "the world" and "the Church," to keep that love burning. Each of us desires to shine a light on something good and beautiful that God has given us in this time, and that modern man in all his troubles and sorrows and confusion needs. The lay people we have chosen have done that. Join us in saluting our "Top Ten" of 2022!
    

Archbishop Visvaldas Kulbokas
    

The One Who Remained…
    "The main 'weapon' is… prayer itself"
    Archbishop Visvaldas Kulbokas, 48, has been in Kiev for 18 months as the papal nuncio to Ukraine, and is the only ambassador to Ukraine who has never left the capital since Russian forces invaded Ukraine this past February 24. 
    Born in Lithuania, Kulbokas has a doctorate in theology and a licentiate in canon law; he was ordained in 1998. He joined the Vatican's diplomatic service in 2004 and was posted to the nunciatures in Lebanon, the Netherlands, Russia and Kenya, as well as the Holy See's Secretariat of State. He speaks English, Italian, French, Russian, Ukrainian and Spanish fluently. 
    On June 15, 2021, Pope Francis appointed him Titular Archbishop of Martanae Tudertinorum and Apostolic Nuncio to Ukraine — the sixth since Ukraine became a state in 1991. 
    A statue of John Paul II welcomes those arriving at the Kiev nunciature. Kulbokas traveled with Pope John Paul in 1993 to the Baltic countries while still a seminarian, after the Baltic nations had been liberated from the Soviet regime. He made another trip to the Baltic states with Pope Francis in 2018, while still Fr. Kulbokas. 
    Despite the apparent intensification of the war, Archbishop Kulbokas continues to believe that negotiation must be pursued without fail; this, he says, is the path in which the Holy See can contribute to peace. 
    "I feel like crying," he said in a July 2022 interview with the Italian journal Avvenire, "both for the suffering of the people and for the absurd fact that the whole of humanity is not united in condemning war. I am referring to Ukraine because we are here in Kiev. But it is valid for all conflicts around the world." 
    He continued, "But another thing amazes me: it is the lightness, the superficiality with which the theme of war is approached in various nations. 'Will Ukraine or Russia win?' seems to be the only question. As if war were a game. We stop at the theoretical level, as if behind all this there are no victims, no wounded, no people on the run or traumatized… and the heart does not know what it means to pity." 
    As the face of the Roman Catholic Church in Ukraine, Archbishop Kulbokas walks a fine line between condemning war itself and making what will be perceived as blanket political statements. Although he says that "the right to defense against an aggressor is legitimate, at least in the Catholic conception," he also stresses that "we must not give in to the temptation to become judges of each other, in order not to enter into a whirlwind of mutual condemnations." 
    "I remain convinced," he said, "that the Holy See can help us focus on the moral realities of war — not only from a military and political point of view, but from a human one. Therefore, it will be an essential factor in getting out of this impasse." 
    Not only the Holy See, but many Ukrainians themselves see that peace must be achieved through dialog, not in the pursuit of victory on the battlefield — a victory that inevitably results in bloodshed and destruction. 
    "It was last March," he said, "shortly after the start of this large-scale aggression, when some members of Ukrainian civil society came to see me and announced that they would begin to work towards establishing new Ukrainian-Russian relations. Because only with friendship, dialogue and knowledge can we have a better future. And these are people who condemned the Russian attack and strongly reaffirmed that the country must be protected. But at the same time they are looking for new ways to conceive the world as a family of nations." 
    "We do not want only the appearances of peace," said Archbishop Kulbokas in October 2022. "We want real peace, a real change of hearts." 
    "My personal reading is that the main 'weapon' is prayer itself. I'm sure of this every morning, when I celebrate the Eucharist as a bishop… I believe that there is no way out except prayer and the conversion of those who are responsible for this war."
Facebook Comments