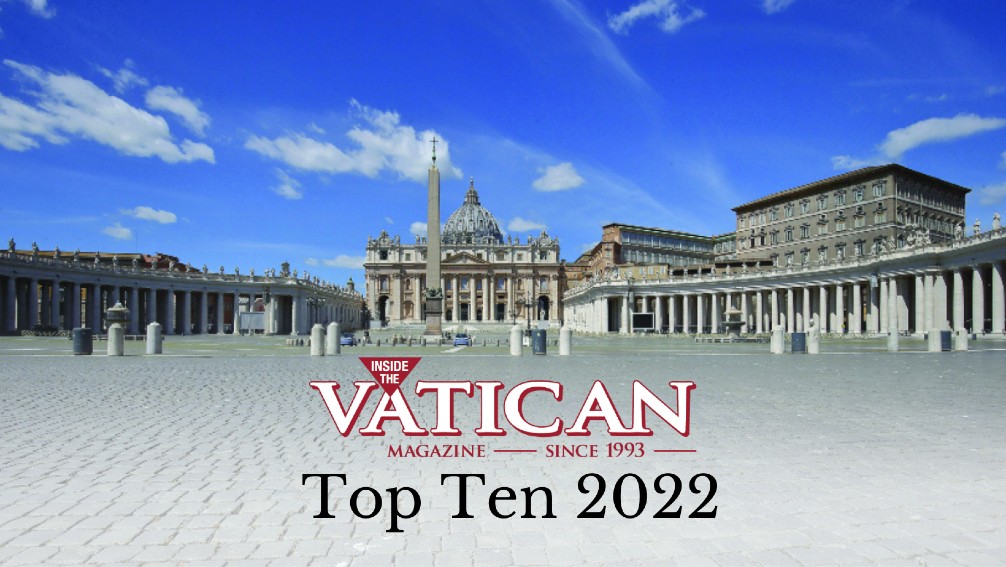 Ten Who Shine
Catholics who showed us the good and beautiful in 2022
In this issue, we spotlight ten Catholic individuals who "made a difference" in 2022 –– and beyond. Five of them are members of the Catholic clergy, men whose ordination has deepened and broadened a life-long desire to serve Christ and their fellow men by offering their entire lives to Him. Their life's work has been infused with the grace of the Gospel, transforming them to love and serve others because they were first "captured," falling in love with Jesus Christ, the Son of God.
Five of them are lay people who, like most of us, must struggle every day in between "the world" and "the Church," to keep that love burning. Each of us desires to shine a light on something good and beautiful that God has given us in this time, and that modern man in all his troubles and sorrows and confusion needs. The lay people we have chosen have done that. Join us in saluting our "Top Ten" of 2022!
    

Bishop Jude Arogundade
Nigerian Bishop on a Mission
    The world should not ignore the continuing Christian genocide in Nigeria…
    Bishop Jude Arogundade, 60, of Ondo, Nigeria, said the Christians of his country are suffering persecution so intense that it borders on genocide. 
    "The Catholic Bishops' Conference of Nigeria has spoken against the unprecedented insecurity situation in Nigeria repeatedly, but to no avail," he said in a November 16, 2022 speech in a committee room of the U.K.'s Houses of Parliament. 
    "We have walked for life, protested and even called the President (Muhammadu Buhari) to resign if he is incapable of fulfilling the basic purpose of government — the security of lives and properties of citizens. Even at that, nothing has changed," he said. 
    "With 3,478 people killed as of June this year and the increased cases of terror thereafter," he said he strongly wished to appeal to the U.K. government and "all people of goodwill to compel the Nigerian government to stop the genocide" before Nigeria is overrun as Afghanistan was. 
    Bishop Arogundade made his remarks at the launch in London of "Persecuted and Forgotten? A Report on Christians Oppressed for Their Faith 2020-22," a project of the British branch of the pontifical foundation Aid to the Church in Need. 
    He began by recalling the June 5, 2022 Pentecost Sunday massacre in his own diocese — at St. Francis Catholic Church in Owo. It left 41 people dead and 73 others seriously injured. 
    "Like other attacks on churches in Nigeria, no one has been charged for committing this crime," he said. 
    "The world must insist that terrorists, their sponsors and their sympathizers be brought to justice. Please, ask the Nigerian government to deploy all the legal instruments and political institutions for protecting and enforcing the rights and freedom of the minority to stop the killings." 
    Incredibly, in 2021 the U.S. State Department under Secretary Anthony Blinken removed Nigeria from the list of the world's worst violators of religious freedom – despite the fact that the U.S. nonprofit Open Doors USA found that in 2021, more Christians were killed — 4,650 — than in all the rest of the world combined. The bishop added: "This pogrom is not caused by climate change as believed by some Western climate change ideologists. It is far from it. It is clearly the use of terrorism to accomplish an age-long ethno/religious objective." 
    Arogundade has spoken out before against those who blame shrinking resources due to climate change – like president of Ireland, Michael D. Higgins, when he called the Pentecost Sunday massacre "a source of particular condemnation, as is any attempt to scapegoat pastoral peoples who are among the foremost victims of the consequences of climate change." 
    "While thanking the Honorable Mr. Higgins for joining others to condemn the attack… his reasons for this gruesome massacre are incorrect and far-fetched," Arogundade said in a message dated June 10. 
    "To suggest or make a connection between victims of terror and consequences of climate change is not only misleading but also exactly rubbing salt to the injuries of all who have suffered terrorism in Nigeria," he said. 
    Arogundade believes the attack to be part of a broader movement to establish an Islamic caliphate in Nigeria, which is roughly one-half Muslim. 
    "Immediately, I saw a mission entrusted to me," Arogundade, a naturalized U.S. citizen with numerous American contacts, told Catholic News Agency. "My first thought was, 'I can really do something about this. I can really bring a further awareness to this. I can reach out to many places.' And at that point I was ready to talk to anybody who cared to listen to me." 
    Among the first to offer Arogundade his support was the leader of his former archdiocese, Cardinal Timothy M. Dolan of New York. 
    In July, that mission brought Arogundade to Washington, D.C., where he was a guest of the nonprofit Catholic organization Aid to the Church in Need and a featured speaker at the International Religious Freedom Summit. The three-day event shone a light on cases of religious persecution going on throughout the world. 
    The soft-spoken bishop delivered a blunt and sobering message. "What's going on now is genocide," he told CNA. "It's pure ethno-religious cleansing. That's what it is. And it's getting worse." 
Facebook Comments