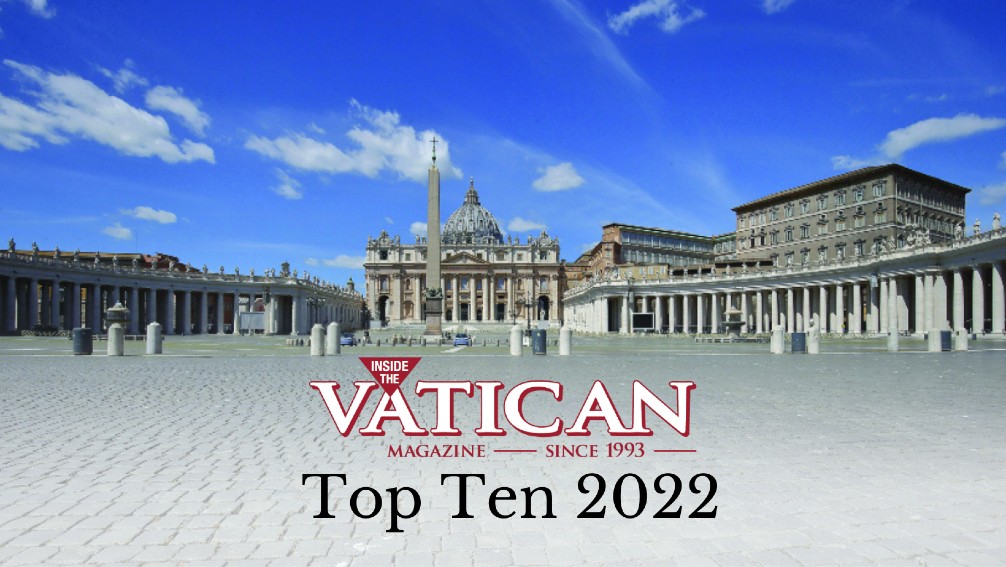 Ten Who Shine
Catholics who showed us the good and beautiful in 2022
In this issue, we spotlight ten Catholic individuals who "made a difference" in 2022 –– and beyond. Five of them are members of the Catholic clergy, men whose ordination has deepened and broadened a life-long desire to serve Christ and their fellow men by offering their entire lives to Him. Their life's work has been infused with the grace of the Gospel, transforming them to love and serve others because they were first "captured," falling in love with Jesus Christ, the Son of God.
Five of them are lay people who, like most of us, must struggle every day in between "the world" and "the Church," to keep that love burning. Each of us desires to shine a light on something good and beautiful that God has given us in this time, and that modern man in all his troubles and sorrows and confusion needs. The lay people we have chosen have done that. Join us in saluting our "Top Ten" of 2022!
    

Fr. Peter Gumpel
    

A Life In Pursuit of Holiness
    A Jesuit whose understanding of sainthood — and Pope Pius XII — was unmatched 
    Of all the people ITV has ever honored, none is more worthy of recognition than Fr. Peter Gumpel — the esteemed Jesuit scholar and expert on sanctity who died in Rome on October 12, 2022, at the age of 98. 
    Born in Hanover, Germany in 1923, Gumpel was long known to have come from a wealthy and prestigious family — later revealed to be the House of Hohenzollern, the German royal dynasty whose members included princes, kings and emperors — a fact about which he never boasted. 
    His real passion in life was the pursuit of holiness, something he believed all Catholics were called to, in imitation of the saints. He was able to fulfill his greatest desire when the Jesuits assigned him a prominent position in the Congregation for the Causes of Saints in 1960, which he helped lead or assist for the remainder of his life. His rigorous training in theology, history, and spirituality gave him a knowledge about sainthood that was unique. America magazine, the Jesuit periodical, noted that "his mastery of the history, development and procedures of canonization was ack now ledged as unmatched. Together with his longtime friend and colleague, Father Paul Molinari, SJ, the Jesuits' postulator general, Father Gumpel shepherded more than 150 causes through the sometimes byzantine process by which the Roman Catholic Church investigates, studies and judges those found worthy (or unworthy) of veneration as saints." 
    Among the most successful candidates they worked on, reported America, were Jacinta and Francisco Marto, two of the three children who witnessed visions of the Virgin Mary at Fatima; the Forty Martyrs of England and Wales; and numerous extraordinary women, including St. Katherine Drexel, St. Philippine Duchesne, and St. Kateri Tekakwitha, the first Native American saint. 
    But if there is one cause Peter Gumpel's name will forever be attached to, it is that of Pope Pius XII. Shortly after Pius' cause was introduced, at the end of Vatican II, Fr. Molinari became its postulator (or advocate), with Fr. Gumpel assuming the even more demanding role of relator (or independent judge). Examining over 100,000 documents, including the Vatican's extensive archives of Pius XII's pontificate, and traveling thousands of miles to interview people who knew and worked with Pius XII, Fr. Gumpel amassed an enormous amount of evidence which convinced him of Pius XII's heroic virtue—particularly during the Holocaust, when he did so much to rescue Jews and others targeted by the Nazis. 
    The Congregation for Saints agreed with his conclusions, unanimously approving the advance of Pius XII's cause in 2007, and Pope Benedict XVI declared him "Venerable" in 2009. All that remains for Pius XII's canonization are two confirmed miracles — one for his beatification, and the second for his sainthood – thanks, in the main, to Fr. Gumpel. 
    No one of Gumpel's era came close to acquiring the knowledge he had about Pius XII; but despite his encyclopedic knowledge, Father Gumpel patiently, charitably and comprehensively addressed every pointed question brought to him — either in person, or in extended correspondence — and by doing so, changed the minds of a generation of scholars unjustly hostile to Pius XII. He also inspired a whole new generation (including the present writer), to discover the riches of Pius XII's pontificate. 
    What made Fr. Gumpel's testimony so compelling was his own dramatic experience with Nazism. Hitler and the Nazis detested Fr. Gumpel's family because of its nobility, its fierce opposition to Nazi racism and anti-Semitism, and its unwavering Catholic faith; they arrested and killed Peter's grandfather, executed a cousin, and very nearly murdered his mother. Young Peter himself was exiled twice because of threats against his life. 
    And Fr. Molinari confirmed to me that during Gumpel's Jesuit training in the Netherlands, he joined the anti-Nazi resistance and risked his life to assist escaping Jews. (Fr. Gumpel himself never spoke publicly about his heroism.) 
    Had the Nazis never overrun Germany and Gumpel never become a Jesuit, he would have been destined to a life of privilege, the possible heir of a German Emperor. Instead, the only throne Fr. Peter Gumpel, SJ, was ever interested in inheriting was in the Kingdom of God, of which we can now be assured he is an ever grateful member. 
    —William Doino, Jr. 
Facebook Comments