Reality contradicts the popular narrative of opposition between the two pontiffs
By William Doino Jr.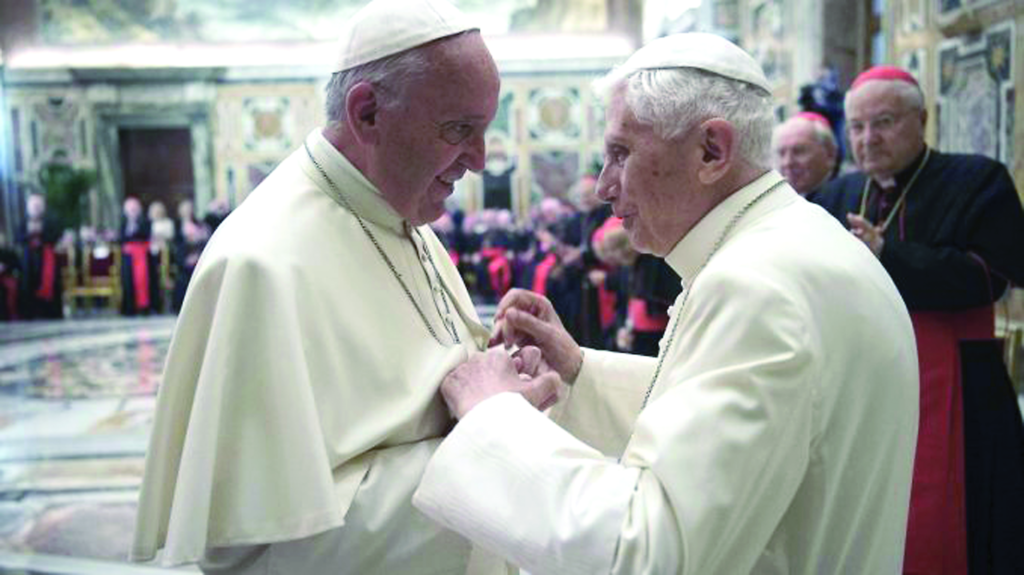 When Venerable Pius XII's extraordinary pontificate came to an end in 1958, he was succeeded by St. John XXIII, whose papacy would prove equally consequential, albeit in myriad ways. Ever since, a stream of articles and books by prominent authors have appeared claiming that Pius and John were complete opposites; and, depending on their perspective, have either lamented or celebrated the alleged revolution "Good Pope John" brought about.
A similar narrative has emerged since Pope Benedict XVI resigned, making way for Francis: the latter is said to have made a decisive shift away from Benedict's pontificate; and that the gulf between the two is now so massive that the Catholicism of Benedict and the Catholicism of Francis are essentially two different religions.
Nowhere has this narrative been more popularly expressed than in the Oscar-nominated film, The Two Popes, in which Benedict (played by Anthony Hopkins) is depicted as the rigid, reactionary pontiff, desperately clinging to outdated Catholic beliefs, while Francis (played by Jonathan Pryce), is portrayed as the compassionate, broad-minded and inclusive pontiff, doing his best to bring the Church "up to date."
The reality is something quite different.
In neither example — and notwithstanding their unique personalities and diverse approaches to certain prudential matters (particularly regarding the liturgy) — have any of these Popes ever contradicted one another on fundamental Church teachings; quite the contrary. What stands out about these pontiffs is not their personal differences, which exist but have been exaggerated, but their similarities and the continuity of their profound Catholic vision and magisterium.
In the case of Pius XII and John XXIII, the major breach is said to be John's calling of the Second Vatican Council, which Pius XII, it is argued, would have been aghast to advance. But modern scholarship has disproven this idea. As the important Italian work, Pio XII e il Concilio (Pius XII and the Council, by Mons. Nicola Bux, Alexandra von Teuffenbach, and Fr. Peter Gumpel), documents, Pius had considered calling a Council shortly after he became Pope in 1939, to complete the work initiated by the First Vatican Council, but was dissuaded from doing so because of the Second World War and its chaotic aftermath.
Pius XII never abandoned the idea, however, and left behind the designs for a new Council, which John XXIII and the Fathers of Vatican II gratefully took up and developed. For this reason, no less an authority than Pope John Paul II commented: "We cannot forget how Pius XII contributed to the theological preparations of the Second Vatican Council, especially with regard to the doctrine of the Church, the first liturgical reforms, the new impetus to biblical studies, and the great attention to the problems of the contemporary world."
Benedict XVI, who, like John Paul II, was a direct participant in Vatican II, stressed those facts when he declared, "It is well-known that of the oral interventions and writings presented by the Second Vatican Council Fathers, over 1,000 references cite the Magisterium of Pius XII. Not all the documents of the Council have an array of Notes, but in those documents that do have them, the name of Pius XII recurs more than 200 times. This means that, with the exception of Sacred Scripture, this Pope is the most authoritative and frequently cited source."
As for John XXIII, in his first Christmas address, he proclaimed Pius XII a "Doctor optimus, Ecclesiae sanctae lumen, divinae legis amator" ("Excellent doctor, beacon of the Holy Church, lover of divine law.") This is not even to mention the many references to Pius XII's teachings in John XXIII's most famous encyclicals, Mater et Magistra (Mother and Teacher, 1961) and Pacem in terris (Peace on Earth, 1963); nor what Pius XII's successors did to pay tribute to him. As the New York Times reported, on March 13, 1964: "Pope Paul VI dedicated a seven-foot statue of Pope Pius XII today, praising him as a great pontiff and defending his World War II record…. The memorial in Saint Peter's Basilica marked the 25th anniversary of the coronation of Pius XII. After his death in 1958, at the age of 82, it was found that he had asked in his will that no monument to him be erected. However, Pope John XXIII overruled this wish, authorizing the Cardinals named by his predecessor to commission one."
Thus, the supposed "conflict" often posited between Pius XII and John XXIII is a baseless myth.
Underappreciated
The Benedict-Francis alliance has proven equally fruitful, though it remains undervalued and underappreciated.
At the beginning of his papacy, Francis took two major steps to directly align himself with Benedict — he fully endorsed Benedict's vigorous opposition to society's "dictatorship of relativism;" and proceeded to co-author his first encyclical, Lumen Fidei, with the retiring Benedict.
Just weeks after Francis succeeded Benedict, Vatican reporter John Allen wrote: "For those tempted to draw an overly sharp distinction between Pope Francis and his predecessor, the new Pope offered a clear reminder that he may have a different style from Benedict XVI, but on substance, he's cut from much the same cloth.
"In a speech to the diplomatic corps accredited to the Holy See… Francis lamented not only the material poverty of the early 21st century but also its spiritual poverty, meaning a rejection of God and objective standards of morality.
"In that regard, Francis quoted Benedict's famous critique of a postmodern 'dictatorship of relativism,' delivered during a homily for the Mass in 2005 that opened the conclave that elected him Pope….
"The message seemed clear: Pope Francis will try to live up to his namesake, Francis of Assisi, as a man of the poor and of peace, but that doesn't signal any retreat from the moral and cultural positions associated with the papacies of John Paul II and Benedict XVI."
Sure enough, even as he has generously met with those who disagree with Catholic teaching — just like the newly elected Benedict XVI met with dissenting theologian Hans Kung (hoping to influence Kung for the better) — Francis has loudly and publicly upheld the Gospel — thundering against abortion and euthanasia, the redefinition of marriage, sexual promiscuity and pornography, gender ideology and population control, and a cancel culture which would destroy intellectual and religious freedom, especially for those devoted to preaching the Good News of Jesus Christ and His liberating, salvific message.
This is precisely the message of Lumen Fidei (June 29, 2013).
At the time it was published, I commented: "This extraordinary teaching document was begun (but never completed) by Benedict in the last stages of his papacy. Francis could have easily put it aside and written his own papal message. Instead, he decided to finish the projected work, and publish it as his own inaugural encyclical, giving Benedict full credit for the draft. By doing so, Francis endorsed all of Lumen Fidei's insights about faith and reason, the importance of truth, and the hermeneutic of continuity — all hallmarks of Benedict's papacy."
One of the highlights of this inspiring (but often overlooked) encyclical is Francis's clarification of authentic Catholic orthodoxy, declaring that it is not a matter of picking and choosing which settled teachings Catholics like, but embracing them all: "Since faith is one, it must be embraced in all its purity and integrity. Precisely because all the articles of faith are interconnected, to deny one of them, even those that seem least important, is tantamount to distorting the whole. Each point of history can find this or that point of faith easier or harder to accept: hence the need for vigilance in ensuring that the Deposit of Faith is passed on in its entirety (cf. 1 Tim 6:20) and that all aspects of the faith are duly emphasized."
A stronger rejection of "cafeteria Catholicism," one of the banes of the postConciliar Church, can hardly be imagined.
In light of the contentious debates surrounding communion for Catholics living in irregular relationships, or violating Church teaching in some other way, Francis's declaration, proclaimed from St Peter's Square, on March 14, 2018, is also of continuing relevance: "We know that one who has committed a serious sin should not approach Holy Communion without having first obtained absolution in the Sacrament of Reconciliation."
A succeeding series of additional statements and acts by Pope Francis — his Bull of Mercy, outlining the corporal and spiritual works of mercy; his Apostolic Exhortation, Gaudete et exsultate ("Rejoice and be Glad") on the call to holiness in the modern world; his powerful letter to priests on the 160th anniversary of the death of the Cure of Ars, St. John Vianney; his Joint Declaration with Patriarch Kirill of Russia, on the urgent need to preserve the Christian roots of Europe; and his introductions to a host of Benedict's acclaimed books, all indicate the deep spiritual bonds between the two. Perhaps the most important connection between Francis and Benedict is the annual Ratzinger Prize, given to scholars whose work exemplifies the work of Joseph Ratzinger, both before and after he became Pope Benedict XVI.
At this year's ceremony, the winners included theologian Tracey Rowland, a renowned expert on Joseph Ratzinger, about whom Francis paid tribute with these eloquent words: "As we know, the Third Letter of John — 'Cooperatores Veritatis' (Co-workers of the Truth) — are the motto he chose when he became Archbishop of Munich. They express the common thread of the different stages of his life, from his studies to his academic teaching, to his episcopal ministry, to his service for the Doctrine of the Faith — to which he was called by Saint John Paul II 40 years ago — up to his pontificate, characterized by a luminous magisterium and an unbreaking love for the Truth.
"Cooperatores veritatis is therefore also the motto that stands out on the diploma given to the awardees, so that it may continue to inspire their commitment.
"These are the words that each one of us can and must continue to draw inspiration from in our activities and in our lives, and I leave them with all of you, dear friends, as a wish, together with my blessing. Thank you."
Speaking to the Swedish Academy, Francis elaborated on Benedict's desire for truth, especially when engaging those with various beliefs: "Dialogue is not synonymous with relativism. Indeed, society is all the more noble whenever it cultivates the search for the truth and is rooted in fundamental truths, and especially when it acknowledges that every human being possesses an inalienable dignity."
Given their enduring affinities, reflected in their teachings and moving friendship, it is unfortunate that many commentators continue to depict Francis as the anti-Benedict, and Benedict as the anti-Francis.
For whatever differences in their pastoral approaches and prudential decisions, Benedict and Francis are genuine allies on all the essentials and have left the Church with immeasurable gifts.
For that, the faithful should be most grateful, and both men amply thanked and praised.
*William Doino, Jr., an expert on the pontificate of Pope Pius XII, lives in Connecticut, USA.

Facebook Comments