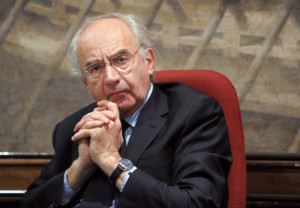 The former Vatican bank director, Paolo Cipriani, and his deputy, Massimo Tulli, receive a court summons. The acquitted former bank president, Ettore Gotti Tedeschi, says he will take "legal action" against those who denigrated him personally and professionally.
One of the most striking, and perplexing, scandals of the final year of Pope Benedict's papacy was the dramatic, unexpected firing of the president of the Vatican bank, the Italian Ettore Gotti Tedeschi, who was believed to have the full trust of Pope Benedict. No full explanation was ever given for his abrupt dismissal in May 2012, leaving Vatican watchers wondering what the real reasons were for his firing. Now, two years later, Gotti Tedeschi has begun to speak out, following the decision by Italian legal authorities to absolve him of any suspicion of wrong-doing with regard to a money-laundering investigation. The an­nouncement that no charges would be brought against Gotti Tedeschi came on March 28. And within hours, Gotti Tedeschi was breaking his long public silence and warning that he would bring his own legal action against those who had removed him from his post.
The Vatican bank's board caused "grave damage" to the Holy See when it fired him in 2012, Gotti Tedeschi said.
The remarks came in a statement issued after a Rome judge threw out an investigation against him, ruling Gotti Tedeschi had had nothing to do with daily operations at the Institute for Religious Works and had in fact been working to bring the Vatican's financial institution into line with international anti-money-laundering standards when he was fired.
In a five-page statement entitled "The Rehabilitation of Ettore Gotti Tedeschi," the banker's attorneys said the ruling vindicated their client and "shows the unfounded… accusations" made by the bank's board when it fired him.
The lawyers threatened legal action and said the ruling showed the board had committed "grave errors and thus grave damage to the Holy See" by firing their client when he was working to improve transparency and accountability.
In May 2012, Gotti Tedeschi was summarily booted out of his post. The Vatican bank's board of directors gave him a vote of "no confidence" and then issued a stinging, nine-point statement accusing him of serious personal and professional shortcomings. None of the shortcomings, however, had anything directly to do with the money-laundering case.
This court ruling exonerating Gotti Tedeschi stems from a 2010 money-laundering investigation by Rome prosecutors. Police seized 23 million euros ($31.5 million) from a Vatican bank account at an Italian bank (the funds were later ordered released).
Gotti Tedeschi and the bank's then-top manager, Paolo Cipriani, were placed under investigation.
Judge Flavia Costantini ruled, though, that Gotti Tedeschi had been wrongly caught up in the sweep. Though Gotti Tedeschi was the bank's legal representative, Cipriani was the primary manager. He remains under investigation in the case. Cipriani and his deputy, Massimo Tulli, resigned in disgrace in July after a Vatican monsignor was arrested in an alleged money-smuggling operation and a money-laundering case involving his Vatican bank accounts.
Gotti Tedeschi's lawyers said: "The accusation by the board that Ettore Gotti Tedeschi didn't know how to interact with the management appears now, given the evidence, to have been the fruit of a grave error of judgment on the part of those who didn't understand the good reasons why he didn't have faith in the management." His two lawyers, Fabio Palazzo and Stefano Commodo, continued: "Now that the case has been cleared up by the Italian magistrature following a thorough investigation, Mr. Ettore Gotti Tedeschi has asked his lawyers to take a series of legal steps in response to the numerous media attacks aimed at denigrating him personally and professionally. He intends to demonstrate via legal means as well, that the accusations made against him by the councillors at the time of his ousting are unfounded."
Two years ago, the Vatican bank's board had Gotti Tedeschi removed from his role as president of the IOR with a communiqué signed by Carl Anderson (head of the Knights of Columbus) which was generally seen as an unprecedentedly harsh document in the history of the Holy See. Now, Gotti Tedeschi evidently would like to clear his name, and he wishes to use legal means to force the issue. (He waited in vain during this past year to be given another role of similar importance, as some of Benedict XVI's closest collaborators had assured him would occur.)
With regard to the Vatileaks scandal, it also now emerges that Gotti Tedeschi did not leak any documents that were in his or others' possession.
Facebook Comments