Cardinal Arthur Roche, 72. He heads the Vatican's dicastery for the Church's liturgy. He met with Pope Francis this morning
    "In the history of the liturgy there is growth and progress, but no rupture. What earlier generations held as sacred, remains sacred and great for us too, and it cannot be all of a sudden entirely forbidden or even considered harmful. It behooves all of us to preserve the riches which have developed in the Church's faith and prayer, and to give them their proper place." —The late Pope Benedict XVI, Letter to the Bishops of the World to Present the "Motu Proprio" on the Use of the Roman Liturgy prior to the Reforms of 1970, July 7, 2007; this letter was issued the same day that Benedict issued Summorum Pontificum, and was intended to explain his meaning in that document (link)
    "This morning, the Holy Father Francis received in audience: – His Eminence Cardinal Arthur Roche, prefect of the Dicastery for Divine Worship and the Discipline of the Sacraments." —Vatican press office bulletin earlier today (link)
    ***
    

Letter #47, 2023 Monday, February 20: Francis meets with Cardinal Roche

    
    Today in Rome, Pope Francis received Cardinal Arthur Roche in audience.
    Here is the link to the announcement (link):
    This morning, the Holy Father Francis received in audience:
    – His Eminence Cardinal Arthur Roche, prefect of the Dicastery for Divine Worship and the Discipline of the Sacraments;
    (… here other appointments were listed… )
    ***
    Note: If you would like to support this letter, consider clicking here.
    ***
    Why this meeting of Francis and Cardinal Roche?
    What does it mean?
    The Vatican issued no official communique, and thus far there has been no public statement on the subject of the meeting.
    But British Catholic journalist Damian Thompson has posted the suggestive tweet (link):
    "Hearing rumours that if the Latin Mass is spared further vandalism, it will be because the Pope has had enough of Arthur Roche's delusions of grandeur."
    In other words, that possibly (possibly) the meeting had to do with Francis "reigning in" Roche just a bit in Roche's apparent plan to roll out strict and highly centralizing new restrictions against the celebration of the old Latin Mass worldwide, throughout the universal Church.
    Alternatively, it might be that Francis is approving of what Roche has prepared for publication.
    We simply don't yet know.
    Meanwhile, along with Thompson's tweet, he publishes a photo-shopped (digitally altered, in other words, faked) photo of a man with the head of Arthur Roche but the body, arms, hands and vestments of… Pope Benedict XVI on the day of his election on April 19, 2005(!).
    Suggesting — because it shows Roche wearing the papal vestments of Benedict — that Roche could possibly become, or wish to become… Pope Arthur Roche(!).
    Pretty rough stuff… no holds barred, here. (I won't reproduce the odd and rather disturbing photo: you can see it at this link.)
    "What a horrific notion is to be found in this Photoshop," wrote commenter David Oatney on Twitter (link).
    "I think this is a good way to go here," added commenter Philip Hadden. "Show people pictures of possibilities in the future & they'll say, 'You know, Pope Francis is not so bad.'" (link)
    So much for rumors, fake photos, and phantasmagorical ecclesial creations…
    There remains….
    The larger context
    This meeting and speculation about it is all taking place in a context, which has three main parts — and because these three things have occurred, the rumor mills are inevitably churning:
    1) Rumors.
    Rumors beginning soon after the death of Pope Benedict XVI on December 31 that a draft Apostolic Constitution with very severe restrictions on the old liturgy had been "spotted" in Rome, actually seen in draft form (link)
    2) Fears.
    Growing worries, concerns, fears, sometimes almost panic, among groups of more traditional Catholics, that Rome would soon prohibit the "old Mass," "punishing" them for alleged divisive tendencies and leaving them unable to attend a liturgy they had become deeply attached to, sometimes for their entire lives.
    There is a wide-range of emotional and theological attachment to the old liturgy; differing motivations, differing intensities of sentiment and belief, differing stories; we might say a "diversity" of reasons and intentions and stories, in an age when "diversity" is generally highly praised.
    And it may be the case (it may in fact be conceded, given human nature) that there could be distortions and regrettable, excessive "neurotic"(!) attachments to one or another liturgy or form of prayer.
    Yet it also seems incontestable, from a Catholic perspective, from the centuries of tradition of the Church — as Pope Benedict declared more than once — that it cannot be considered "un-Catholic" to feel and treasure an attachment to the old Mass.
    So for Rome to push this forward in an almost "Bolshevik" way, extirpating ancient liturgical attachments as "thought crimes," forbidding access to the old liturgy (rather than, for example, allowing it in a dignified way at least occasionally) seems, frankly, its own curious form of neuroticism.
    In fact, all this liturgical matter has something of the undignified, lacking in dignity, in due respect.
    Rather, what one sees is a kind of obsessive desire to "purify" the Church of all who remember and long for the quiet and solemnity of the old liturgy.
    A kind of ideological passion, which, even if hidden under smiles, seems oddly "off" for reasonable men, of the cloth and lay alike.
    Why such an obsession with eradicating the old rite?
    Why eradicate access to a rite celebrated for centuries, venerated for centuries, a source of spiritual grace and strength for centuries?
    Why indeed, since this was a central point of Pope Benedict — that it could not be done.
    And Benedict said that as Pope just a short time ago!
    How can he be said to have been wrong, since he spoke withe the authority of Peter, and in a very clear way?
    Benedict stated it with crystal clarity (link), writing to all the Catholic bishops of the world, clearly to go "on record" in stating this, almost as if he knew, already in 2007, that an attempt might someday be made to say the opposite:
    "What was sacred to previous generations remains sacred and great to us; it cannot suddenly be completely forbidden or even considered harmful." (Pope Benedict XVI, Letter to the Bishops of the World to Present the "Motu Proprio" Summorum Pontificum on the Use of the Roman Liturgy Prior to the Reforms of 1970, July 7, 2007, link)
    I have granted that there may be, in some cases, a "holier-than-thou-ism" in the belief or religiosity or piety of certain traditional Catholics.
    An attitude, were it to be present, to be repented of, and abandoned, as evidently not in keeping with traditional Christian faith and practice — "Judge not others, lest ye be judged" (Matthew 7:1) and "If thou, O Lord, wilt mark iniquities: Lord, who shall stand it" (Psalm 130:3).
    But, based on the evident now available, the true "holier-than-thou-ism" here seems to be on the side of those who, it appears, seek to eliminate the old liturgy.
    If the Catholics attached to old liturgy may, in some cases, be accused of a type of regrettable obsessive piety, which finds God's presence in the words uttered and gestures performed for century upon century, then what are we to say about those who wish to eradicate this centuries-old liturgy root and branch, even if it leaves old women weeping in spiritual desolation?
    How are we to interpret this other than what seems an obsessive, even cruel, "passionate intensity," in the Yeatsian phrase ("the best lack all conviction, and the worst are filled with passionate intensity" link), willing to steamroll over even the time-honored rights of brother bishops in the dioceses of the world to accomplish a "liturgical cleansing"?    
    No wonder that this heartfelt liturgical conflict seems to have now rippled out in its seemingly hysterical consequences even to the American FBI (Federal Bureau of Investigation), which evidently has now decided to "take interest" in traditional Catholic Mass groups as potentially "dangerous" to society — as if old ladies wearing a veil and praying the rosary (as my grandmother did) while attending a whispered Latin Mass, are a "dangerous threat" to the public order (see link — this is from Newsweek today, and important to read; please take a moment to read it).
    In other words, because there has been excess of ideological zeal in this matter, there may be and are emerging fears and suspicions and consequent pathologies that wiser pastoral care would have soothed and healed before reaching this emotional and divisive state of things, in these liturgical wars.
    Something is very wrong here.
    "By their fruits ye shall know them…"
    (See also this link and this link.)
    3) Laws.
    Local bishops, or Rome?
    In fact, this is what some Catholic canonists, in their more legalistic and careful way, are now arguing. (link)
    These canonists are now saying that Cardinal Roche (whether with the support or in excess of the wishes of Francis is not clear) has been "pushing the envelope" in terms of Church law in an attempt to gather under his own authority matters that have traditionally been considered the concern of local bishops.
    In other words, there are increasingly serious arguments being made that this liturgy question was being handled in an authoritarian, non-synodal, non-traditional, non-Catholic, and sometimes even tyrannical way — all to ensure that some old Catholic ladies and gentleman are not allowed to maintain and hand on to new generations a tradition of piety that was validated by all prior Catholic generations.
    In other words, to ensure a rupture with the Catholic past.
    Is this the true Catholic spirit?
    Is there any similar example in the long centuries of our history?
    Or are we in the presence of a true legal and pastoral novelty?
    ***
    The latest article by Diane Montagna
    Here is a copy of an interesting article by Diane Montagna, an American Catholic journalist who has followed the liturgical question more closely, perhaps, than any other Catholic journalist in the past two years. It was published on Saturday, February 18, two days ago. Montagna is in Rome and is speaking daily with Vatican officials.    
    ***
    

Pope Francis Reviewing New Apostolic Constitution to Cement 'Traditionis Custodes' (link)
    by Diane Montagna
    VATICAN CITY, February 18, 2023—The Remnant has learned that a Vatican document is currently under review by Pope Francis that would expand and reinforce his 2021 Motu proprio Traditionis Custodes, affirm that the only official liturgy of the Latin Rite is the Novus Ordo, and stringently regulate the ex-Ecclesia Dei communities.
    Well-informed Vatican sources have confirmed to the Remnant, which accurately warned of Traditionis Custodes before it was published in 2021, that the draft document, in the form of an apostolic constitution, was presented to Pope Francis at the end of January by superiors of the Dicastery for Divine Worship and Discipline of the Sacraments headed by Cardinal Arthur Roche.
    The document is said to have been written by dicastery officials, under the guidance of its secretary, Archbishop Vittorio Francesco Viola, OFM, in collaboration with at least one consultor of the Vatican's office for papal liturgical celebrations.
    While Traditionis Custodes is aimed chiefly at thwarting the growth of the traditional Latin Mass and sacraments among diocesan clergy, this new document would deal a particularly heavy blow to ex-Ecclesia Dei communities, by banning diaconal and priestly ordinations in the Vetus Ordo, prohibiting the administration of the other sacraments to the faithful, and requiring concelebration of all priests, including members of these institutes.
    A prohibition of Sunday Masses in the Vetus Ordo is also said to be on the table.
    The Remnant has also learned that an Italian cardinal created in 2022 is seeking to pursuade Pope Francis to promulgate an alternative apostolic constitution, which may at first glance seem less harsh but in fact be worse by seeking once and for all to bury the traditional Latin liturgy.
    This second draft would never mention the Vetus Ordo but rather celebrate the 54th anniversary of the promulgation of Paul VI's apostolic constitution on the New Roman Missal (April 3, 1969), making the likely date of its release Monday of Holy Week. Sources say it would recount the "blessings" of the liturgical reform of Paul VI and the "abundant fruit" it has born in the Church, and would seek to "crown and complete" it by declaring that, henceforth, the only official rite of the Latin Church is the Roman Missal of Paul VI, the Novus Ordo.
    Without ever saying a word about the Vetus Ordo, this second option would advance everything contained in the first by the consequences it implies. It would give bishops who are hostile to the traditional liturgy—or who are willing to sacrifice it for what they see as a greater good—the basis to eradicate it in their dioceses. And it would buttress Cardinal Arthur Roche's efforts to strongarm traditionally minded bishops into implementing his interpretation of Traditionis Custodes, after repeated attempts to do so in ways considered by canonists to be contrary to Church law.
    But nothing is set in stone at this point, we are told, and there is considerable resistance from members of the Roman Curia, who believe Pope Francis' promulgation of either apostolic constitution would send the Church into uncharted waters, further wound Christ's Mystical Body, and be seen (by Catholics and non-Catholics alike) as a cruel and divisive act.
    It would also be interpreted by cardinals, bishops, priests, religious and laity alike as a total repudiation of Pope Benedict XVI's legacy only months after his death.
    [End, Diane Montagna article]
    

Live podcast tomorrow, Tuesday February 21, 2023 (link)
    Tomorrow we continue our on-line discussion of the 33-day pontificate of Albino Luciani, who took the name Pope John Paul I (August 26 to September 28, 1978, link).
    My guest will be Fr. Charles Murr, 72, a friend and confidant of the late Cardinal Edouard Gagnon, who died in 2007.
    Murr has just written Murder in the 33rd Degree: The Gagnon Investigation into Vatican Freemasonry (link).
    Dr. Peter Kwasniewski reviewed the book, saying this: "Fr. Murr does not peddle conspiracy theories; he tells the riveting story as he lived through it and recorded it in his notes and diaries — what he saw and heard, what his friends learned and suffered. Most of all, we discover how a divinely-given opportunity for serious reform was tragically refused. Murder in the Thirty-Third Degree is the most impressive eyewitness account of postconciliar Vatican politics to appear in decades."
    ***
    The live video tomorrow morning at 11 a.m. on the east coast, which will be at 5 p.m. Rome time, may be accessed here.    
    Special Note: If you wish to support these letters, and such video conversations, please click here. Your contribution is essential to support this type of free content. We cannot continue to do it without you! —RM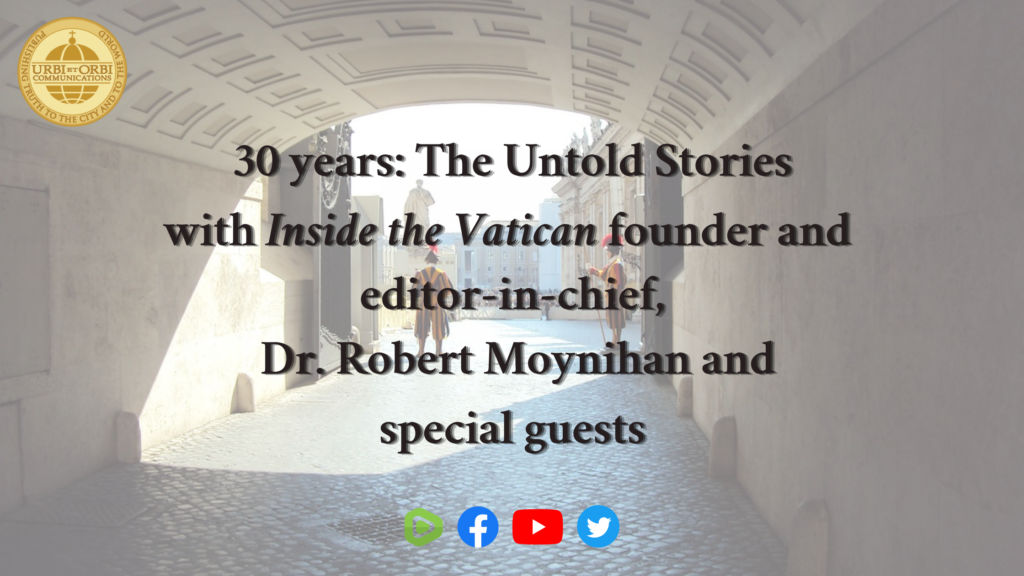 Urbi et Orbi Communications, the publisher of Inside the Vatican magazine, is celebrating 30 years in 2023.
    

Since our founding in 1993, many stories have not been told. 
    Join Dr. Moynihan and special guests in this live video series, streaming on your favorite platform.
    You will hear stories behind the pages of Inside the Vatican magazine, interviews with prominent Catholic figures, and answers to questions that you may not have thought to ask.
    Dr. Moynihan has sat down with Father Charles Murr for three live videos this month which you can find linked below.
    Be sure to subscribe so you do not miss the next live video.
    You can also submit a question by clicking the button below. Your question may be answered in an upcoming live video.
    Click the buttons below to follow on Social Media to ensure you don't miss another livestream! Videos will be available on the platforms after the live video for later viewing.
Facebook Comments