Law professor at the University of Notre Dame in South Bend, Indiana, now the newest US Supreme Court Justice
"A different kind of lawyer"
In a 2006 commencement address, Amy Coney Barrett, then a law professor at the University of Notre Dame in South Bend, Indiana, gave her students there three pieces of advice: Pray before accepting a new job. Give away 10 percent of what you earn to church, charity or friends in need. Choose a parish with an active community and commit yourself to cultivating relationships there.
"It's only when you're an independent operator that your career takes over," she said. "When your life is placed firmly within a web of relationships, it is much easier to keep your career in its proper place."
This advice, unusual as it perhaps appears from an attorney and law professor at a prestigious university, reveals something of the character of now-Supreme Court Justice Amy Coney Barrett.
In the speech, Barrett simply aimed to explain "what it might mean for you to be a different kind of lawyer" – "one who treats his or her career as a means to the end of serving God rather than an end in itself."
Rare words indeed from an accomplished practitioner in the competitive field of law. But this is an attorney who is also a mother to seven children, two of them adopted from Haiti and one a birth child with Down Syndrome.
This is also an attorney who was at the top of her class at Notre Dame Law School. A talented and intelligent student, she was importuned at length to attend an Ivy League law school by family and mentors, but declined: "I wanted to be in a place where I felt like I would be developed and inspired as a whole person."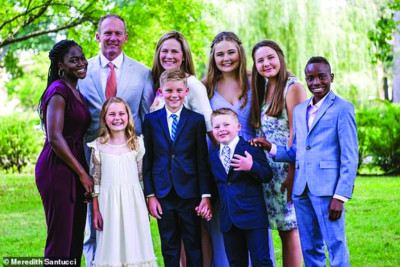 Amy Coney Barrett, originally from a Catholic family with seven children in Metairie, Louisiana (her father was also an attorney, with an oil company; her mother a French teacher and stay-at-home mother) went on to become one of the most talented law students at Notre Dame, catching the attention of professors who helped get her judicial clerkships after graduation – one of them under the late Catholic Supreme Court Justice Antonin Scalia. In law school, she had become a convinced "textualist" in the interpretation of the U.S. Constitution; Scalia's determined embrace of textualism merely cemented it.
And Amy Barrett's faith was not merely theoretical. At the Supreme Court, she became friends with Nicole Garnett, a law clerk for Justice Clarence Thomas and a fellow Catholic who had gone to Yale.
"I remember she just came in one day and said: 'I'm going to volunteer this weekend. Mother Teresa's nuns run an AIDS hospice on Capitol Hill. Do you want to go with me?' I said sure," Ms. Garnett remembers. "It was not something I would have thought to do in the middle of my clerkship, to go serve the dying with the nuns."
Much was made of Amy Coney Barrett's strong Catholic faith in 2017 after Donald Trump nominated her to the Federal Court of Appeals, including Democratic California Senator Dianne Feinsten's now-famous remark to Barrett in her confirmation hearings, "The dogma lives loudly within you."
In 2020, although Democrats had been somewhat chastened by the backlash from what many perceived as liberal effrontery in questioning Barrett's religious beliefs, those beliefs – particularly her membership in a "charismatic" Catholic group called "People of Praise" – again became an issue when Trump nominated her to the Supreme Court after the death of Ruth Bader Ginsburg; she was nevertheless confirmed for the high court on October 26, 2020.
Not surprisingly, Democratic foes of her nomination repeatedly suggested her unapologetic pro-life views made her unfit to adjudicate on abortion-related matters. She answered them with grace, saying at one point to members of the Senate Judiciary Committee on October 13 : "I am standing before the committee today saying that I have the integrity to act consistently with my oath and apply the law."
And fidelity to the law, according to Barrett, is part and parcel of being a Christian lawyer: as she said in the 2006 commencement speech, "If you can keep in mind that your fundamental purpose in life is not to be a lawyer, but to know, love, and serve God, you truly will be a different kind of lawyer."


Facebook Comments