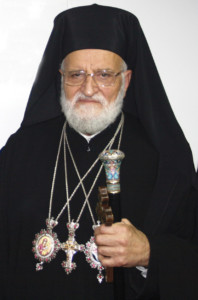 Patriarch Gregory is pastor of the Greek-Catholic community in Syria, where violence against Christians has been escalating. The patriarch, with more than 150,000 faithful, is an advocate for the diminishing and endangered Christian communities in the Near and Middle East. He promotes reconciliation as the anchor of salvation for Syria and for the future of Christians in the region. "For the ministry of reconciliation, I am ready to give my life," Patriarch Gregory has said. For his steadfeast courage under very difficult circumstances, we honor him as one of our "Top Ten" people of 2013.
"Any initiative is welcome that promotes reconciliation," Patriarch Gregory said in a recent interview with the Vatican news agency Fides. "Reconciliation will be the salvation of Syria and the future of Christians. The Church is not for or against the regime, but a community that wants to give a testimony of love and wants to save Syria."
After the invasion of the Christian village of Maalula in Syria by armed Islamist groups in early December 2013, the Patriarch said: "We are determined to remain in this blessed land even at the cost of martyrdom, martyrdom of blood." In his Christmas and New Year's message he went on to say that Christians and Muslims must meet all the challenges together, especially those of extremism.
The Arab world actually needs Christians because of Christians' contribution to the region's just development through manifesting "the Gospel's values," he says. "We want Christians to show Christ in their life, behavior, presence, witness, involvement, interaction in their society, political activity and service in the various sectors of life in their society," he said.
He encourages the Christians in the Middle East: "Stay here! Don't emigrate!"
Despite all the difficulties, de­stroyed churches, abandoned parishes, marginalization, they should "remain staunchly in their land, village or district," he says.
"We Christians in the Middle East feel an integral part of the Arab world and in this time of trouble and fear, we have greater need to strengthen our faith, to be bearers of the Gospel," he says. "Presentation of the values o​f faith, was made very important in the Apostolic Exhortation The Church in the Middle East, and it is up to us to make this our heritage — that of religious freedom, coexistence, citizenship, rights, solidarity, love — to make a program ad extra. Christians have always played a key role in the Middle East for the culture, art, education and social work, and intend to continue to be a leaven in society.
The Patriarch believes: "Christians and Muslims, can and want to stay together, to witness to the Gospel and build a new world and a better society and future for our young people."
"Peace in Lebanon, Syria and the Holy Land is a requirement for regional and international peace," Patriarch Gregory said in an appeal to the world to participate in a prayer campaign held on May 11. "Peace allows for coexistence and human freedom."
Lutfy Laham, born in 1933, Patriarch of the Church of Antioch, is the spiritual leader of the Melkite Greek Catholic Church. In 1981, he was named archbishop, and he was elected patriarch in 2000.
He studied in Europe and speaks several languages. He has published several books on Eastern theology and spirituality.
He entered the Seminary of the Holy Savior of the Basilian Salvatorian Order in Lebanon in 1943. He took his simple religious vows in 1949 and his solemn religious vows in 1954. He received his religious and philosophical education at the Holy Savior Seminary, Joun, Lebanon. He continued his theological studies in Rome where he was ordained priest in 1959. He received a doctoral degree in Oriental Theology from the Pontifical Oriental Institute in Rome. Inspired to work for Church unity, in 1962 he founded the magazine Al-Wahdah — Unity in Faith, the first ecumenical magazine to be published in the Arabic language. He continued working with enthusiasm and perseverance for dialogue between the two Churches (Greek Catholic and Greek Orthodox of the Patriarchate of Antioch). The responsibilities did not stop this dynamic priest from serving several parishes in Lebanon, where he dedicated himself to teaching and preaching. He also founded several orphanages and trade schools in Lebanon. One of the homes also comprised a center for young people who wished to dedicate themselves to social, parish and religious activities.
He was appointed administrator of the Patriarchal Vicariate of Jerusalem in 1974. In 1976 he founded a center for religious studies for adults that has now become a branch of the University of Bethlehem. Laham founded the Student Fund in Jerusalem to help poorer students pursue their university studies and in 1978 the Family Assistance Fund to help needy families in the troubled areas of his diocese. In 1967 he founded at the Patriarchate the Oriental Library to promulgate the knowledge of Eastern traditions. He initiated a variety of social projects such as repairing churches, opening clinics and building public housing, including a guest house for pilgrims at the Patriarchal Center in Jerusalem.
In June 2000, he invited all the Catholic bishops of Byzantine tradition from around the world to a Congress in Jerusalem. They were able to study together problems common to their Churches. That was the first time that such a reunion had taken place between the different Byzantine-rite Churches.
—Viktoria Somogyi
Facebook Comments