15 Feb 2017 – By Jonathan Luxmoore
OXFORD, England (CNS) — A prominent Catholic ecumenist has urged a better understanding of the Russian Orthodox Church.
"Those suspicious of the Russian Orthodox stance should go and see what's happening," said Barbara Hallensleben, a consultor with the Vatican's Pontifical Council for Promoting Christian Unity.
"Of course, nationalist and ideological tendencies are always at work. But a lot of people in Russia are promoting Christianity — and by creating relations, we can strengthen church life and proclaim the faith with them," said Hallensleben, who hosted anniversary commemorations of Pope Francis' 2016 meeting with Russian Orthodox Patriarch Kirill.
The Feb. 12 anniversary symposium at Switzerland's University of Fribourg included participation by Cardinal Kurt Koch, head of the Christian unity council, and Metropolitan Hilarion of Volokolamsk, the Russian Orthodox church's foreign relations director.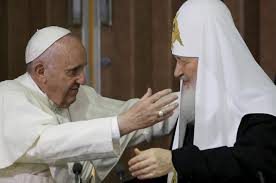 In a Feb. 13 Catholic News Service interview, Hallensleben said Pope Francis' encounter with Patriarch Kirill of Moscow in Cuba had initiated "new common paths."
"The pope said unity means moving together, not just holding talks — and what's amazing is how the style of ecumenism has already changed," said Hallensleben, who co-directs Fribourg's Ecumenical Institute and sits on the International Theological Commission.
"We're exchanging pilgrimages to see how we each live the Christian faith and engaging in a much more extensive cultural ecumenism, as well as working together on the great challenges facing today's world," she said.
Ties between the Vatican and Moscow Patriarchate are widely believed to have improved since the Cuba meeting, but are still marred by intra-Orthodox rivalries and the alleged government links of the Russian church.
Speaking at the Fribourg symposium, Cardinal Koch said the pope's joint declaration with Patriarch Kirill had marked "a historic step" in interchurch ties, but had also "excited diverse criticisms" from Catholics opposed to an "over-moral vision of ecumenism" and from Orthodox "hostile to any rapprochement with Catholics."
Metropolitan Hilarion said the declaration had been a "visible expression of trust and mutual understanding," but had also necessitated overcoming "serious obstacles and superstitions."
Hallensleben told CNS that speakers at the symposium had listed "very concrete bilateral projects" launched in the past year, including theological debates, joint concerts, exhibitions and student exchanges, as well as a joint April 2016 delegation to Syria and Lebanon to aid persecuted Christians.
"Both churches have problems with certain circles who disagree with what's being done," said Hallensleben. "But the Russian church has its independence and is now our partner. The idea of coming closer isn't just the personal option of two church heads — it means getting through to local church people beyond their hierarchies."
CNEWA — Here is a link to the original site of this article.
Facebook Comments