'When I pass away, what inheritance will I leave?'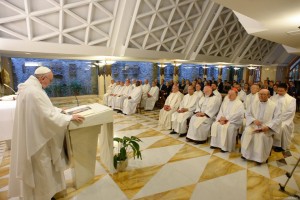 This is the question Pope Francis has called on faithful to contemplate during his daily morning Mass at Casa Santa Marta, reported Vatican Radio.
He urged those gathered to contemplate the end of their lives to help them better understand if they are properly living their lives now, paying attention to what really is important.
Thinking about death, he stressed, 'illuminates life,' and underscored, "Faith is the greatest inheritance we can leave."
Let Thought of Death Illuminate Your Life Now
The Holy Father recalled that on King David's final day, the great inheritance he left his son, that which mattered, was not the kingdom, but the faith.
Francis also recalled when he stopped to speak to an 83-year-old sister during one of the General Audiences because her glimmering eyes struck him. She explained how she did not fear death, as she battled pancreatic cancer, for her faith gave her hope and strength.
She knew her next step in life, he suggested, and she was full of faith. The Pope recalled her telling him, 'I am finishing my course of life, to begin another.'
"It is a passage," the Pope said, noting thinking about these things "does us good."
Course of Life Continues
The Holy Father invited all faithful to not fear death, since the course of life does continue.
Thinking about death, he noted, is "a light that illuminates life" and "a reality that we should always have before us."
"When a will is made, people say, 'I leave this to one person, this to another, to another person I leave this.' Yes, that's fine, but the most beautiful inheritance, the greatest inheritance a man, a woman, can leave to their children is the faith."
In the Baptism ceremony, the Pope reminded those gathered, parents are given "the lighted candle, the light of the faith," which says to them: 'Preserve it, make it grow in your son and in your daughter, and leave it to them as an inheritance.'
We would do well to ask ourselves a question, the Pope asked, "What is the inheritance I will leave with my life?"
"Will I leave the inheritance of a man, a woman of faith? Will I leave this inheritance to my children?
Pope Francis concluded, encouraging faithful to ask the Lord two things: one, do not be afraid of this final step, "like the sister at the Wednesday audience ('I am ending my course, but beginning another"), not being afraid."
The second thing, he said, was "that with our life, we might all be able to leave, as the better inheritance, the faith, faith in this faithful God, this God who is always close to us, this God who is a Father, and who never disappoints."
Facebook Comments