"Art must not discard anything or anybody. It's like mercy." Pope Francis, May 29, 2015
During a recent conversation with Monsignor Jacobone, he mentioned that on Saturday, February 18, 1984, in Rome's Dominican church, Santa Maria Sopra Minerva, Beato Angelico was declared the patron saint of artists, especially painters. Thus Jacobone suggested that my February "Of Books, Art, and People" might appropriately include excerpts from the recently-published (by the Vatican Museums and Mondadori) La Mia Idea di Arte, Pope Francis' first publicly expressed opinions about art and museums and their role in society. These were compiled by Bergoglio's biographer, Tiziana Lupi, and Alejandro Marmo, an Argentine artist who's known Bergoglio since 2011 in Buenos Aires. Helped by marginalized people, he creates artworks with waste materials. Two of his sculptures, Christ the Laborer and the Virgin of Luján, both made in Castel Gandolfo from discarded metals, are now in the Vatican Gardens.
Pope Francis on Art: "Besides being a credible witness to the beauty of manmade things, art's an instrument of evangelization. For example, take the Sistine Chapel. What did Michelangelo create? A work of evangelization, of course."
On Museums: "Museums must welcome new forms of art. They must open their doors to people from all over the world. They must be an instrument of dialog between cultures and religions, an instrument of peace. They must be full of life, not dusty repositories of the past only for 'the elite' and 'the well-educated,' but rather a vital reality capable of safeguarding the past so as to recount it to today's world, beginning with the most humble."
The Artist's Role: "Artists must rebel against the culture of throwaways, the idea that everything's disposable. Their job is to evangelize. Artists are witnesses of the invisible and their works the strongest of all proofs that materialization is possible. To make visible the mystery of a work of art's dynamism you need the hands, handiwork, talent of an artist. Artists' hands, symbolically speaking, give mankind dignity because they're the instruments, the tools, of our work."
To clarify his definitions of art and artists cited above and to illustrate them, Pope Francis uses several works of art, a sort of ideal museum, all located in Vatican City. They are: The Belvedere Torso, a statue of Isis Nursing Harpocrate, The Good Shepherd, the obelisk in St. Peter's Square, St. Peter in Cathedra, the ceiling of Constantine's Room (one of the Raphael Rooms), several paintings in the Vatican Museums depicting compassion, Caravaggio's Deposition, The Sistine Chapel, His Holiness's white Renault 4, and Alejandro Marmo's Christ the Laborer and his Virgin of Luján.
The Belvedere Torso: "It's been documented that, while he was admiring this statue dating to the first century BC by the Athenian sculptor Apollonius, Pope Julius II considered asking Mi­chelangelo to add its missing pieces; he wanted to minimize the effect that, because it was broken and missing pieces, it had been discarded.
"Instead Michelangelo understood that the Torso, although mutilated, would be a source of inspiration for many artists, both his contemporaries and future generations. So he decided not to lay his hands on it. That he, before anyone else, had studied the Torso's anatomy is clear from his large nude figures of the Ignudi in the Sistine Chapel's ceiling… Mi­chelangelo's prediction was right-on; in fact, this masterpiece of antiquity over the centuries has been the subject of many sketches, engravings, drawings, clay and bronze models, certainly including Rodin's The Thinker."
Statue of Isis Nursing Harpocrate: "Art doesn't discard; ra­ther it transforms and reuses. This is without a doubt the spirit, the principal characteristic of early Christian art … Anyone who looks at this ancient sculpture of an ancient Egyptian goddess nursing her baby cannot help but think of the Madonna and Child."
The Good Shepherd: "This ancient statue is another example of ancient art, originally a fragment of a bas-relief on a sarcophagus, that had not been 'discarded,' but rather recycled, and this time with intent: to launch an evangelical message … But what is the deepest and certainly not hidden message of this sculpture, the most famous early Christian work of art in the Vatican Museums, if not God's infinite compassion? As St. John the Evangelist wrote (3:16), 'God so loved the world that He gave His only son, so that whoever believes in him, should not perish, but might have eternal life.'"
The Obelisk in St. Peter's Square: "Brought to Rome from Egypt by the Emperor Caligula around 40 AD and used as a 'spina' or divider in the race-course Nero built some 20 years later in the Ager Vaticanus, where the much-ma­ligned Emperor customarily crucified Chris­tians, this recycled work of art … was 'a mute witness to the martyrdom of St. Peter.'"
St. Peter in Cathedra: In this entry, Pope Francis remarks that it's unclear whether this statue of St. Peter, so beloved by visitors to his namesake Basilica, is a reworking of the bronze statue of Capitoline Jupiter ordered melted down by Pope Leo the Great in c. 450 AD, or of an ancient statue of a philosopher or senator remodeled by Arnolfo di Cambio in c. 1285. Whatever the statue's origin, His Holiness wittily recounts:
"In 1871 Pope Pius IX had placed above it a mosaic medallion to debunk the myth that no pope after St. Peter would reign more than 25 years. Pius IX (1846-78) went on to reign 31 years, 7 months, and 23 days, and John Paul II's papacy lasted 26 years, 5 months, and 17 days."
The Ceiling of Raphael's Room of Constantine: The Room of Constantine is chronologically the last of the four Raphael Rooms commissioned by Popes Julius II and Leo X. Raphael died before its completion.
Its wall frescoes, completed by Raphael's students, recount Constantine's conversion to Christianity. At the center of its frescoed ceiling is a marble statue of Mercury, which has smashed to the floor. It's been replaced on its pedestal by a crucifix "to represent the beginning of papal temporal power and the 'superiority' of the pope's power over the emperor's," explains Pope Francis.
Caravaggio's Deposition: In Caravaggio's Deposition, the Apostle John and Nicodemus are lowering Christ onto a discarded stone block, which becomes the canvas's cornerstone. "Caravaggio confronts this 'discarded' stone," recounts Pope Francis, "knowing that he will elicit an immediate parallel between the discarded stone and the deceased and therefore discarded Christ, betrayed and abandoned by his disciples … Caravaggio senses that the hope of salvation of each of us depends on that stone, first discarded and then transformed into a cornerstone."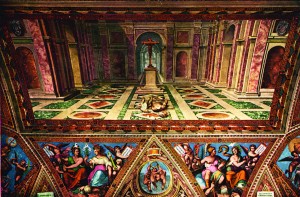 Works of Compassion: "Al­though it's commonly thought that works of art of the past depict only mythological, Biblical, heroic, and aristocratic subjects, there are many where 'the emarginated' are the central figures… The most striking examples in the Vatican Museums' Pinocateca (Painting Gallery) are the so-called 'Works of Compassion' painted by Olivuccio di Ciccarello in 1404."
The Sistine Chapel: On one wall the frescoes depict episodes from the Old Testament, and on the opposite wall, episodes from the New Testament. On both, painted by Perugino, Botticelli, Ghirlandaio, Signorelli, and others between 1477 and 1482, the scenes alternately depict "sin" and "pardon." In 1483, enter Miche­langelo who frescoes the ceiling with The Creation. "Michel­angelo conceives the Sistine Chapel," says Pope Francis, "as one enormous 'Spiritual History of Humanity' … which perpetuates the juxtaposition between man, the sinner, and his continuous insatiable need for divine compassion… As for the Last Judgment, to depict Christ's features, Michelangelo resorts to recycling aspects of ancient masterpieces: Apollo of the Belvedere's head, Laocoön's raised arm, and the twisted posture of the Torso of the Belvedere… Therefore Michelangelo's work shows once again that art doesn't discard; it recycles."
Renault 4: Certainly the strangest entry on Pope Francis' list of works of art from a purely artistic viewpoint is the Renault 4. If, on the other hand, you look at its inclusion from his anti-throwaway stance, it's appropriate: an old car, yes, but still a perfectly functional one, given to him by a champion of Buenos Aires' poor and "disposable," Fr. Eraldo Polato. Here Pope Francis calls the Renault 4 "a symbol of compassion and charity, 300,000 (the car's mileage at gift-time) kilometers long."
Alejandro Marmo: "Alejandro's work is of great social relevance. I call him a 'recreator' of waste, who opens horizons that seemed not to exist anymore.
"With his works of art, Marmo demonstrates that what is not visible, which for some is an illusion, instead is a hope in which we can believe. That this is possible, thanks to his work and dignity, and that it's possible using discards, throwaways, rejects. This is the greatness of Alejandro; this is the role of the poet, the artist."
Alejandro Marmo's works: "They're a symbol of the genius and talent that God wanted to put in the imagination of an artist like Marmo. Moreover, they're a message to proclaim to the whole world: while waiting for the return of the Messiah, nothing's lost, nothing's discarded, and everything has significance within God's magnificent works.
"God's compassion doesn't discard; the signals that He gives to the poor, the excluded, the suffering, are a sign of His compassion. Everything about Him speaks of compassion."
Facebook Comments