The volume La Basilica di San Pietro is whose brainchild?
Mons. Pasquale Iacobone: Our friends at the publisher FMR/UTET, Dr. Fabio Lazzari and Marco Castelluzzo, proposed the idea because they had access to an exceptional corpus of photographs of St. Peter's by Aurelio Amendola. It included photographs he'd taken in the past, in particular of the Pietà (these had been already published), and as yet unpublished shots. They suggested collaborating to put together a unique volume about St. Peter's built around Amendola's photographs.
No one wanted a book of photographs with captions or texts using photographs to illustrate words. We both wanted a book where the texts and the photographs had equal importance to the whole and would be interwoven and inter-referential. FMR/UTET felt that we at the Pontifical Council for Culture would know the most appropriate scholarly writers to involve. That's why I was chosen to be its compiler and editor as well as a contributor.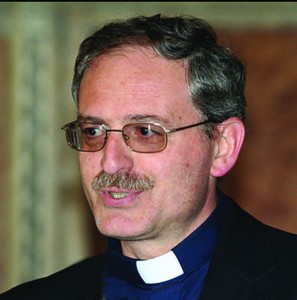 There are already numerous books about St. Peter's in many languages on the market. How's this book different from all the others?
Content-wise, it isn't a dry history book or guide with every work of art described in detail. Amendola's photographs are of St. Peter's Basilica in 2015, so the focus of our volume is a visual tour of St. Peter's Basilica, the colonnade, and the Square as seen today, but with corollaries or additions, perhaps best described as complementary essays.
It was printed using Bodoni typeface at the press Lamberto Pigini in Loreto, on cotton paper made especially for this volume by the Cartiere (paper mill) Magnani in Pescia. Each volume's leather binding was hand-sewn at the bookbindery Arte del Libro in Todi. A framed photograph autographed by Aurelio Amendola makes up each front cover. Each volume is numbered and signed by Amendola and the publisher. Production time was more or less a year from our first discussion. I wanted it available before the upcoming Jubilee.
How were the authors chosen?
For their scholarly expertise and international prestige. They each chose their subject.
Can you give me a brief summary of each essay?
The preface is by His Eminence Angelo Cardinal Comastri, the Archpriest of the Basilica and the president of the Fabbrica of St. Peter's. The introduction essay is by His Eminence Gianfranco Cardinal Ravasi about the figure of St. Peter as he is presented in the Gospels, in the Book of Acts and in St. Paul's Letters. Cardinal Ravasi, the president of the Pontifical Council for Culture, traces St. Peter's faith from its birth, its growth during the time he spent with Jesus, its crisis, and its rebirth after Jesus' death and Resurrection.
The next is my historical overview of today's Basilica. Its title is La basilica di San Pietro: una visione panoramica or "St. Peter's Basilica: A Panoramic View." It concerns the historical stratification of the ager vaticanus. First I imagine what this area must have been like in the first century AD, then in Constantine's time or the third century AD, describing the Basilica that Constantine wanted above St. Peter's tomb, and thirdly, today's Basilica built over pagan and medieval remains.
My contribution is followed by Professor Luitpold Frommel's about the history of the "new" St. Peter's architecture. Its title is San Pietro: storia, genesi, ricostruzione or "St. Peter's: History, Genesis, and Reconstruction." Formerly a professor at Bonn, Berkeley and the Institute for Advanced Studies at Princeton, Frommel is the world expert on St. Peter's in the Renaissance. "No other monument," writes Frommel, "mirrors Christianity and European culture like St. Peter's. Moreover, no other can count the efforts and talent of so many great artists and their papal patrons."
A professor of Renaissance and Baroque art at Columbia University, Tod A. Marder wrote La facciata, i campanili, e la piazza di San Pietro or "The Façade, the Belltowers, and St. Peter's Square." A professor of art history at the University of Vienna, Sebastian Schütze, wrote Bernini in San Pietro. Antonio Paolucci wrote La Pietà di Michelangelo. Paolucci is the Director of the Vatican Museums. At the beginning of his history of this masterpiece, Paolucci agrees with the evaluation of the Renaissance biographer and artist in his own right, Giorgio Vasari: "… it is certainly a miracle that a stone without any shape at the beginning should ever have been reduced to such perfection as Nature is scarcely able to create in the flesh…"
Maria Righetti's Il San Pietro di Arnolfo e altre tracce della basilica medievale concerns the Basilica's medieval architecture and art. She concentrates on Arnolfo da Cambio's statue of St. Peter, so beloved by pilgrims, which has survived the Basilica's several renovations.
Micol Forti's Testimonianze artistiche del Novecento nella Basilica di San Pietro, or "Artistic Testimonials from the Twentieth Century in St. Peter's Basilica," concentrates on the statues of Pius X's, Benedict XIV's and Pius XII's tombs as well as the doors by Crocetti, Manzù and Minguzzi. Forti is the Vatican Museums' Curator of Modern and Contemporary Art.
Can you tell me something about Aurelio Amendola?
Tuscan to the core, Amendola is one of the greatest contemporary photographers.
The winner of numerous prizes, he has had one-man shows at the Hermitage in St. Petersburg (2007) and the Medici Chapels in Florence (2014). He has published numerous photographic monographs about contemporary artists: De Chirico, Lichtenstein, Pomodoro, Schifano, Warhol, Marino Marini, Burri, Manzù, Fabbri, Ceroli, Vangi, and Kounellis, to name a few. He is also well known for his photographs and publications of Italian Renaissance sculpture.
When I interviewed you last spring in your capacity as the overseer of the Holy See's pavilion at Expo 2105 (ITV May 2015) I knew that you'd written your doctoral thesis: Mysterium Trinitatis: Dogma e Iconografia nell'Italia medievale, about the Trinity in dogma and art in the Middle Ages, and that Cardinal Poupard and then his successor Cardinal Ravasi both had chosen you as their right-hand man because of your interest in art. However, I didn't know that you were a prolific author. Can you provide me with your bibliography?
I'm a medieval historian. I've compiled, edited or written too many scholarly works to cite here.
My books have been about the Via Appia, the oldest consular road; Ceri, the small medieval town on Lake Bracciano not far from Rome; the Madonna, the Marian cult and its iconography in Rome from its origins to the late Middle Ages; Genesis; and John Paul II: A Man, Pope, and Saint, published by FMR like this volume.
At September 23rd's presentation, Professor Antonio Paolucci spoke about the uniqueness of several works of art in St. Peter's: Arnolfo da Cambio's statue of St. Peter, Bernini's baldacchino, the tomb of Pope Alexander VII, and the Pietà, his favorite. What's your favorite work of art in St. Peter's? Why?
Like Paolucci, Michelangelo's Pietà. Then Filarete's door, because it came from the medieval Basilica and has a rich and very detailed iconography including two self-portraits of Filarete. All the other doors are modern, dating from Pope John XXIII to today. I find the same richness of Filarete's detail in Bernini's baldacchino.
Do you have a favorite section of the Basilica where you go to meditate and find peace?
The Chapel of the Blessed Sacrament with Bernini's altar. Thank goodness, it's off the tourists' beaten track so it's possible there to find a moment of peace for contemplation and silent prayer. In my essay I refer to two beautiful works of art: The Madonna of the Column and The Madonna of Help, both originally in the medieval Basilica. They're above two altars in Michelangelo's Deambulatory, another quiet area.
The volume is illustrated with drawings and architectural plans as well as with Aurelio Amendola's 128 photographs, some in color and most in black and white. He must have taken lots of shots to downsize the selection to 128?
As I said before, he already had a corpus of photos, but then, when each author wanted to illustrate and enrich something specific not yet photographed, we asked him for supplements. He told me: "I take only a few ready-to-publish shots. I don't take 1,000 shots and then edit them down to ten like the majority of photographers. I might take eleven shots to have ten perfect ones."
The publisher has printed 999 copies; if more than that number is requested, will they print more?
Like my book on John Paul II, they might publish a more economical edition. The problem would be Amendola's photographs. In a smaller, cheaper format their quality would be damaged.
Any chance the book will be published in a language other than Italian?
No, all of UTET/FMR's grandi opera or "Great Works" are published only in Italian.
How much does it cost?
2,300 euros or c. $2,500.
How can someone order the book?
By e-mailing: [email protected] or telephoning (011)-39-0633223008.
Facebook Comments