Top Ten from 2019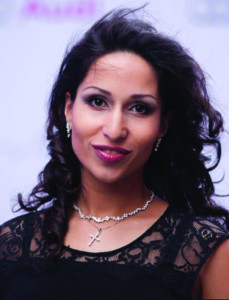 We bring you in the January issue of Inside the Vatican the incredible story of a beautiful Russian opera soprano, Svetlana Kasyan. (To obtain a copy of the print edition, call our US office at 1-800-789-9494).
We have come to know Svetlana personally since she sang at a Concert for Peace in Rome our Urbi et Orbi Foundation sponsored and organized in November of 2013.
Svetlana is not only an extraordinary singer, but also an extraordinary soul.
In 2013, Svetlana met Pope Francis for the first time in his residence, the Domus Santa Marta. Svetlana was at that time pregnant with her first daughter, who would be born in 2014. Her performance at the concert had exhausted her. Pope Francis took several minutes to greet her, blessed her, blessed her voice in a special way, and blessed the daughter in her womb, Natalia, who is now 5 years old.
As the years have gone by, Svetlana has returned often to Italy. We were privileged to attend her performance of Tosca in Rome, and deeply moved by her passionate performance of that tragic role.
Svetlana is a profoundly spiritual person. She has suffered greatly in her life. A Russian Orthodox Christian, she began life as a refugee in the Middle East, then made her way through many struggles to Moscow as a teenager.
Now a friend of Pope Francis — she has met him seven times — Svetlana this past summer invited Francis to visit her home in Russia, in Moscow… if diplomacy and historical events would permit such a sign of rapprochement between the still divided Christians of the Greek east and of the Latin west.
Francis said he would love to do so, but that he would have to see what would be possible….
Could Svetlana Kasyan be a "providential link" between the Church of Rome and the vast country of Russia?
We cannot know, but, for her love of the poor and marginalized, for her exemplary care of her daughter while carrying on a stressful international career in opera, for her simple Christian faith and piety, for her splendid voice trained over many years of difficult commitment, and for the beauty of her soul which shines in her eyes, we choose Svetlana Kasyan as our "Person of the Year."
We also share the astonishing story of a world-famous, and very wealthy, "hip hop" artist, Kanye West, who had a soul-excavating religious conversion and now sings of his love of Jesus Christ to young people everywhere. Could Kanye West be a "providential link" between young people seeking meaning in their lives and the very source of that meaning, Jesus Christ.
And we share the story of an intrepid French priest, Father Jean-Marc Fournier, who fearlessly entered into the blazing Cathedral of Notre Dame on April 16 and saved not only the Blessed Sacrament of the Eucharist, but the cathedral's most precious treasure: the Crown of Thorns placed on the head of Jesus when he was crucified, and preserved for 2,000 years since by his followers. Could Father Jean-Marc Fournier be a "providential link" between a Christian Europe that preserved its Christian faith and heritage, and a post-Christian Europe that seems willing to allow that faith and heritage to slip away?
For our January 2020 issue, we at Inside the Vatican have chosen our "Top Ten" People of 2019.
Among the 10 are men and women who have struggled to find what is true, what is good, what is beautiful.
We do not intend these selections to indicate sanctity, but rather, to indicate people who have had an impact, been "in the news," and have been involved in questions of importance to the world and the faith.
Inside the Vatican looks back on the year 2019 as a year of some surprises: in secular Europe, a popular leader invokes Christianity; in secularizing Poland, a 15-year-old boy brandishes a crucifix at an LGBT gathering; in Hollywood, a famous US "hip-hop" star brings Jesus into his concerts; in post-Christian Paris, a priest risks his life to save the Blessed Sacrament.
Among our Top Ten are also stalwart crusaders for the Good, the True and the Beautiful in varying walks of life — and a humble priest who protects abandoned children; a young husband who felt a call to defend the faith; a Chinese bishop ready to face persecution for the faith; an African archbishop who ministers to pilgrims; and a trio of Irish ladies who battle the abortion juggernaut.
All of them testify to the grace of the Lord, alive in ordinary men and women: they all, like we, "have this treasure in earthen vessels, so that the surpassing greatness of the power will be of God and not from ourselves." (2 Corinthians 4:7)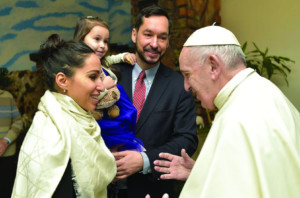 Svetlana Kasyan. The voice of this Russian opera star is a voice for faith and family around the world. Pope Francis awarded her the Grand Cross of the Order of St. Sylvester. "He told me to use my voice for God's glory," she said.
Father Jean-Marc Fournier. The fire that engulfed the Cath­edral of Notre Dame of Paris in April 2019 shocked the world. Fr. Jean-Marc rushed into the flames to rescue Christ's crown of thorns.
Alexander Tschugguel. This young Austrian, in Rome for some of the Amazon Synod's "indigenous culture" displays, went home perplexed: Were Vatican officials really allowing people to reverence pagan idols? He decided to return to Rome and, for the sake of his Faith, take matters into his own hands.

Jakub Baryła. In the midst of an LGBT gathering that was profaning Poland's most beloved image of the Mother of God — Our Lady of Częstochowa — was a 15-year-old boy who simply said, "Enough" by standing his ground and holding aloft a crucifix like Catholic heroes of old.
Father Csaba Böjte. Decades have passed and still the aftereffects of Communism's iron grip on countries like Hungary remain. One humble priest has established homes to care for thousands of abandoned children.
Kanye West. An entertainment icon astonished Hollywood when he had his children baptized in a traditional Armenian Or­tho­dox rite and turned his life over to Jesus "the King," extolling the freedom he has found in faith.
Viktor Orbán. The President of Hungary has attracted controversy because of his insistence on maintaining the identity of Hungary as a Christian nation.
Katie, Niamh, Cora of Ireland. After the defeat of pro-life forces in Ireland in 2018, three women vowed not to give up. Katie Ascough, Niamh Ui Briainh and Cora Sherlock believe, "We may have lost a battle but our cause will never be defeated."
Vincent Guo Xijin. After the Vatican signed an agreement with the Communist Chinese government, one of the bishops who had been loyal to the Vatican all along, Bishop Vincent Guo Xijin, faces ongoing pressure, including threats and imprisonment.
Archbishop Emery Kabongo Kanundowi. One Vatican archbishop insists on welcoming each and every pilgrim to the heart of the Church. His spiritual father? St. John Paul II.

Facebook Comments